Spring 2016 From the President and Board Chair
By Staff Report
May 1, 2016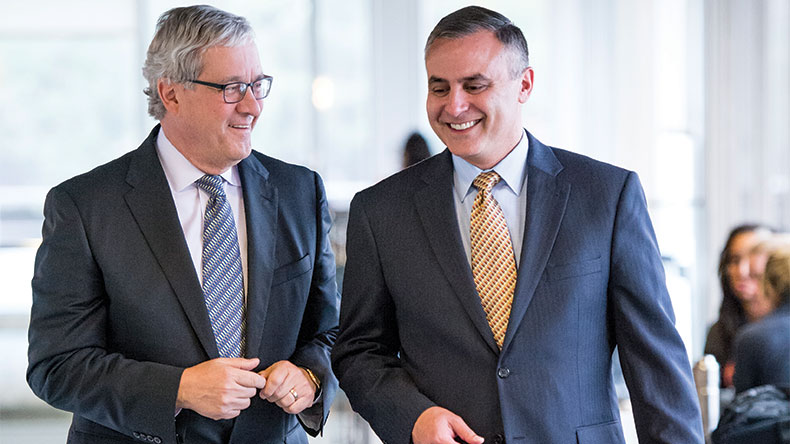 William James College took ownership of its first permanent home in January of this year. Thanks to the collective work of our supporters, faculty, staff and trustees we now have a facility with the dignity to match the important work of our learning community. Many of you have been part of the evolution of our college which has been diversifying to educate professionals to work sensitively and effectively in schools, courts, businesses, hospitals, clinics and consulting rooms across the country.
Diversity is a key to our mission, as William James College has significantly increased the number of self-identified minority faculty, staff and students in its community with investments in Latino Mental Health, Military Veterans' Psychology and the addition of Counseling and Organizational Leadership Psychology degree programs. We are grateful for your confidence and participation in this transformation and we look for your help as William James College educates the next generation of professionals to lead organizations and to increase access to mental health care.
Most Americans are mindful of the social and emotional impact that grips families with medical illness. Yet, even some specialists are unaware of the extraordinary needs in mental health. More than 53% of the counties in the U.S. have no mental health providers at all! We are familiar with the estimated 20% of children who have a diagnosable mental illness, but current research indicates that twice that number (40%) have developmental problems and emotional vulnerabilities. Furthermore, most emotional disorders, many medical illnesses, and social problems like school failure result from untreated behavioral health problems (IOM, 2015). Our aging population is expanding, but only 4% of mental health professionals declare a specialty in this area. With the benefits extended by the Affordable Health Care Act expanding demand for service, workforce shortages in mental health will become a greater barrier to accessing care for thousands of families and children in the near future (SAMHSA, 2013).
With your help, William James College is working to address these issues. Studies find that those who are reluctant to seek mental health care are more likely to engage and stay in treatment with providers who come from their reference group and/or who are particularly sensitive to their issues. This issue of the RAPPORT describes some of the college's new initiatives in Aging, Global Mental Health and Military Veterans Psychology (MVP). You will, also, see Dr. Stanley's remarks on Authentic Leadership exemplified in the work of two of our Forensic specialty graduates.
William James emphasis on "practical psychology" could not be more in evidence than within our learning community. Our students contribute more than 170,000 hours of service to the community while they learn. The college's growth has been matched by accrediting bodies praising the work of faculty and staff and awarding their approval for the maximum length of time. A rising number of applicants has allowed for an increase in selectivity and academic quality within our student body. Our learning community is strong.
The Campaign for William James College is attracting funds to develop additional degree programs such as Applied Behavioral Analysis and to bring psychological skills to school teachers and pediatric practitioners; instructional support and innovation to faculty; and partnerships and scholarships to incentivize and support a new generation of Black mental health professionals. With close to $ 2M in scholarships and student employment awarded each year, your gifts for program development and student support are having a great impact. Our priorities in Military Veteran Psychology, Global Mental Health, Child and Family care and Faculty Development will need your help to be fully realized.
We have preserved the best of MSPP and we have come a long way to educate a special group of professionals to "Meet the need" and "Make a difference" in our society. Much more must be done and we thank you for your partnership, your trust, and for your investment in William James College.
Sincerely,
Nicholas Covino, PsyD
President
John J. Zona, PhD
Chair, Board of Trustees
Popular Topics/Tags
Follow William James College
Media Contact
Katie O'Hare
Senior Director of Marketing and Communications