Black Mental Health Graduate Academy Presents Panel with Department of Mental Health Exploring Stigma, Stressors and Resilience Experienced by Men of Color
By Anne Wilson, Director of Communications
Nov 24, 2020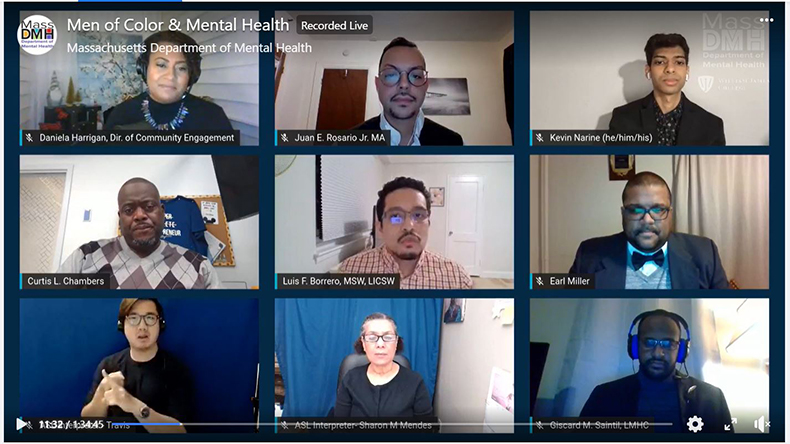 Men of color, aged 18-44, who experience daily feelings of anxiety or depression are less likely than non-Hispanic White men to take medication or talk to a mental health professional. On December 3, the William James College Black Mental Health Graduate Academy, in partnership with the Massachusetts Department of Mental Health (DMH), hosted a panel discussion exploring mental health stressors and stigma, along with the underappreciated resilience and strengths, experienced by men of color.
The panel included current Clinical Psychology PsyD students Kevin Narine, a Center for Multicultural & Global Mental Health Scholarship Fellow and Juan E. Rosario, a Latino Mental Health Scholar; incoming student Giscard Saintil, LMHC; and alumnus Curtis Chambers, a graduate of the Bachelor of Science in Psychology and Human Services Program. They were joined by Luis F. Borrero, MSW, LICSW, and Earl Miller, from DMH. The discussion was moderated by Daniela Trammell Harrigan, DMH director of community engagement.
A scarcity of mental health professionals from racial/ethnic minority backgrounds is a critical contributing factor to mental health disparities. William James College has several training programs designed to create the more racially/ethnically diverse mental health workforce needed to increase competent and compassionate care for all people.
The Black Mental Health Graduate Academy is organized under the auspices of the Center for Multicultural and Global Mental Health (CMGMH), which promotes research and training around social justice and to address mental health disparities among disenfranchised populations in the U.S. and abroad. The Academy is an academic pipeline program designed to recruit, mentor, and support Black students in master's and doctoral degree programs for mental health counseling and psychology.
CMGMH is comprised of academic programs including the Latino Mental Health Program (LMHP), the African and Caribbean Mental Health (ACMH) Program, the Asian Mental Health Program, and the Global Mental Health (GMH) Program.
Black Mental Health Graduate Academy Scholars LaNisha Allen, Briana Reid, Lisa Saunders and Tia Rivera assisted in coordinating the event. A recording of the discussion, which took place via Facebook Live, is available via the DMH Facebook Page.
Topics/Tags
Follow William James College
Media Contact
Katie O'Hare
Senior Director of Marketing