Student's Neuropsychology Research Finds More Comprehensive Way to Assess Depression in Alzheimer's Patients
By Staff Report
Aug 4, 2020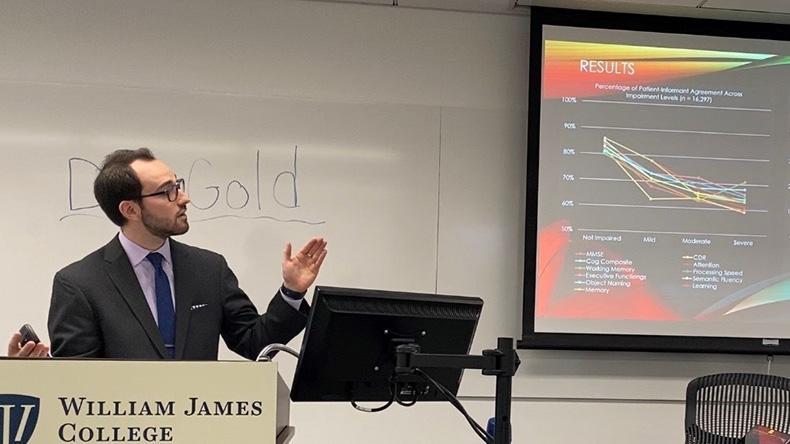 Depression is a common, yet serious and complex mental health issue. When a person is also facing Alzheimer's disease, identifying and managing depression has added complications but it is an important part of care. According to the Alzheimer's Association, early stage treatment of depression can make a significant difference in quality of life.
"It's really important for clinicians to quickly and accurately screen for symptoms in their patients," said Dov Gold, a Clinical Psychology PsyD student. The way this is normally accomplished is through self-reporting via questionnaires but Gold points out that, because of the nature of Alzheimer's disease, this becomes less effective "because the patient has to have enough insight or even memory of their symptoms to endorse them on the questionnaires."
Gold decided there needed to be a better way. Through his doctoral research, he compared methods of screening for depressive symptoms in Alzheimer's patients by staging patients across a spectrum of cognitive functioning. Gold's research has been accepted for publication in the American Psychological Association's journal, Neuropsychology, the flagship journal for the neuropsychology field.
In his research, Gold compared patients' ratings of depression with those from their caregivers or other informants. He focused on the central research question, "When should we be supplementing self-reported measures of depression from patients with Alzheimer's disease with informant reports?"
Existing research in this area has left the issue unresolved, Gold said, due to limitations in previous studies. Wanting the results to be specific to Alzheimer's disease and its complex progression, he procured a sample of 16,000 individuals from the National Alzheimer's Coordinating Center coordinated through the University of Washington. The large sample size also allowed Gold to categorize patients into four levels of cognitive impairment (not impaired, mildly impaired, moderately impaired or severely impaired) rather than only two categories, which many other studies used.
According to Gold, this approach provided a more nuanced picture of the continuum of cognitive impairment, and more accurately represented the slow and progressive decline of Alzheimer's disease. "You don't just wake up one day suddenly in the severely impaired category and that's it," he explained.
With these objectives in mind, Gold studied how patients performed on a wide variety of tests of cognitive ability and brain functioning. Gold explained many previous studies used very common and brief tests, known as global measures of cognitive functioning, that can often be administered in under 15 minutes.
"While [these tests] are really great for getting a global or overall picture of a patient's functioning, they don't really provide adequate information in terms of specific cognitive abilities that might explain the discrepancies that you're seeing between patients and their caregivers or informants," said Gold.
Gold studied patients' performance on three global measures of cognitive functioning, as well as eight tests of specific abilities including attention, memory, processing speed, executive functioning, learning and language. He determined that clinicians should turn to informants to verify patients' reports of depression, even at the earliest stages of Alzheimer's disease. Specifically, he noted that compared to cognitively normal patients, those who showed worsening levels of impairment had greater inconsistencies in their reports compared to the reports of their informants.
He explained that these results were consistent irrespective of the patient-informant relationship, meaning people such as caregivers, neighbors, family members or trusted friends may provide meaningful information about patients' mood and behavior that the patients themselves cannot always provide. He hopes that his research will not only benefit clinicians working with patients with Alzheimer's disease, but also researchers studying it.
Calling Gold an excellent student "would be a gross understatement," said Dr. Justin Sinclair, assistant professor of Clinical Psychology and the chair of Gold's research committee. "Dov has excelled in all aspects of his work at WJC, and the school is lucky to have him as a trailblazer and ambassador, and true example of the practitioner scientist."
Gold's passion for mental health, and specifically neuropsychology, has guided his education and career path since high school. He attended Brandeis University for his undergraduate education, where he interned at a hospital in the Bronx in New York. While on his internship, he shadowed a neuropsychologist in a dementia clinic and was able to observe her conduct evaluations.
"I sort of always knew that I wanted to enter mental health," said Gold, "But I think it was during that internship that I figured out that I wanted to specialize in geriatric neuropsychology so I could dedicate my training, and ultimately my expertise, to aid in the differential diagnoses for these patients and provide recommendations for them and their caregivers."
While still enrolled at Brandeis, Gold accepted a work-study position as a research assistant at William James College working with Dr. Edward De Vos, now chairman of the Institutional Review Board and Clinical Psychology faculty member. Gold said this experience led him to choose William James College to pursue his graduate education.
"It was a really nice opportunity for me to peek behind the curtain," said Gold, "I got to know the people at William James and figure out if this was somewhere where I would want to spend the next four to five years of my life and train alongside the people there."
Gold is currently completing his APA internship in the neuropsychology track of the Warren Alpert Medical School of Brown University. Upon graduation, Gold intends to complete a post-doctoral fellowship in neuropsychology. His goal is to become a clinical neuropsychologist and specialize in working with older adults experiencing cognitive decline.
Topics/Tags
Follow William James College
Media Contact
Katie O'Hare
Senior Director of Marketing