Student's Work in Adlerian Psychology Accepted for Publication in Peer-Reviewed Journal
By Sarah Johansson, Social Media & Digital Content Associate
Mar 1, 2021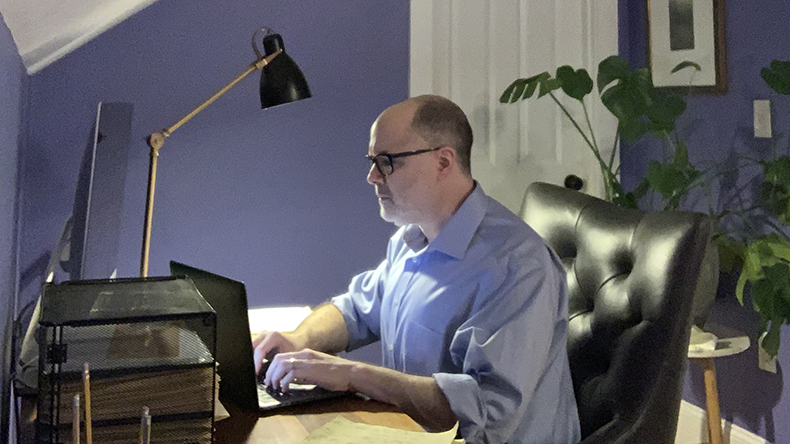 When Robert Saxner first began his career journey, he had no idea he would end up in the Clinical Psychology PsyD program at William James College, or studying psychology at all. He earned his bachelor's degree in theatre but, after going to therapy and seeing first-hand the impact it can have, Saxner made a career change.
"That was my first interest in psychology and, as I studied it and continued to gain more and more interest, I decided it was something that I really wanted to pursue," said Saxner. "I'm really glad I did. It's very rewarding, and I think what I like about it maybe more than anything else it's very empathetic."
Specifically, Saxner developed a passion for Adlerian psychology, also known as Individual Psychology ("Individual" in this case meaning individuum, or whole). Alfred Adler's work revolved around the German concept Gemeinschaftsgefühl which, translated, refers to "community feeling," "social interest," and the idea that individuals feel most fulfilled when they are benefitting and valued by their community.
"[Adlerian psychology] is really about trying to empathize more with people and that's been invaluable when working with clients," explained Saxner. "It's the ability to really understand where they come from and, at the same time, look at the challenges that they're facing and how their perceptions of themselves and the world—which were formed very early in life—form their actions (i.e., coping strategies) later in life."
After earning his master's degree from The Adler Graduate School, Saxner decided to continue his education at William James College. He chose the Clinical Psychology PsyD program at William James he said, for the emphasis on experiential education and the ability to work directly with clients starting in the first year in the program. An article Saxner wrote about his experience implementing Adlerian strategies with clients in his field work has now been accepted for publication in the Journal of Individual Psychology, a major peer-reviewed journal covering Adlerian research and practice.
Set for publication in the June 2021 journal, Saxner's article focuses on Amy Lew and Betty Lou Bettner's four "Crucial C's" principle, which is derived from the work of Adler and Rudolf Dreikurs, and emphasizes the importance of people feeling connected, being capable, believing that they count, and having courage.
"What's really important from an Adlerian lens is that all human beings need to feel like they belong," said Saxner. In therapy, this means helping clients feel that they are an equal part of a community, that they have the ability to make a difference in the world, that they matter to others and to themselves, and that they are resilient and can overcome life's challenges. So, encouragement and decreasing feelings of inferiority are also very important parts of therapy.
Saxner credits William James College with helping him sharpen the skills needed to be successful in the field. "I felt that that was something I really needed more experience with," he said. "I'm really appreciative of William James because I do feel like it's important to have that combination of academic and real-life experience."
Now in his fifth year and completing his internship at Harbor Health and Wellness Center in Nashua, New Hampshire, Saxner calls his education "well-rounded." He said being able to pair his specific lens of Adlerian psychology with education in positive psychology, humanistic psychology, narrative therapy, cognitive behavioral therapy and other topics has been beneficial.
"A holistic approach is something that's important to me," he said of his strategies working with clients. "It's really trying to understand somebody, which includes the person's perceptions, strivings, goals, and relationships, and trying to see as much of the picture as possible."
Topics/Tags
Follow William James College
Media Contact
Katie O'Hare
Senior Director of Marketing