Students' Work Published in National School Psychology Periodical
By Sarah Johansson, Social Media & Digital Content Associate
Nov 24, 2020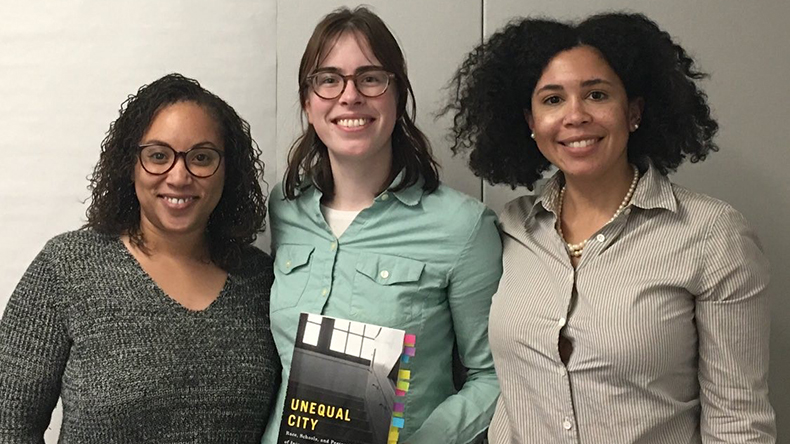 Experiential education, which is an educational approach that infuses direct experience with the learning environment and content, is a major component of all programs at William James College.
With classes taking place remotely, faculty, students, and staff have been creative about keeping this hallmark of the WJC educational experience intact in a variety of ways. For School Psychology students Paige Laich and Regina Banks, this meant shifting a three-part book discussion event from in-person to Zoom in the middle of the series. They recently penned an article about the project, which was published in the November 2020 edition of the National Association of School Psychologists (NASP) periodical, Communiqué.
"The pandemic created the unexpected obstacle of having to switch from an in-person to virtual format," said Laich. "Yet, this event remained a rewarding experience where honest conversations were created between people from various roles and departments at William James College including students, faculty and staff."
Laich and Banks, along with former WJC faculty member Dr. Miriam Thompson, hosted three separate discussions of Dr. Carla Shedd's book Unequal City: Race, Schools, and Perceptions of Injustice, which examines race, geography and inequity in Chicago schools. Laich explained that the goal of the series was to "foster a healthy dialogue about institutional racism, marginalization and education."
Each of the sessions in the series focused on a different theme present in Unequal City—perceptions, police, and policies. Discussions covered students' perceptions of themselves; interactions with authority figures; experiences of injustice related to their race, ethnicity or skin color; the school-to-prison pipeline, and more. The discussion series aligned with the National Association of School Psychologists (NASP) Social Justice Committee's profession-wide read of Shedd's book.
"We are very proud of Paige and Regina and admire their commitment to helping educate the school psychology department on issues related to diversity, equity, and inclusion," said Dr. Jason Kaplan, interim chair of the school psychology department and director of the school psychology PsyD program. "In the face of difficult times, Regina and Paige provided a safe and supportive forum for students and faculty to come together and increase awareness."
Events like these that provide opportunities to connect and learn outside of the classroom are an important part of the overall education at William James College. Both Laich and Banks agreed that these opportunities have positively contributed to their WJC experience.
"I have been afforded many opportunities to engage in highly meaningful social justice work, on and off campus," said Banks, adding that her experience at William James College has been "very rewarding and fulfilling."
The school psychology department at William James College prepares students to apply advanced expertise in education, human development, and personal-social relationships to promote the healthy development of children in educational settings, and to foster the effective functioning of families, schools, and communities.
The full Communiqué article is available here for members of NASP.
Topics/Tags
Follow William James College
Media Contact
Katie O'Hare
Senior Director of Marketing