William James College Co-Sponsors 5th Annual Perinatal Mental Health Awareness Day
By Staff Report
Jun 10, 2019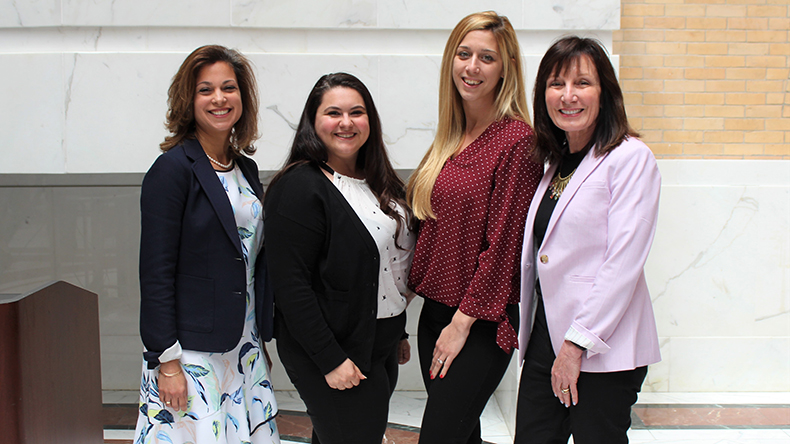 In the United States, it's estimated that one in nine women will experience symptoms of postpartum depression. In some states, this number can be as high as one in five. Postpartum depression is distressing for the mother and the family, and has been shown to cause emotional, behavioral and learning problems for the child.
Nneka Hall, pregnancy and women's advocate and Full Spectrum Doula, has experienced hardship with raising an ill child, surviving the loss of a child and battling depression. She told her story at the 5th Annual Perinatal Mental Health Awareness Day, hosted by The Ellen Story Commission on Postpartum Depression on May 16.
"I did all I had to do for my son, for my daughter, for…anyone else who needed me at the time," said Hall, describing the period after her second child was born with a congenital heart defect. "The one person who needed me the most was me."
Hall had to take a year off work to care for her daughter, which she describes as her "loneliest year," and her third pregnancy, ending with the stillbirth of her daughter, took her "into an all-time low." Hall was sent home with anti-depressants, anti-anxiety medication and sleeping pills which she "used just to survive each day." Two months later, Hall attempted to take her own life.
"Super Mom could no longer soar," said Hall. "No one sees a mom who is on a downward spiral until it's too late, especially when one of her children has died."
Years later, when Hall found out she was pregnant with her fourth child, she formed a community who supported her during and after the pregnancy and continue to support her today.
"I'm wearing my [Super Mom] cape today," said Hall speaking to event attendees. "It's tattered and adorned with the badges I've earned throughout the 18 years I've been a mom. Does the fact that a mother's baby is born ill or stillborn mean that she does not deserve to be supported physically or emotionally throughout her postpartum year? Regardless of the outcome, a woman needs to be fully supported through every phase of her pregnancy and her birth."
Hall was just one of the speakers at the annual Awareness Day event, which addresses and advocates for the mental health of mothers and families. Co-sponsored by The Richard and Joan L. Freedman Center for Child and Family Development at William James College and the Massachusetts Child Psychiatry Access Program (MCPAP) for Moms, this year's Awareness Day focused on 'addressing inequities in perinatal mental health.'
Over 20 local and international organizations gathered at the Massachusetts State House on Thursday, May 16, to bring attention to the effect of postpartum depression on families as well as the disparities that still exist in mental health outcomes among different populations.
"We are committed to ensuring everyone in the Commonwealth has access to timely and high-quality mental health services at every stage of their lives, including during and after pregnancy," said Commissioner of the Massachusetts Department of Mental Health Joan Mikula during her opening remarks.
Experts in the field, including medical and mental health professionals, mothers and survivors, presented data, gave speeches and told their stories during the conference.
"Everyone has a part to play in raising awareness for perinatal mental health," said Senator Joan Lovely, Senate co-chair of the Ellen Story Commission.
Members of the William James College community participated in the conference, including Executive Director of The Freedman Center Margaret Hannah, who is a Governor-Appointed Commissioner of the Ellen Story Commission, and Freedman Center interns, Heather Yany and Cassie Cardoza, who hosted an information table. Dr. Nadja Reilly, associate director of The Freedman Center, spoke at the beginning of the event on the ways The Freedman Center and William James College address perinatal mental health and workforce development in this area.
"William James College is a school of psychology that is intently focusing on teaching our students about the early childhood period, which critically includes the individual and systemic experience of new mothers," said Reilly.
Inequities in medical and mental health care also extend beyond the patients. Timora McQueen Saba, commissioner on the Ellen Story Commission, mental health advocate and survivor of a near-fatal postpartum hemorrhage, spoke on the disparities that exist among professionals in these fields.
"Disparities in health outcomes are the result of supporting systems and people who do not care about and are not actively striving to create health equity," said McQueen Saba to the audience. "Welcome black and brown providers into your spaces, share information, and give them the opportunity to educate you on populations of people that you know nothing about. That is equity. If you want to eliminate disparities, strive to create equity not only in the work you do directly with patients, but also within all of your professional networks."
Other speakers at the Awareness Day event included: Representative James O'Dea, House co-chair of the Ellen Story Commission; Dr. Nancy Byatt, founding medical director of MCPAP for Moms; Dr. Hafsatou Diop, office of data translation director at the Massachusetts Department of Public Health; Dr. Jo-Anna Rorie, nurse coordinator for the Bridges to Moms program; Jasmine Sealy-Norvin, a mother involved with the Bridges to Moms program; Dr. Lucy Chie, OB/GYN director and staff physician at a variety of Boston hospitals and medical centers; Yoyo Yau, LMHC and director of programs at the Boston Chinatown Neighborhood Center; and Dr. Audra Meadows, obstetrician and gynecologist at The Brigham and Women's Hospital.
Divya Kumar, commissioner on the Ellen Story Commission, co-founder of the Perinatal Mental Health Alliance for Women of Color and co-founder of Every Mother Project, was the last speaker of the event. She reiterated McQueen Saba's comments on establishing equity throughout the entire field.
"The work that we do as professionals has to be informed by the people who we serve. If we want equity, we have to understand people's history, the circumstances in which they live, the challenges that they face every day, and incorporate all of this into our report," said Kumar. "Without representation it is clear we are an afterthought."
Topics/Tags
Follow William James College
Media Contact
Katie O'Hare
Senior Director of Marketing