Alumna Focuses on the Role of Trauma in Violence
By Staff Report
Nov 1, 2016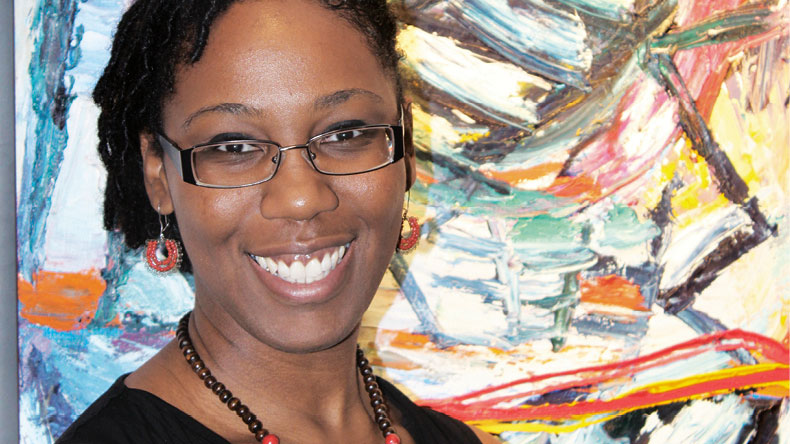 Fatimah Loren Muhammad, a 2015 graduate of William James College with an MA in Global Mental Health, is now the Director of the Trauma Advocacy Initiative of the Equal Justice USA (EJUSA). In her position, Muhammad, who specialized in trauma in adolescents, adults and communities of color, is focused on reforming the criminal justice system by first bringing together criminal justice reform advocates, psychologists and public health professionals to talk about trauma and its role in the lives of both survivors of crimes, offenders and first responders. The goal—to build a trauma-informed justice system using a public health lens.
EJUSA began this process after years of working with hundreds of crime survivors, largely families of murder victims, and finding that their needs (from unaddressed trauma to financial challenges) had gone unaddressed in the justice system, contributing to cycles of violence and incarceration.
Using her expertise in coalition building, Muhammad is incorporating trauma intervention into the criminal justice reform agenda to make the important link between trauma, victimization, race, and mass incarceration.
Recently, Muhammad facilitated a White House conference of the Domestic Policy Council where experts from many institutions, including Dr. Robert Kinscherff from William James College, and federal departments discussed race, trauma and the cycle of violence. And, she continues to organize training programs to address consistent, persistent trauma—even generational trauma—to secure funding for solutions that support resilience among both victims and offenders.
"I've talked to so many individuals plagued by terrible, persistent trauma," she says. "It's time to generate more ideas and more funding to stop this cycle."
Topics/Tags
Follow William James College
Media Contact
Katie O'Hare
Senior Director of Marketing