William James College Alumna Sarah Wolford Named Clinic Director at Pfeiffer Institute for Marriage and Family Therapy
By Staff Report
Sep 29, 2020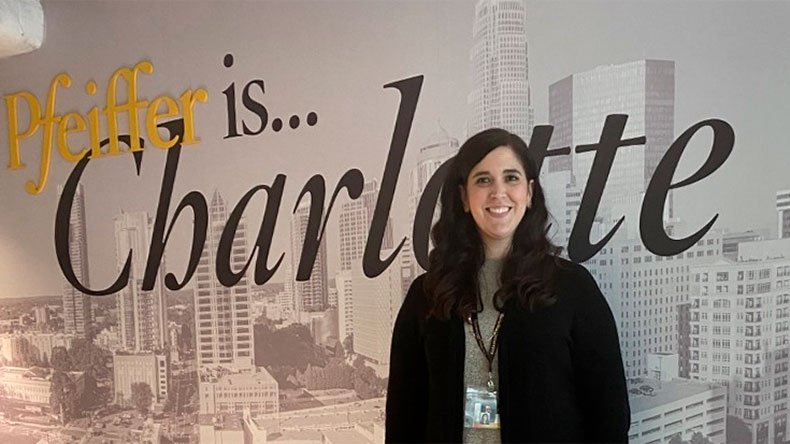 Wolford attributes counseling success to WJC faculty mentoring and hands-on learning
Dr. Sarah Wolford didn't enter college with the intention of becoming a counselor or family therapist. The original plan was to be a speech therapist, but along the way to graduating summa cum laude from Emerson College with a degree in Communication Sciences and Disorders, Wolford added minors in psychology and creative writing. Her interest in psychology and early-career work in a psychology clinic would ultimately lead her to William James College.
A recommendation from a friend followed by a meeting with Jacqueline Gagliardi, the director of the Couples and Family Therapy emphasis, cemented Wolford's decision to pursue a career working with children and families, especially those who have survived traumatic experiences. She interviewed and was accepted into the MA in Counseling Psychology program with a concentration in Couples and Family Therapy, earning that degree before moving on to a Ph.D. program. She recently received an American Association of Marriage and Family Therapy (AAMFT) research award, earned an assistant professorship at Pfeiffer University in Charlotte, North Carolina, and was named a clinic director only a year after successfully defending her doctoral research.
Wolford attributes her comprehensive foundation in counseling to the opportunity to learn from counselors, family therapists and clinical psychologists who also serve as faculty and mentors. "That's what sharpened my abilities in diagnosis," she says, "in working with systems, working in different school settings and residential facilities."
Her field work gave her the chance to put those skills into action. In an internship with the LABBB Educational Collaborative in Lexington, she interacted with special education departments, academic coordinators, social workers, and counselors providing therapy services to students with learning disabilities, neurodevelopment disorders, or other issues that impacted their learning. Her work directly with students on individual educational programs (IEPs) and in the classroom running dialectical behavioral therapy-style groups informed her interactions with parents and bridged her work in family systems.
After earning her master's degree, Wolford was providing in-home therapy and working toward her LMHC licensure when she decided that she wanted to take a still-deeper dive. Again, she sought out Gagliardi for feedback, who helped her identify her key interests in research and teaching. With the opportunity to do both at a Level 1 research institution, Wolford pursued her Ph.D. in Marriage and Family Therapy at Florida State University. She successfully defended her doctoral research in August 2019 and soon after became an Assistant Professor of Marriage and Family Therapy at Pfeiffer University in Charlotte, North Carolina.
Her doctoral research, Examining The Emotion Regulation Process in Parents: Responding to the Call for Emotion Regulation Skills in Parenting Interventions, addressed the rising rates of child emotional and behavioral disorders in the U.S. by examining the effectiveness of evidence-based parenting interventions to reduce negative behaviors. It caught the eye of the American Association of Marriage and Family Therapy (of which Wolford is now a member) and earned Wolford the AAMFT Graduate Student Research Award.
Wolford said that she was inspired to explore the topic because she was less interested in specific behavioral interventions—timeouts, limit-setting, consequences, etc.—than in the emotional experiences of parents who are dealing with extreme behaviors. She focused on meeting the emotional needs of caregivers in crisis, those dealing with the child welfare system, dangerous behaviors, or serious behavioral and emotional challenges. She expresses wanting to help parents think through those volatile situations and regulate their emotional responses so that they feel more in control—an approach that is rarely a focus in discussing care for the children.
"We talk so much about the needs and the couple dynamics going on between two parents and their children," Wolford says, "but we don't have a systematic way, that we have learned as parent and family therapists, to treat those parent-child interaction challenges. Parent interactions leverage some support to that process." She would like to develop a dedicated class on special topics on parenting, including parent training, the history and effectiveness of parent management training interventions, and streamlining therapy sessions to focus on what works to make treatment more cost-effective.
One of the positive aspects of her research on mitigating conflict through self-regulation was that participants reported being able to utilize those skills in areas outside of parenting, giving them greater agency over managing difficult situations, in general. Wolford recalls with a laugh one parent reporting, "This is great! I don't know if it's going to work with my kid, but it will work with my boss!"
Wolford remains a prolific researcher and also sees patients in a private community practice in addition to teaching. "I am making sure I practice what I teach," she says. She reports an increase in calls for family health appointments during COVID-19, which she attributes both to external factors, such as the stress of parental job loss or changes in schooling and routines, and to the ramp-up of parent-child conflict as a result of increased interaction during confinement.
She tries to reframe what families have faced by pointing out that there are some positives to the changes brought on by the pandemic: "The literature talks about children's deep desire to have quality time with their parents in a growing, busy, stressful world. Another area of parenting research that I've done is that teenagers are so overworked and stressed out. They don't get home until ten o'clock after all of their activities—and then they have homework and don't eat. Then they're up at 5am again…" She points out that while the slow-down is a forced one, children are "playing board games, playing outside, spending time with their parents… there's this beautiful resurgence of quality time."
She has encouraged families to value this opportunity and make meaning of it by developing communication and connection. "How can you nourish these relationships right now?" she asks. "How can you learn about each other and grow together, and utilize this time so that when you look back you really feel that you did some solid work with your family?"
Throughout her moves, both professionally and geographically, Wolford has fostered connections of her own, including utilizing William James College resources for support. She has maintained a connection with Dr. Nilda Laboy, chair of the Counseling and Behavioral Health Department, whom she says "was instrumental not only in shaping me as a student, but in giving me sound advice as a colleague in the field about how to think through the application process, the interview process, and what sort of things I needed to have in order for my license as I transitioned to [Florida and North Carolina]." She also remains in touch with Gagliardi, with whom she discusses publication work. "I plan to stay in connection with them because we all need to lean on each other—especially in these times."
Wolford has also recently taken on a new role: Although relatively new to the institution where she teaches, she was encouraged to apply—and was selected—for the directorship of the Pfeiffer Institute for Marriage and Family Therapy.
"It's a dream come true!" she says of her new position. "I thought I would definitely be waiting another ten years for that, but I do attribute that to the training that I received from William James College and all of the people in my village that have brought me to where I am today."
Popular Topics/Tags
Follow William James College
Media Contact
Katie O'Hare
Senior Director of Marketing and Communications