OLP Alumni Spotlight: Vets Find Natural Bridge to Organizational Psychology
By Staff Report
May 26, 2016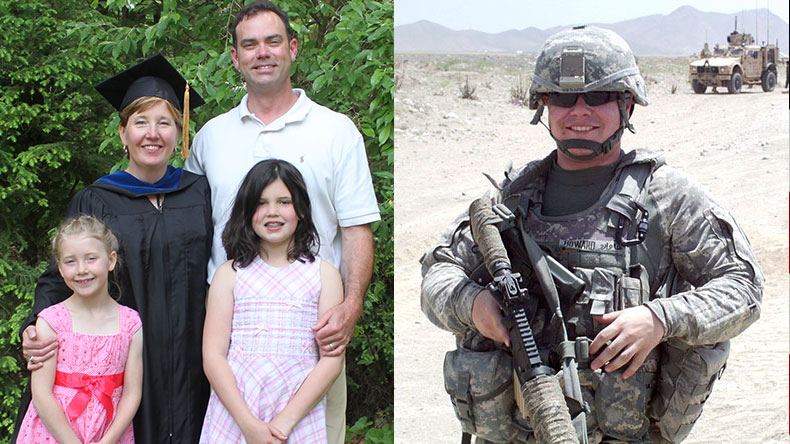 William James College has provided a welcoming bridge to veterans with its Organizational and Leadership Psychology Department. For these two individuals, enhancing their skills in coaching and mentoring, counseling and team-building has opened doors to career advancement that feels like the natural extension of the work started in the military. Each has brought the work learned while deployed across the U.S. or around the world and added the rigorous academics and the on-site supervised placements that will enable them to hold high level leadership positions in the private sector. Each strongly endorses William James for the support and flexibility the college offers vets.
Brenda Kurtyka
With two school age daughters, a 14-year marriage, 19 years of military service and the energy of at least two people, Air Force Lieutenant Colonel Brenda Kurtyka wastes no time. She earned her certificate in Executive Coaching and then her Masters degree in Organizational Psychology at William James College in quick succession, all while working at Quantech Services, Inc. in Lexington, MA.
Kurtyka takes a holistic view of executives and management teams, focusing on improving their overall effectiveness and growth. Her William James College graduate work has enabled her to work with adults in businesses as well as counseling teens in order to help them develop the life and leadership skills they will need in the future. Kurtyka feels that her graduate work flows logically from her work in the military at Air Force bases across the U.S. and a deployment to Saudia Arabia. Consistent with William James' values and the Air Force motto of "Service Before Self," she has continued to serve, mentor and counsel for many years, consistently acquiring new skills along the way.
"William James was an excellent choice for me," says Kurtyka. "I received quality training in executive coaching and then during my MAOP. The supervised field work experience was a crucial part of my learning. There's no substitute for the hands on experience I received." She credits William James with being especially sensitive to the needs of veterans. "I formed supportive, nurturing relationships with those in my co-hort," she says. "We developed a strong sense of community. William James is an exceptionally good place for vets."
Raphael Howard III
With a 19-year history of military service, Captain Raphael D. Howard III has a wide range of experience. In Northern England, Bosnia Herzegovina, Guantanamo Bay, Cuba, New Orleans after Katrina, Mosul, Iraq, two tours in Afghanistan and Djibouti in the Horn of Africa, he demonstrated a variety of leadership skills in peace keeping, security and advising. As a recent graduate of the MA in Organizational Psychology from William James College, he is pursuing a position where he can help civilian organizations develop, grow and thrive. In many ways, he says, his work at William James builds on what he learned overseas.
"It's a growing field with many new opportunities," Howard says about the field of organizational development. "It complements what I did in the military." Always more interested in group dynamics than psychological illness, Howard's long track record in the military involved much of the "winning hearts and minds" collaborative work, advising local politicians and teaming with local governments around rebuilding civil society. From fixing schools, assuring access to water, establishing post offices, and a host of other services local citizens need, he was involved in many projects where he learned team building and leadership skills.
Howard greatly appreciates William James College and the education he received. "It's an environment where people are tremendously helpful," he says, listing the many ways faculty and staff have been there for him and the importance of experiential learning opportunities blended with classroom instruction. The MA in Organizational Psychology program is geared to adult learners who can work while earning a degree. "I'd highly recommend this to other military reservists and to veterans," he says.
Topics/Tags
Follow William James College
Media Contact
Katie O'Hare
Senior Director of Marketing