William James College-s APA Consortium and Mental Health for Youth Get Boost from HRSA
By Staff Report
Feb 27, 2015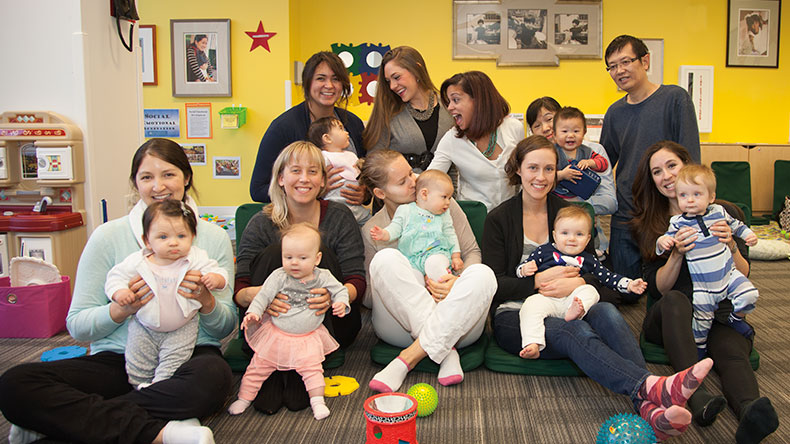 If you heard loud cheers in our hallways in recent months, they were probably from Dr. Sonia Suri, Dr. Bruce Ecker and Dr. Randi Dorn when they learned that William James College had won its first federal grant and largest grant ever. The Health Resources and Services Administration (HRSA) awarded William James College $713,000 over three years to train clinical psychologists as part of our Internship Consortium in the care of children, adolescents and transition-age youth (16-25) who suffer from mental health problems.
According to Ecker, Director of William James College's child psychology training sequence, Children and Families of Adversity and Resilience (CFAR) and co-principal of the grant, "There is a serious shortfall in the number of clinicians for these young people. One in five experience some form of identifiable mental illness, yet no more than half will ever receive the treatment they need," he says.
"I see this grant as a win-win-win scenario," he adds. "It is a win for the patients and families who will receive care, a win for our students who will receive exceptional training in APA-accredited internships and a win for our field sites that will receive the support they need to provide that training," he says.
Suri, Senior Research Associate in William James College's Office of Research and project director and co-principal for the grant, believes that "it opens up a whole new playing field for William James College and elevates our standing in the Boston higher education community that competes regularly for this kind of funding. Being chosen for this increases the likelihood that we will be considered for future opportunities," she says.
The grant, which will fund 24 APA internships for William James College's Clinical PsyD students in agencies that deliver high quality care to these underserved populations, will also allow William James College's Field Education Department to expand its already unique APA Internship Consortium to include six more sites.
Our APA Internship Consortium is a collaboration of high quality field training sites that reserve a number of their internship positions exclusively for William James College students. They are agencies that do not have the resources and support to qualify for APA accreditation on their own, but by sharing support and resources with each other and William James College, they also share accreditation. "We bring them together and provide the infrastructure," says Dr. Randi Dorn, William James College's Director of Training, who manages the Consortium."
We are thrilled that this grant enables us to invite additional sites to work with us to provide these high level internships focused in this area of critical need, as well as adding more opportunities for William James College students to train in APA-accredited internships," adds Dorn who was instrumental in getting the field sites on board as part of the grant application process.
New Consortium sites include the Brenner Center for Psychological Assessment and Consultation, Edward M. Kennedy Health Center, Freedman Center for Child and Family Development, Joseph M. Smith Community Health Center, The Trauma Center at Justice Resource Institute and Youth Opportunities Upheld Inc. (YOU Inc.).
Though Suri and Ecker were the co-principals of the grant, they credit a team of staff, faculty and students, including Dorn, with its ultimate success. "It was an amazing group effort," says Suri, listing essential contributions from Debra Boyce, who worked on the budget; Dr. Stacey Lambert, Dr. Ed De Vos and Dr. Robert Kinscherff, who provided advice and counsel; Margaret Hannah, Christy Harms and Drs. Mari Carmen Bennasar and Robert Dingman who wrote summaries of their programs for the application; Cheryl MacDonald who supplied them with documentation from Field Education to support the application; students Anelise Cohen, Nicole Morreo and Jordan Lawson who provided technical and research support; and Sunny Singh who added IT expertise.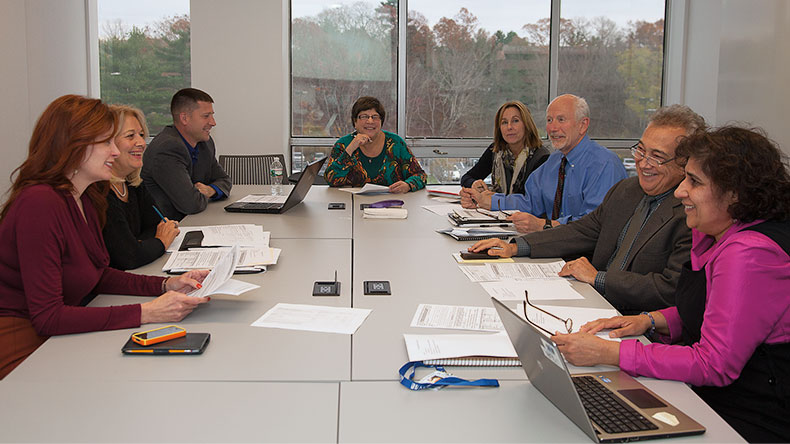 The HRSA grant team plans next steps. From left to right are Stacey Lambert, Debra Boyce, Dan Brent, Randi Dorn, Cheryl MacDonald, Bruce Ecker, Ed De Vos and Sonia Suri.
"We would also like to acknowledge our partnering field sites who were willing to write a letter of support to HRSA at short notice," adds Suri.
HRSA grant-funded APA interns have already begun their training at the Freedman and Brenner Centers.
Elysha Greenberg, who is an APA intern at the Freedman Center, is very grateful. "I feel so fortunate to be able to work at the Freedman Center and to have an APA internship," she says. "Both fit my personal and professional goals. The Freedman Center has designed a comprehensive program that is perfect for me, and the APA accreditation will open doors for me in the field I am very committed to," she says. "I have found something I love to do, and I know that I will continue to grow over the course of this internship."
For Dr. Nadja Reilly, Associate Director of the Freedman Center and the Training Director for the APA interns at the Freedman Center, says "The internships funded by this grant at our center and at other sites expose students to a broad range of prevention, promotion, assessment and treatment, and we are very excited to be part of it." "In summary, this grant will help to fulfill three of our missions-our social justice mission to serve the underserved, our training mission to create the next generation of professionals and our mission to become recognized as a research entity. This is a very big deal," says Dr. Stacey Lambert, Chair of the Clinical PsyD Department.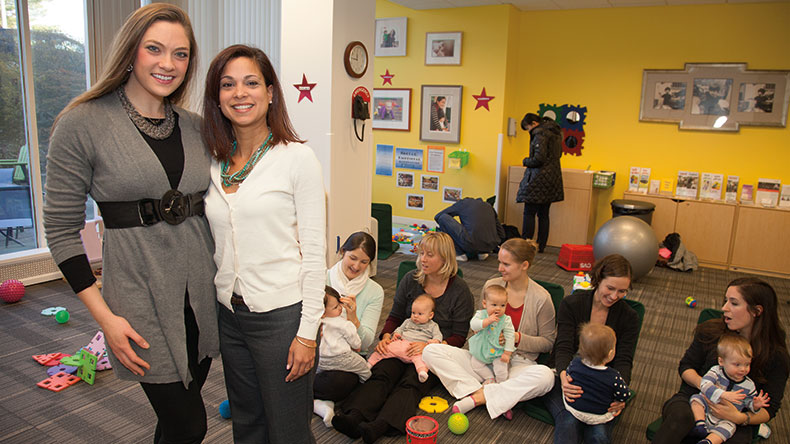 APA intern Elysha Greenberg (left) and Dr. Nadja Reilly, Training Director for the Freedman Center's APA Consortium interns, at the Playtime group. The Freedman Center was named an APA internship site under the HRSA grant.
Topics/Tags
Follow William James College
Media Contact
Katie O'Hare
Senior Director of Marketing