Applied Behavior Analysis Program Graduates First Class
By Staff Report
Nov 14, 2018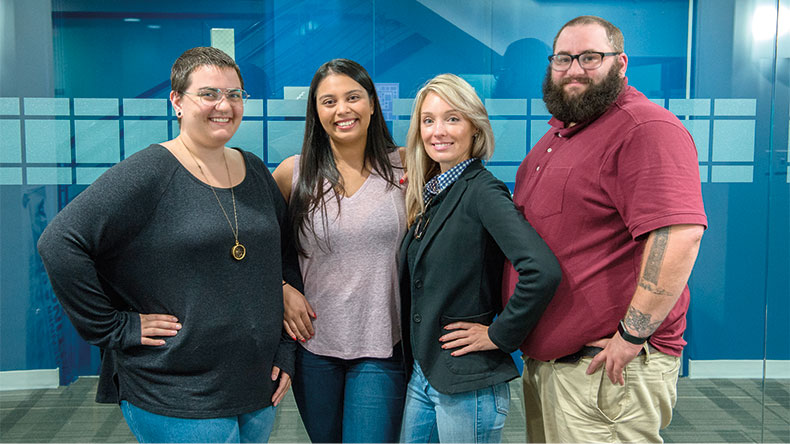 In June, William James College congratulated its first graduates of its Master of Arts in Applied Behavior Analysis (ABA) program and its cohort of four talented professionals. Rachel Mallard, Corey McConnell, Sumatee Persad, and Jessica Zion-Zagrodny, are looking forward to applying what they've learned as they begin the next phases of their careers.
Of the close and supportive nature of this cohort, Director of the MA in ABA Program, Ronald Lee, PhD, said, "It was a hope of mine, and they exemplified the kind of support that is invaluable to students going through this type of work together." Indeed, Persad commented, "While my cohort was so small…it made a great impact on me. Not only were my peers my greatest competition to be my best, but there was a lot of support as well."
Mallard remarked, "I've become really close with my cohort, and feel as if I now have a support system that will help me both in my career and in everyday life." Coupling an interest in forensics with work experience with autistic students, she was pleased by the fact that Lee welcomed her out-of-the-box approach to ABA. "I felt that he was encouraging and welcoming of students with different backgrounds and interests. He understands that enrolling students with a diversity of approaches will enhance the program as a whole."
Zion-Zagrodny confirmed that Lee's approach was crucial to the cohort's success. "Dr. Lee is unique in that he introduced topics when he knew it was the right time in terms of our readiness. He personalized our education, and we came out with a keen understanding of the material." Zion-Zagrodny is hoping to put her skills and education to use in a private clinical practice, and she feels well-prepared to work with a variety of patients with differing needs.
McConnell agreed that the program prepared him well, delving into radical behaviorism, classical conditioning, and the history of ABA, as well as the principles current ABA practitioners put to use in the field. "The program required its students to be very structured and organized in order to complete both the coursework and the practicum hours. It's excellent training for a career in the field." He plans to continue his work in the Brookline public school system after 12 years of working with individuals with developmental disabilities.
Lee feels equally as confident in the future success of the recently graduated cohort. "As a newly established program, we wanted to make sure we did right by the first students. And, while we feel that we prepared them well, we will also attribute their eventual success to the fact that what they each brought to the group, as individuals, strengthened the cohort tremendously." Lee hopes to continue the cohort model and grow the ABA program wisely, eventually becoming known as a premier ABA program and basing future growth on lessons learned from past and current student cohorts and feedback from these illustrious recent grads.
Topics/Tags
Follow William James College
Media Contact
Katie O'Hare
Senior Director of Marketing