August 2012 Visit to Haiti
By Staff Report
Aug 1, 2012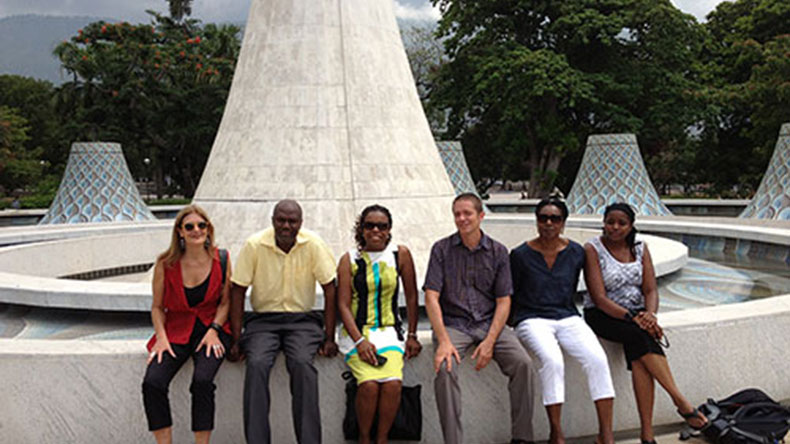 In August 2012, Dr. Jill Bloom, Clinical PsyD faculty, and Paul Reynolds, 4th year Clinical PsyD student, went to Haiti for a week as part of William James College's collaboration with the Haitian Mental Health Network (HMHN). When presented with the option of doing a Directed Study with the HMHN, Paul Reynolds says he was excited but also aware of his lack experience with this kind of work. He had a strong interest in Haiti due to the many unique, sociopolitical issues emerging from the country's history. He had previously studied the religion and culture but felt some apprehension about his ability to make a contribution, working alongside Haitian clinicians in Port-Au-Prince. Paul stated, "It has really been my experience as a student here that has made me rethink self-imposed limitations –especially when it comes to cultural aspects of the work." He added, "The HMHN are some of the most welcoming and dedicated professionals I have ever met." He stated that the Directed Study led by Dr. Vanessa Prosper was thoroughly engaging and conceptually rich. Through these experiences and especially the trip itself, Paul feels that his thinking has broadened both clinically and critically. "The situation in Haiti is such that sociocultural, historical, economic, and political concerns are inextricably linked to mental health. I would argue that this is true everywhere –here it is just very overt." Paul stated that the experience has helped him to consider cultural context in deeper ways and in all aspects of clinical work.
The relationship with the HMHN came about when a group of William James College staff, students and faculty got together to talk about possible response to the earthquake in 2010. Dr. Jill Bloom met Dr. Vanessa Prosper through their membership on the MPA Committee on Ethnic and Minority Affairs (CEMA) and invited her to come speak to the group. The newly formed HMHN at the time was looking for ways to respond to the earthquake and when the groups reconvened a year and a half later, the results were a Continuing Education Event –Trauma and Mental Illness in the Haitian Community: Promoting a Research Agenda –with over 100 participants, a Haitian Art Exhibit, "When Our Brushes Shook" which raised over 10,000 in 3 weeks for the artist community of Jacmel, Haiti, and local Haitian artists, and the Directed Study culminating in the week in Haiti. Dr. Jill Bloom described the "Training the Trainers" 2 day workshops in Haiti as "organic". Working alongside psychology students in Haiti learning about Trauma in Adolescence and PTSD Across the Lifespan left her in awe of the HMHN, a completely home-grown organization of professionals who volunteer their time to respond to the needs of the Haitian community in Boston and the community in Haiti itself. These clinicians, some 40 strong, all have professional jobs in addition to this work.
Paul Reynolds reflected on the trip to Haiti saying that he was inspired by the positivity, the beauty, and warmth despite the obvious political/economical/educational issues that prevent this country from moving forward the way many would like. "The complexity of it all opened up, we were there to find a way to be effective as well as learn."
Popular Topics/Tags
Follow William James College
Media Contact
Katie O'Hare
Senior Director of Marketing and Communications