Bob Childs: Builder, Musician, Psychologist, Teacher, Mentor and More
By Staff Report
Jun 1, 2014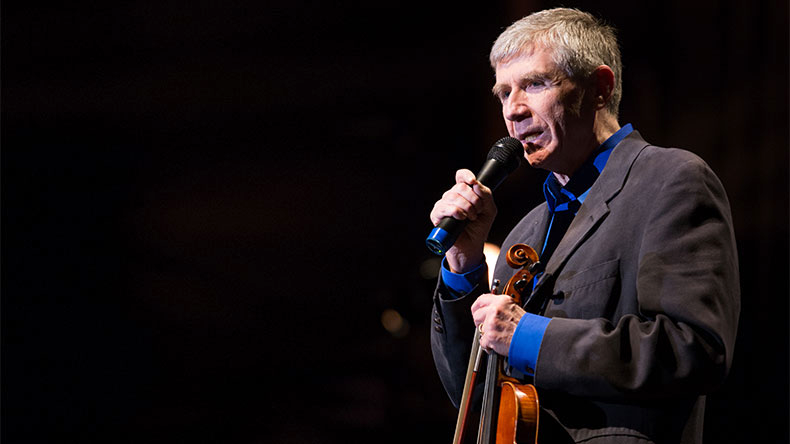 Bob Childs earned his college tuition building houses in upstate New York and later transitioned to building something smaller—violins. While running his own violin shop in Cambridge, he earned an MA in Clinical Psychology at Harvard's School of Education and in 1998, earned a PsyD from the Clinical Psychology Department at William James College. "I'm a hands-on guy," he says, explaining his affection for on-site learning and doing at Cambridge Hospital and at Tufts while studying for his doctorate. Performing and recording regularly with Childsplay, an ensemble of string instruments, all of which Childs built, he also teaches four courses at William James College and maintains a busy private practice often focused on adult adoptees.
Yes, we're still talking about only one person.
"I love the perspective and empathy here at William James College," he says. "I love teaching here and how theories apply to reality," referring to William James College's unique integration of classroom academics and on-site supervised training. Childs helps his students do what he too has done a lot of—learning about themselves. As a young boy, Childs lived in five foster homes before he was adopted by what he describes as "a loving family". I help my students explore why they're interested in doing this work. I want them to learn to be firmly grounded, to know what's driving them to seek this profession. The field is changing rapidly, he notes, "There's far less exploratory, open-ended work and so many more short-term models."
Childs considers it "wonderful" to be doing what he loves. He is a big believer in finding good mentors and teachers, something encouraged at William James College, and he places great value on maintaining supportive relationships with his students.
At age 61, Childs has been married nine years and has two young sons. His daily life seems to reflect his desire for self-awareness and diversity as well as his ability to follow his own intuition. Where that will lead him remains an open question. Childs generously donated a boxed set of CDs and DVDs of Childsplay auctioned at the annual William James College Gala in May. A film about the group is to appear on PBS this coming year.
Topics/Tags
Follow William James College
Media Contact
Katie O'Hare
Senior Director of Marketing