Celebrating Pat Capobianco, William James College's Gardener and Guardian
By Staff Report
Feb 27, 2015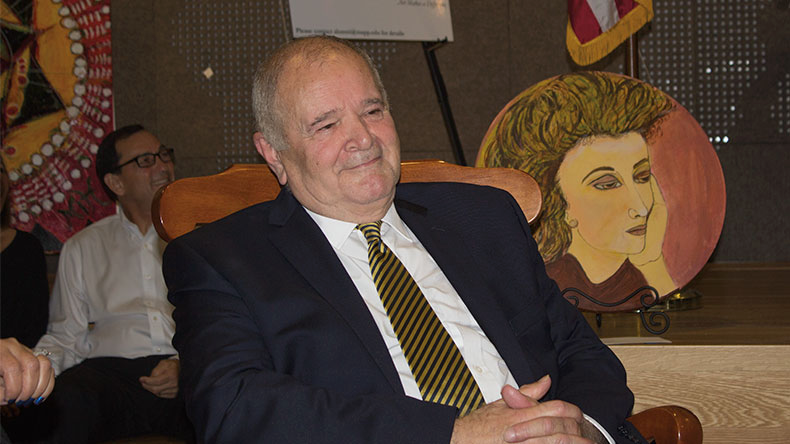 If you ask Pat Capobianco, William James College's recently retired VP, Finance and Operations, what his greatest accomplishment has been at William James College, he will immediately start naming the members of his team and describing each in glowing terms. And he never forgets anyone. "For me, it has always been about the people, and it is these William James College people and the fun we have had working together that I will miss the most," he says.
On October 30, 2014, the "people" of William James College gathered with Capobianco's family, childhood friends and William James College partners and vendors to celebrate with humor and gratitude "this compassionate and courageous man" (in the words of President Nick Covino), and the next phase of his remarkable life after his 45-year career—a career in which not only William James College, but Tufts University, Mass. Eye and Ear, Harvard Community Health Plan and Mass. General Hospital were also fortunate recipients of his gentle, extremely competent leadership.
Both John Zona and Rif Freedman, Chair and Trustee respectively of our Board, told Capobianco that they considered him one of the happiest working people they have ever known. "He loved coming to work," they both said. "And, with the exception of my beautiful family, William James College has been my greatest labor of love," says Capobianco. His love of work was contagious, according to his well-mentored successor Dan Brent. "Pat made coming to work a pleasure," he said, adding that Capobianco's financial acumen and ability to develop relationships are responsible for the school's rise from a $2 million-dollar organization to a $20 million-dollar operation in 10 years.
As for his future, faculty member Jackie Gagliardi, MEd, described her hopes for her dear friend, picturing him happily surrounded by children and grandchildren, strumming on his guitar, listening to his ham radio, and "exploring, through his new telescope, life in other galaxies," all passions of "this Renaissance man." Speaking that night for his beautiful family were granddaughters Abby and Carly, who agreed that William James College was as lucky as they were to have had Capobianco, their "Gumba," to guide it for so many years.
Ending the formal program, Covino quoted from author Raymond Bradbury who said:
"It doesn't matter what you do, so long as you change something from the way it was before you touched it into something that's like you after you take your hands away. The difference between the man who just cuts lawns and a real gardener is in the touching, The lawn-cutter might just as well not have been there at all; the gardener will be there a lifetime."
"This extraordinary man, Pat Capobianco, has indeed been and always will be our gardener," said Covino.
Topics/Tags
Follow William James College
Media Contact
Katie O'Hare
Senior Director of Marketing