Alex Goldmeier: Christopher O'Connor Memorial Fund Scholarship Recipient
By Staff Report
Jun 23, 2020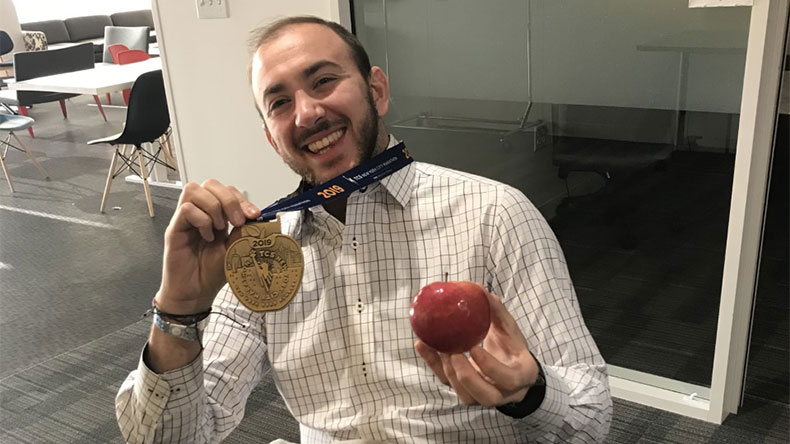 Alex Goldmeier has just completed his first year as a Clinical Psychology (Psy.D) student at William James College. Originally from New York, he moved to Newton, MA in the fall of 2019 to begin his studies. Alex is the first recipient of a scholarship from the Christopher O'Connor Memorial Fund, and we caught up with him over the phone as he was packing up to move back to his parents' house for the summer.
The first thing Alex said was "do you know I'm in a wheelchair"? That detail is crucially important to understanding Alex's motivation and determination to succeed as a student. In February of 2018, at the age of 24, Alex had a catastrophic ski accident that left him paralyzed from the chest down. "Getting a doctorate in psychology has always been a life goal, and I was planning to attend grad school even before my injury. I had intended to start in the fall of 2018, but decided to come in the fall of 2019 instead."
"I am passionate about the field of psychology and think I can make a difference", Alex said. As a teen, he worked as a camp counselor and realized he enjoyed working with children. In college, at the University of Vermont ('16), he did work studying resiliency in children. After college, he did an internship at Bellevue Hospital in New York, working in inpatient care for children and adolescents who had experienced trauma and addiction. In his first year at WJC, he did a practicum at Memorial Spaulding Elementary School, doing bibliotherapy with children and talking with them about their "zones of regulation". These experiences have helped to refine his thinking, and have drawn him to the CFAR (Children & Families of Adversity & Resilience) Concentration at the College. "How we are raised has a huge influence on who we become and I want to understand how family dynamics matter."
In the fall of 2020, Alex will start a practicum at MetroWest Medical Center, where he is interested in the partial-hospitalization program for addiction and trauma. "With outpatients, people have things under control and need to maintain their life. With partial-hospitalization, people are in a transition period and the severity of their issues are still apparent. I will be working with adults in a transition period in their lives; these adults have behavioral health issues ranging from serious mood disorders to addiction and trauma. It just feels right."
What is most apparent in speaking with Alex, apart from his evident passion for his work, is his gratitude to the Christopher O'Connor Memorial Fund for providing him with the financial support to live independently. When he first decided to attend WJC, he began to look for accessible housing and found his options were limited and that those that were available were very expensive. Alex reached out for help from Joan Axelrod, head of the Academic Resource Center at WJC, who nominated Alex to receive a scholarship from the Christopher O'Connor Memorial Fund. "Costs for paralysis are exorbitant. This scholarship is huge in being able to let me live in accessible housing and attend grad school. That I was able to live independently within two years of paralysis is incredible."
Alex has absorbed the life story of Christopher O'Connor with gravity and appreciation on a personal level, being in recovery himself. "I was sober for just three months when I had my accident. With the pursuit of a better life and to succeed in fulfilling my goals of graduate school, recovery has been a major part of my journey. Now, I have been sober for two-and-a-half years, and am extremely grateful for it. Without my sobriety, none of this would be possible."
In his free time, Alex remains very active and is passionate about adaptive sports. He completed the NYC Marathon in 2019 using a hand-cycle, and swims, boats, plays tennis, and skis. He is involved with the Christopher Reeve Foundation, was interviewed on the TODAY show in June of 2018, and feels deeply grateful for a surprise renovation done by 'George to the Rescue' that allowed him to live independently at his parents' home after completing rehabilitation. We invite you to click on the links here to learn more about Alex and to share our enthusiasm for the career path chosen by this extraordinary young man.
Popular Topics/Tags
Follow William James College
Media Contact
Katie O'Hare
Senior Director of Marketing and Communications