Dean Abby's Many Contributions to the College Are Honored As He Retires
By Staff Report
Jul 23, 2020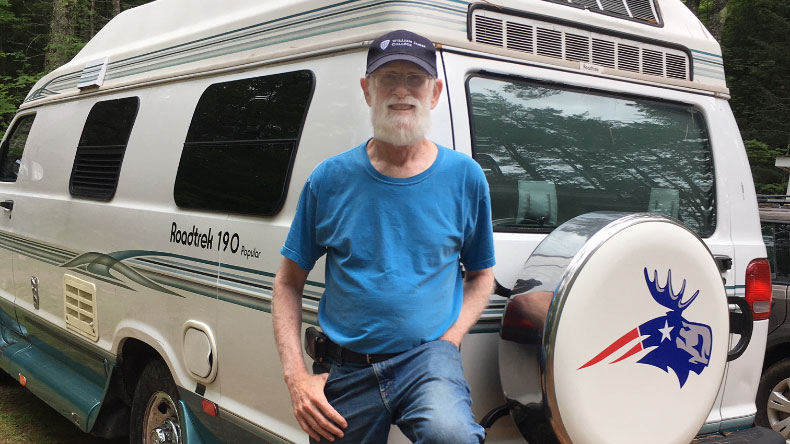 For more than three decades, Dean Abby has fostered connections within and across William James College's multi-faceted communities as the College's first—and to date, only—Director of Continuing and Community Education. Those communities wish him well in his retirement at the end of July.
"Dean is a beloved figure not only to students, faculty and staff within our campus but to countless Continuing Education (CE) teachers and participants across the years," said Dr. Stan Berman, William James College's former Vice President of Academic Affairs, who worked with Abby throughout both of their tenures.
Abby viewed Continuing Education as an opportunity to promote professional mental health education throughout New England while further introducing the college to our regional colleagues. Programs varied from a small 2-hour evening program on a tightly focused area offered by an alumnus to large full day programs with a panel of local and national experts. As time went on, the College collaborated with other educational partners including Harvard Medical School; to offering year-long training courses in areas like Behavioral Medicine and Psychodynamic Psychotherapy to piloting and then greatly expanding online learning courses. Many mental health professionals were regular, "repeat customers" due to their appreciation of the consistent high quality of the college's offerings under Abby's leadership.
As an undergraduate, Abby briefly studied marine biology before completing his degree in Interdisciplinary Social Sciences and earned an M.Ed. in Counseling Psychology. William James College was fortunate that he found his calling as an academic administrator. His love for the environment was incorporated into his work, however, and he was affectionately known on campus as "The Dean of Green." His advocacy became an official part of his role with the College when Dr. Nicholas Covino became President and enlisted him to spearhead the institution's environmental stewardship efforts.
He was also integral in relocating the Erich Lindemann Memorial Lectures, which highlight insights and innovations in community mental health, from Harvard University to William James College. He will remain involved with the lecture committee during his retirement for the development of future events, but his time will otherwise shift to other interests.
Abby creates art in multiple mediums—stone, wood, paint, and metal among them—and is a science fiction buff who looks forward to catching up on his reading. He and his partner, Barbara, have also recently purchased a compact motorhome, affectionately named Vanna, and they anticipate traveling from his home in Maine on occasion to visit their children on the West Coast. "It's nice to have the realization that I can wake up on any given day and do what I want to do!" he says.
Abby's passions converge when he speaks of his previous work and the future: "There's not a moment in my life that can't be looked at through the lens of psychological process…vocational activity, climate change, the arts…it's all reflective of the psychological states of human beings, what our inner processes are, what our aspirations are, what our greatest dreams are. We need to help younger generations hold on to those dreams and amplify them and be innovators. It's their world to cherish."
Popular Topics/Tags
Follow William James College
Media Contact
Katie O'Hare
Senior Director of Marketing and Communications