Chinese student Dongxiao Xing hopes to apply the lessons she's learned at William James College to her work in China
By Staff Report
Feb 8, 2016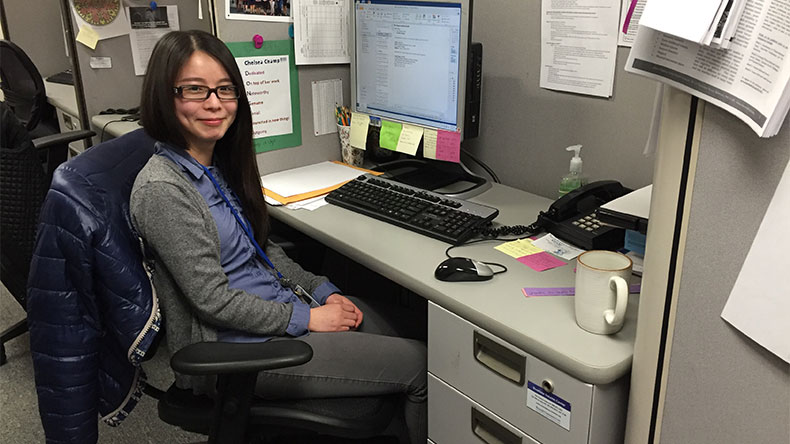 Dongxiao Xing, who is pursuing her master's in counseling at William James College, has seen how much her clients benefit from having their families involved in their care. As an in-home therapy intern at North Suffolk Mental Health Association, she's watched families open up to one another in a group therapy setting.
The power of family is something that resonates in Xing's work, and in her personal life. Recently married, the Guangzhou, China, native is looking forward to celebrating the Chinese New Year with her husband and friends, making dumplings that represent their regions in China.
Growing up, she remembers this time of year as an extended holiday when work and school shut down and her family gathered for hot pot and long talks. They made dumplings, and one dumpling had a plum hidden inside. The person who ate that dumpling was said to have the most luck in the year ahead.
Xing has been in the U.S. for five years, but she benefits daily from the lessons she has learned as an international student. She came to Boston to earn her undergraduate degree in psychology at Northeastern University, and then headed straight into her studies at William James College. Adjusting to a new life in the U.S. has made it easier for her to relate to her current patients.
"The experience really helped me be empathetic toward different cultures and respectful of different cultures," Xing said.
She chose William James College for her master's because of its respect for diversity, both in the race and ethnicity of its students and in its support for students with learning disabilities and different learning styles.
After she graduates in May, Xing may work as a counselor in the U.S., but she eventually wants to return to China. She respects the Chinese families who come to her for help here in the U.S. and attend family therapy sessions, as mental healthcare is still highly stigmatized in China.
But, the field of counseling in China is up-and-coming. When she heads home, she looks forward to starting a new career, and ending the stigmas associated with mental illness.
Popular Topics/Tags
Follow William James College
Media Contact
Katie O'Hare
Senior Director of Marketing and Communications