EJ Olson Advocates for LGBTQ Inclusion
By Staff Report
Feb 27, 2015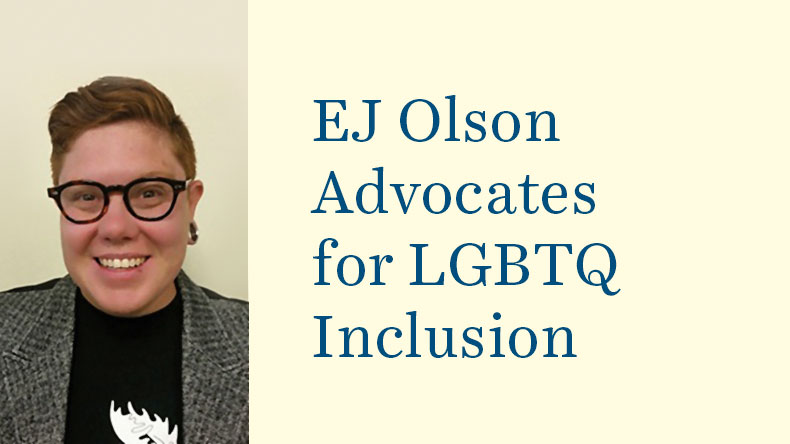 Homelessness rates for LGBTQ youth are staggering. Forty percent of homeless youth identify as LGBTQ. EJ Olson, a William James College 2014 graduate and winner of the Achievement Award for Recent Alumni that recognizes outstanding early career accomplishments and contributions to the profession, is the Education and Outreach Coordinator for the Rainbow Health Initiative in Minneapolis and is currently consulting on LGBTQ inclusion for all services in the state of Minnesota. EJ's professional life is committed to advocating for the LGBTQ community. With an MA in Organizational Psychology, EJ does competency training for health and human services students and professionals toward health equity. Given the tremendous disparities in healthcare for the LGBTQ community, EJ's work is intense, critical and rare.
"One out of three providers is not offering competent care to LGBTQ patients in Minnesota. They don't understand LGBTQ-specific health needs," says EJ. "The result is that these individuals experience discrimination and poor quality care by providers." EJ says that depression, anxiety and PTSD are experienced at twice the rate by LGBTQ individuals.
Living and working in Washington, DC and then moving to Minneapolis, EJ was a "remote" student in the Organizational Psychology Master's program, visiting campus to use resources, meet with advisors and participate with cohorts in William James College's innovative and interactive online program. EJ praises many of the faculty members at William James College, especially Dr. Kathryn Stanley. "Being part of William James College has made a drastic difference in my professional reach and ability to effect change. I am grateful for the community that will continue to be part of my professional career. Your recognition is fuel, reminding me that this work is valued and important. Being an LGBTQ Advocate is not always glitter and glamour," writes EJ in a thank you message to William James College for the award.
Popular Topics/Tags
Follow William James College
Media Contact
Katie O'Hare
Senior Director of Marketing and Communications