Even in Remote Learning, Classes Stay Hands On
By Staff Report
Jul 21, 2020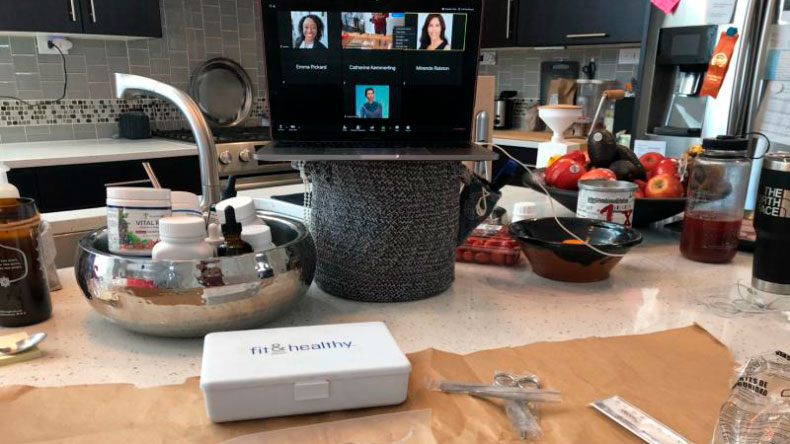 Students report high levels of satisfaction with online learning experience
Psychological assessment is a testing process that uses a combination of techniques to help clinicians better understand a person and their behavior, personality and capabilities. Assessments—which can range from things like short questionnaires to large briefcases full of toys, books and images—are vital and important tools both for practicing behavioral health professionals and for professionals in training.
Under normal circumstances, students would come to the library and check out individual assessments to use under faculty supervision. When classes moved online in the spring, the William James College Library team took steps to ensure that students would still have access to testing kits.
"We felt it was essential that our students have the ability to continue their hands-on, faculty-supervised learning while taking their assessment courses virtually," said Julia Clement, head librarian. To make it as easy for students as possible this summer, the library staff gathered a semester's worth of assessments for each student and made them available for curb-side pickup.
"With the help of Facilities, we scheduled a few pick-up dates that worked with student schedules," said Clement. "Students pulled up to the loading dock and stayed in their cars while I popped the items in their trunk."
For many students, the transition to online learning was a change to the familiar model. For students in the Leadership Psychology PsyD program, which is a hybrid program where classes are online and residencies are held in-person, the transition to online residencies has meant a fully online experience. Organizational Leadership PsyD student Katharina Schmidt shared how the experience has gone for her.
"Our faculty has a strong virtual capability," said Schmidt. "I really appreciate the openness and flexibility of faculty – they have adapted to different ways of working, the consequences of social distancing and varying stress levels."
In one lesson this spring, Schmidt and other students taking Functional Neuroanatomy were sent individual sheep brains and kits for dissection. Dr. Miranda Ralston, faculty director of the Neuroscience of Leadership Area of Emphasis, guided everyone through the experience over Zoom. She collaborated with Dr. Suzanne Devlin, assistant director of the Leadership Psychology Doctoral Program, to make sure the sheep brains and dissection kits reached the students in plenty of time for their virtual residency.
"The sheep brain dissection is a part of the Functional Neuroanatomy course in the Neuroscience of Leadership Area of Emphasis in the Leadership Psychology PsyD program," Ralston said. "We typically do this during the in-person residency after spending the beginning of the week learning about the different parts of the brain and what they are associated with."
Sheep brains, Ralston explained, are structurally similar to human brains. "Much smaller, but the parts are there and in similar locations," she said, adding that the dissection project gives students the opportunity to see brain structures and areas they're learning about rather than only seeing them in pictures.
"My understanding and feeling for a brain is much more vivid through the kinesthetic experience of holding and dissecting it in my hands," said Schmidt, who also shared that studying leadership psychology, in combination with the area of emphasis in neuroscience, is what drew her to WJC.
"I so love my program and how flexible and accommodating they have been during this time," tweeted Jessica Sharp a student in the Leadership Psychology PsyD Program and fellow in the Center for Multicultural & Global Mental Health. She added by email, "I have been thrilled with how nimble the faculty have been in light of COVID. They have worked to make sure that we are still able to learn in light of this, that we can do hands-on activities as much as possible, and have also worked to try to support us in stress management."
Students across all programs have reported high levels of satisfaction with the online learning experience, according to a survey taken in late March by the Office of Academic Data, Development & Institutional Effectiveness (ADDIE), which is headed by Dr. Yashu Kauffman.
Kauffman summarized the collective thinking of the survey respondents across categories. She noted that respondents who gave the highest rating, "Excellent," thought the technical component was run through a "reliable, flexible and clear system to facilitate the class interactivity" and that most "appreciated the professors' flexibility and accommodation under the circumstance." Over 80 students responded to the survey and the majority, 86 percent, gave a rating of "good" or "excellent."
"I love our learning community at WJC. It is a safe, warm, energizing, and ambitious learning space," said Schmidt. "One of the elements I really appreciate is that we practice what we preach when it comes to organizational development: we gather feedback, engage in dialogues, synthesize collective intelligence, take decisions and make changes if needed."
William James College has been offering blended and online programs for more than 10 years, with four new online Master's Degrees recently added in Psychology, Clinical Mental Health Counseling, Applied Behavior Analysis, and Organizational Leadership. WJC leadership has been working to optimize the online educational experience for behavioral health professionals for some time, with experts added to provide faculty with ongoing training in best practices for the "flipped classroom." Other novel approaches to learning, like simulated patient interactions, are in place for some programs.
"Optimizing the online learning experience is a priority for the College. It has been for some time and remains so as we evolve the delivery models and practices that best support students in the COVID-19 environment," said Katie O'Hare, senior director of Marketing and Communications. "We are also working to increase virtual engagement with the community in other ways to support the social, professional, cultural, and academic opportunities that are such an integral part of the student experience."
Classes will be held online for fall 2020, gatherings will be held on campus as conditions allow.
Topics/Tags
Follow William James College
Media Contact
Katie O'Hare
Senior Director of Marketing