Fall 2016 From The President
By Staff Report
Nov 1, 2016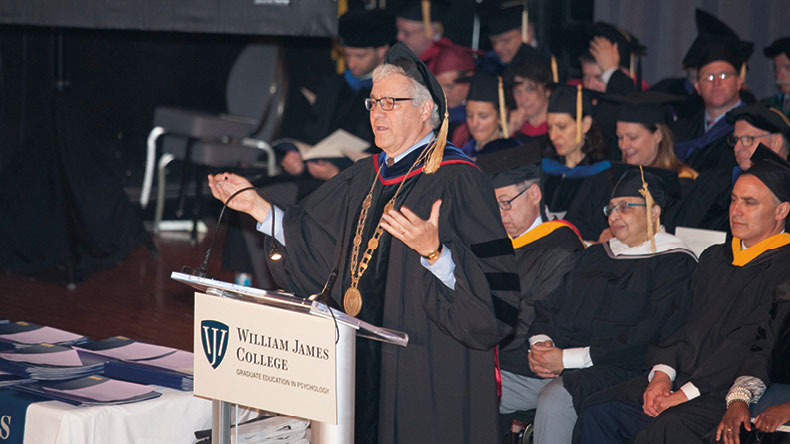 Dear William James Community,
Every year at Commencement, William James College awards degrees to 89 percent of those who enter its doors. Most graduate schools matriculate half of their students, and psychology programs complete only slightly more. Since its inception, our faculty, staff and supervisors have directed their energy to educating, supporting and inspiring students who will become the next generation of leaders, consultants and mental health professionals. The learning community at William James College reflects their excellent work.
While some things remain the same, others change. The College has a permanent home at One Wells Avenue, with natural light in the classrooms, retreat spaces for private discussions and verdant grounds. The Financial Statement in this Rapport shows its stability and the more than two million dollars in scholarships and support that is granted through the generosity of stakeholders and supporters. Increased student academic strength has followed the College's growth along with an APA-approved Consortium Internship, two HRSA training grants and maximum accreditation for all academic programs.
More needs to be done. With nearly 90 percent of all mental health providers non-Latino Caucasian, the College is committing itself to attract and support more diverse students to become leaders and providers of mental health care. Our programs in Military Veterans Psychology and Latino Mental Health are five and 10 years old with more than 50 students enrolled in each. The College has more than a dozen Spanish-speaking and military staff to educate all of our students to meet the needs of underserved people and we are launching a new initiative in Black Mental Health to complement this critically important work.
We hope that the stories in the following pages will convey some of what is occurring at William James College. We, also, invite your continued investment in the College's important work of training leaders and mental health professionals to meet the needs and make a difference in our community.
Gratefully,
Nicholas Covino, PsyD
President
Topics/Tags
Follow William James College
Media Contact
Katie O'Hare
Senior Director of Marketing