Finding a Career in Applied Behavior Analysis
By Sarah Johansson
May 26, 2021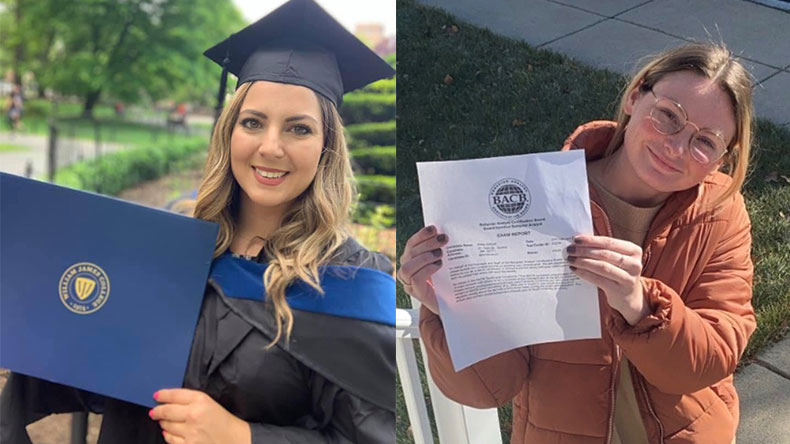 Six William James College Alumni Share their Stories
Applied Behavior Analysis (ABA) is one of the fastest-growing fields of behavioral health. Between 2019 and 2020, the demand for certified behavior analysts increased by 17%, with Massachusetts showing the second-highest demand (after California).
ABA therapy focuses on the science of behavior and how it is applied to problems of individual and social significance. Behavior analysts use this science in many settings including the classroom, community-based agencies, hospitals, residential treatment and more. Is ABA the right career path for you? Read on to hear from six recent William James College ABA alumni on their educational and career journeys.
Jessica Sturla, MA, BCBA
Jessica Sturla discovered her passion for ABA after living in South America and working at a center for at-risk children. She noticed that there is "a need for professionals that speak the language and understand different cultures, to educate and introduce these evidence-based practices, to include people of all backgrounds." So, she returned to the United States, worked for a few years as a behavior therapist, then earned her Master's Degree in ABA from William James. "I felt [Dr. Ron Lee's] enthusiasm for ABA and it really motivated me to want to make the move from California to Massachusetts to learn and work in one of the USA's hubs of Applied Behavior Analysis," Sturla explained.
Now, Sturla is a Board Certified Behavior Analyst (BCBA) Clinical Director in San Francisco where she creates treatment plans for individuals with Autism Spectrum Disorder (ASD) as well as trains and supervises other ABA therapists. "The goal is to support each individual to become as independent as possible and decrease any barriers that they face that may prevent them from getting there," said Sturla. "I currently am using my language skills to reach families in the Latino/Hispanic communities that many times become isolated due to having different languages or customs."
George El-Khoury, MA, BCBA, LABA
George El-Khoury was originally planning to pursue a PhD in counseling psychology until he "stumbled upon" an elective course in ABA and immediately "loved the science and clicked with the subject matter." He chose William James College, he said, to be in a small program, have the opportunity for field experience and be involved with a College community of different psychology students.
"WJC prepared me to take and pass my Board exam first try, find and hold employment at a local company and prepared me to do my job well under sometimes stressful or sensitive circumstances," explained El-Khoury. "[The program] also prepared me to conduct research in my field and I am currently preparing for publication." El-Khoury currently works at Building Essential Skills Together, an organization that provides in-home services to autistic children.
Melissa Jacques, MA, MEd, LABA, BCBA
Melissa Jacques earned a Master's in Special Education and became a teacher, soon realizing that ABA and teaching "go hand in hand." She explained, "I realized that I wanted to not just get my BCBA credential, I wanted to deep dive into the field of ABA and earn my Master's degree in behavior analysis." Now, Jacques works as a BCBA where she supervises and creates programming for autistic children, mostly 2-3 year olds. "It is extremely rewarding to provide ABA services for early intervention clients," she said. "Kids that age learn so quickly!"
While studying at William James College, Jacques developed "wonderful relationships" with her professors and classmates. "The small classes made it easy to get to know others and have thoughtful discussions about work," said Jacques. She worked at a private school during that time, but noted that "it was helpful to hear my classmates' experiences at different settings (public school, insurance-based, home services) to help decide what career route I may want to encounter next."
Jessica Zion-Zagrodny, MA, BCBA, LABA
Jessica Zion-Zagrodny had never heard of ABA until she began working alongside a BCBA through her position as a special education paraprofessional. "I was amazed," she said. "I couldn't believe that some simple strategies made such a difference." This experience inspired Zion-Zagrodny to enroll in the ABA program at William James College. "I was happy to be in school," she explained. "Dr. Lee was amazing and he opened my eyes to the world of ABA."
Now graduated and a certified BCBA, Zion-Zagrodny is working with 13-21 year-olds as a school clinician and with children and families through home-based ABA therapy. "ABA is effective and empowering," said Zion-Zagrodny. "It gives me goosebumps because I know I've really changed the lives of these families and individuals."
Kiera Clifford, MA, BCBA
After graduating from William James College in 2020, Kiera Clifford began working as a Behavior Analyst at the Cardinal Cushing Centers, a group of educational and support facilities that serve children, adolescents and young adults with various developmental and intellectual disabilities. "I am passionate about helping [these individuals] learn to communicate and gain functional life skills and independence," said Clifford.
She chose William James College for the small class size and the ability to earn her Master's through a one-year intensive program. "WJC fostered my confidence in my knowledge and skills, while also introducing me to lifelong connections in the field," she explained. "It prepared me very well for my National Board Certification Exam."
Kristen Almeida, MA, BCBA, LABA
Kristen Almeida discovered the field through an ABA 101 course during her undergraduate education. She became a Registered Behavior Technician then enrolled at William James College to earn her Master's degree and prepare for the BCBA exam. "The diverse group of professionals teaching in this program made it a truly invaluable experience and I take something from each of [my professors] that I use in my everyday practice," said Almeida.
She now works at an organization that serves autistic children and is transitioning to practice as a full-time BCBA. "I am passionate about watching my students succeed and make progress with small skills each day that transfer to more complex skills and successes," explained Almeida. "It is amazing to get to know an individual so well and watch them progress developmentally, learn how to advocate for themselves and become independent."
Topics/Tags
Follow William James College
Media Contact
Katie O'Hare
Senior Director of Marketing