First Response, First Center of Its Kind
By Staff Report
Dec 7, 2022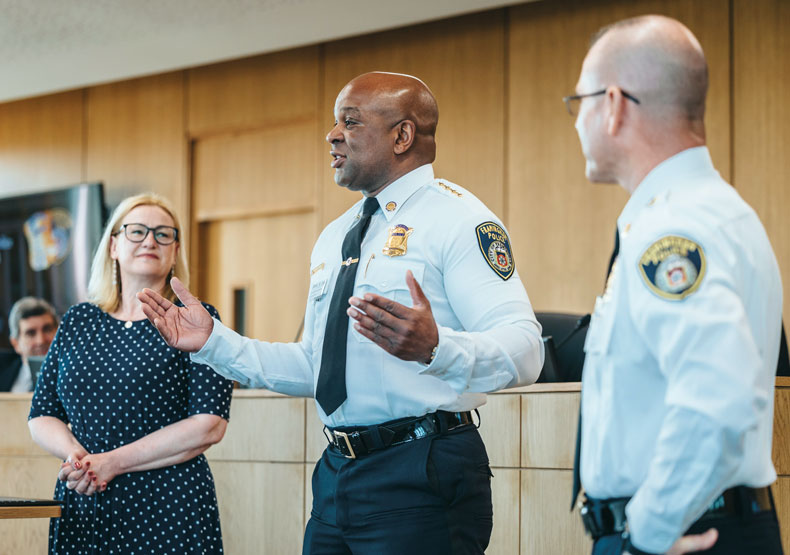 Center for Crisis Response and Behavioral Health offers pioneer programming
An active robbery and shootout. A missing child. A bat in the basement. A woman who has woken up to find her husband of 60 years has died of a heart attack in the night. Whom do you call?
"For a variety of reasons, police officers are the default responders to people in crisis in the community," says Dr. Sarah Abbott. "They get a 911 call dispatched to them and they have to go. In that moment, they cannot reassign their sworn duties."
Abbott should know; she's worked with law enforcement as a behavioral health partner for decades, reimagining traditional roles in public safety. A pioneer in crisis response, she has built her career on developing innovative co-responder programming and more recently, in training others to do the same.
It's no surprise that William James has partnered with Abbott to create the new William James College Center for Crisis Response and Behavioral Health (CRBH). As director of the CRBH, she also joins the College's faculty as an associate professor of counseling and behavioral health. A landmark center, the CRBH offers graduate certification as well as the first practical interdisciplinary co-response training program housed within an academic institution in the country for police and clinicians—to gain over 150 hours of critical mental health and substance-use-related crisis response training.
"I'm Not a Cop."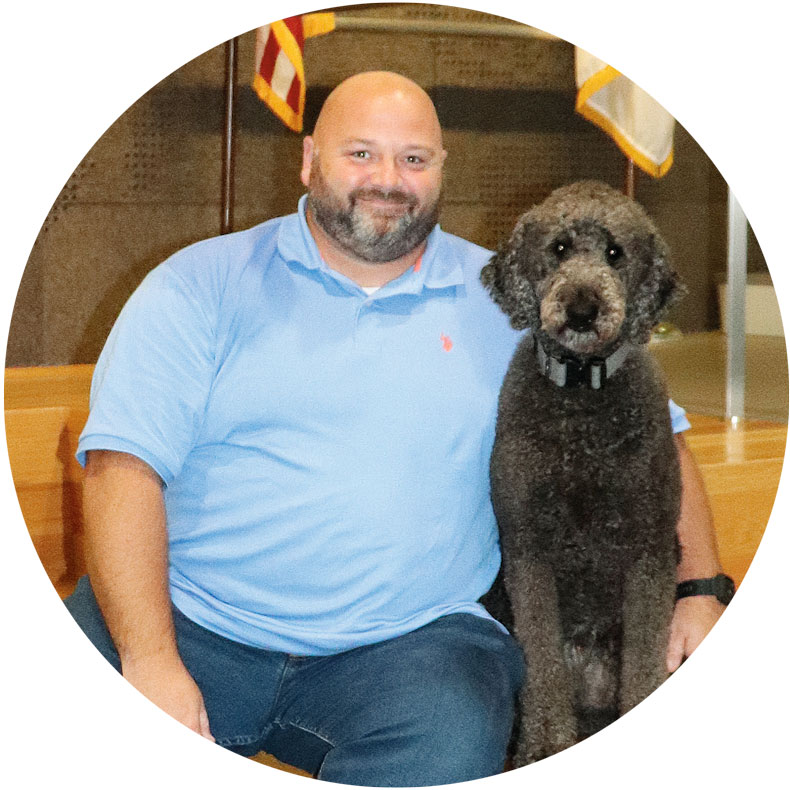 "Walk down the streets of Northampton and you'll see people with just about every diagnosis in the DSM 5," says Josh Wallace, an officer and peer support team coordinator with the Northampton Police Department and a member of the inaugural class of the CRBH's graduate certificate program. Wallace is referring to the 5th edition of the Diagnostic and Statistical Manual of Mental Disorders, a widely used handbook for diagnosing psychiatric illnesses.
Clinicians and physicians across the U.S. have most likely studied the DSM from front to back to front again, but that isn't a requirement for officers like Wallace. According to the American Psychological Association, roughly 20 percent of police calls in the country involve a mental health or substance use crisis; local law enforcement estimate that, in reality, that number is doubled.
Amid rigorous, intense training at the State Police Academy, Wallace says officers will do one session—maybe two—on mental health. He's gone so far as to become an FBI-certified crisis negotiator, and a few years ago, he added Douglas the Goldendoodle to his family. As a member of the Western Massachusetts Critical Incident Stress Management response team, he brings Douglas, a trained therapy dog, to schools with him. But, still,
he wants to do more.
In a town like Northampton with a prevalence of outpatient facilities, he never knows what he'll come across when a call comes over the radio. Officer Antonia DeAngelo faces similar challenges in Lowell but says having a social worker with her helps immensely.
"We've had clinicians available for the past two years, and whenever they are with us, things just go smoother. There's something about having a mental health professional, someone not in uniform, on the scene to say, 'I'm not a cop.' It releases the tension."

—Officer Antonia DeAngelo, Lowell Police Department
The Framingham Model
In 2003, while working at Advocates, Inc., Abbott began her work on the issue that Wallace, DeAngelo, and countless other officers face. As the Framingham Police Department's first embedded clinician, she helped create the Framingham Jail Diversion Program. The first co-responder model of its kind in Massachusetts, the program paired officers on duty with trained mental health clinicians who could meet psychological or substance-use needs at the scene and give aid not only to the citizen but also to the officer who may experience trauma or need guidance in overcoming the crisis. Prior to the program, clinicians were available for calls but were often unable to rapidly deploy in person to the scene. Now, they are embedded in the department, working side by side with law enforcement to de-escalate, divert from arrest, and fully support the mental health needs of individuals in crisis.
Twenty years ago, the idea was transformational. An award-winning model that gained grant funding and support from the Massachusetts Department of Mental Health and has since been widely implemented in departments across the Commonwealth—and globally.
Abbott was recently called upon to bring the co-response model to An Garda Síochána in Ireland. Instituting a full academic center at William James was an obvious, exciting move, she says.
"William James is the leading forensic-training educational institution with a really strong reputation. It's a collaborative, innovative place where new ideas can get support and strengthen."
Innovation, Side by Side
Certification at the CRBH Center begins in the classroom and continues via MILO Pro Range, a state-of-the-art simulation platform that allows students to enter and practice dynamic scenarios safely.
All 12 participants—six clinicians and six officers—have been hand selected by Abbott from across the state, ensuring a broad depth of diversity and experience. Instead of relying on officers to wear every hat on the scene, students are guided to lean into the roles for which they have the best training and lean on one another's expertise: the officer to enforce the law and enact protocol, the behavioral health professional to attend to the emotional needs of the citizen at the scene and beyond.
The hope, and what's been proven in the past, says Abbott, is that over time the pair will gain more than an abstract working relationship.
"They'll come to trust and rely upon one another and be able to support each other beyond the cases they're handed. They'll absorb what the other is doing: which words, cues, and behaviors are used, how certain procedures are conducted. It's the concrete training but also the intangible that comes from riding with someone for 8 hours a day. That will then improve every call they respond to and their overall community's wellbeing."

—Dr. Sarah Abbott, Director, Center for Crisis Response and Behavioral Health
Abbott has helped launch this program into place many times (over 30 across the Commonwealth), and she felt it deserved an academic credit-bearing program so officers and co-responders could hit the ground running as soon as they're in the field. She proposed the center to William James College President, Dr. Nicholas Covino, in the summer of 2021, and in April 2022, the Department of Mental Health agreed to provide funding support and student scholarships.
"911 is the most popular telephone number in the United States," says President Covino. "These calls are placed because there's a human being with a problem. Commonly, it is our most vulnerable people who are dialing." Thanks to programming like Abbott's, Massachusetts is at the forefront of how to effectively and safely respond. "With the CRBH and the direction of Dr. Abbott making strides," he adds, "William James is uniquely positioned to address a critical need for partnership between mental health and first responders that will make a lasting impact on the Commonwealth."
Topics/Tags
Follow William James College
Media Contact
Katie O'Hare
Senior Director of Marketing