Flag Raised to Honor Lives Lost in Orlando Shooting
By Nicholas Covino
Jul 6, 2016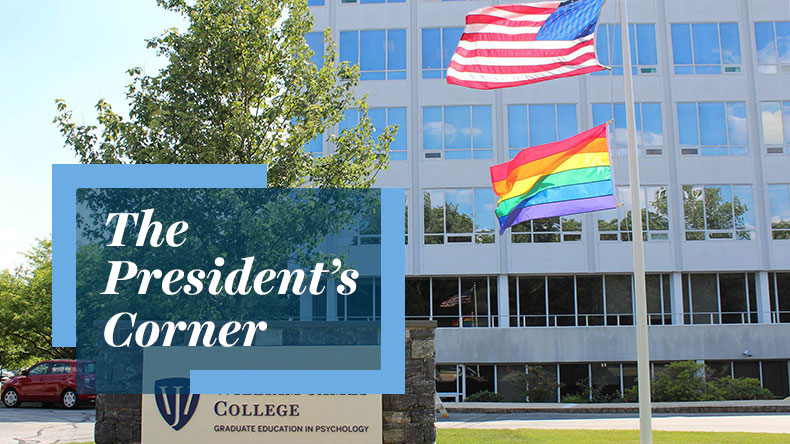 The President's Corner
Dear William James Community:
Today you will notice the Rainbow Flag flying below Old Glory outside of William James College. We will raise this flag for the next 49 days to honor those lives lost in the Pulse Nightclub shooting in Orlando.
Symbolic acts like these are useful vehicles to capture attention around important events. They invite us to take a moment for thought or prayer for those who lost their lives and loved ones in Orlando. We, also, want to recognize that our country still harbors ill-will towards many racial, ethnic, gender and religious groups and that we are called upon to support the victims and oppose such violence in any form. This is the mandate of those who are and will become members of the healing community. A more challenging invitation is to examine ourselves to find and to correct those ways in which we are personally critical and intolerant of others: sometimes through lack of knowledge, sometimes by repeating what has been overlearned and under examined; and sometimes through projection of our own self-doubts.
The world may be suffering, at this moment, with episodes of intolerance that are difficult to correct. However, it is possible for us to invest time within ourselves to reduce our own tendencies towards criticism and intolerance and to increase our awareness of the contributions and uniqueness of others. The holy days of Ramadan guide the world's Muslims towards a consideration of such values. The holy day of Yom Kippur asks Jewish people to reflect on their behaviors and relationships and make them right for the upcoming year. This spring, a group of Veterans presented an educative and evocative panel on what it is like to be a Veteran in graduate school. I have asked the Diversity Committee and the Dean of Students Office to create a series of such insightful presentations from other sub-groups of our community so that we can improve our awareness of our diverse community. I would, also, ask each of us to take the time this year for periodic self-reflection so that our William James Community and those with whom we work will have our 'best' selves within it.
"Love, compassion, and tolerance are necessities, not luxuries. Without them, humanity cannot survive." —Holiness Dalai Lama
With respect,
Nick
Topics/Tags
Follow William James College
Media Contact
Katie O'Hare
Senior Director of Marketing