Gagliardi Receives Award for Outstanding Contribution to the Field of Marriage and Family Therapy
By Staff Report
Mar 26, 2015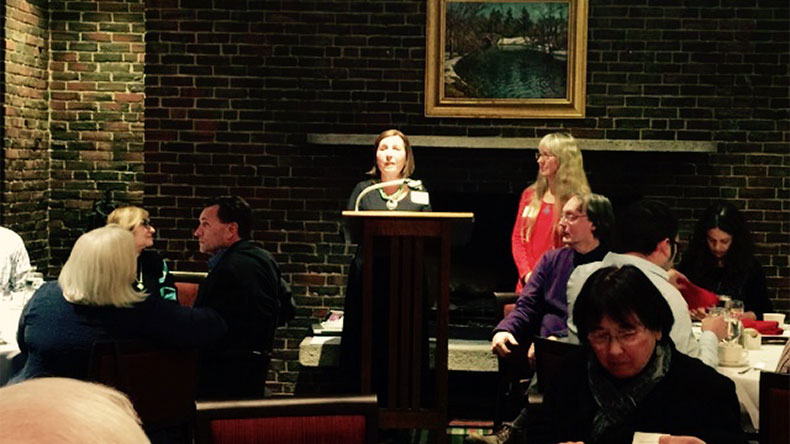 On March 26, 2015, Jacqueline Gagliardi, LMFT, Program Director for the Counseling Psychology and Couples and Family Therapy Program at William James College, was presented with the Award for Outstanding Contribution to the Field of Marriage and Family Therapy at the Annual Meeting of the Massachusetts Association for Marriage and Family Therapy.
In addition to her academic program directing and teaching responsibilities, Ms. Gagliardi serves on the Massachusetts Board of Allied Mental health, and maintains an active private practice specializing in individual, couple, and family therapy.
Jacqueline Gagliardi is a long-term member of AAMFT and has a history of service with the Massachusetts Division in numerous capacities. She has served several terms as an MAMFT board member, chaired the diversity committee as well as the conference committee, and contributed significantly toward the legislative lobbying effort that to the passing of the vendorship bill.
The William James College community congratulates Jackie Gagliardi on her accomplishments.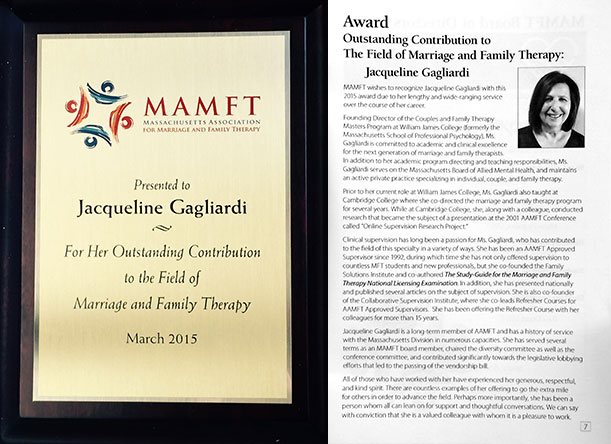 Topics/Tags
Follow William James College
Media Contact
Katie O'Hare
Senior Director of Marketing