Get to Know William James College's New Dean of Students, Ann Coyne
By Josh Rizkalla, Communications and Media Relations Associate
Sep 29, 2022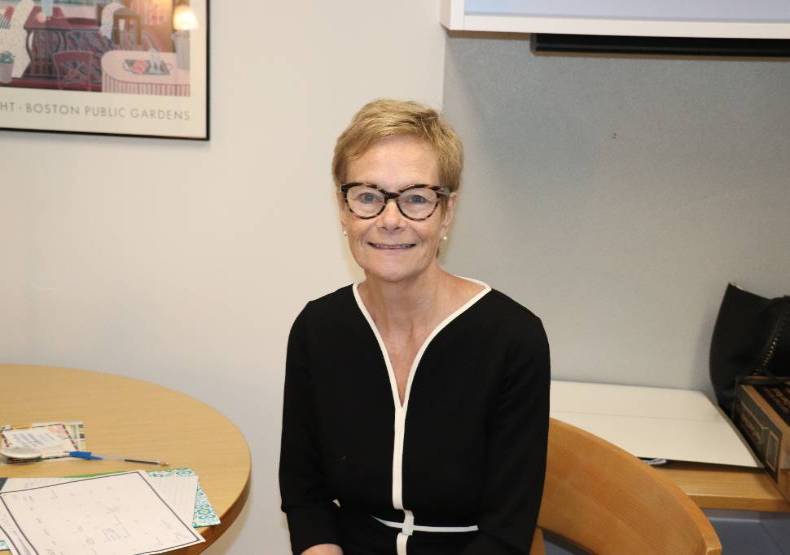 Ann Coyne comes to William James College with more than 35 years of experience in higher education and is very excited to join the College as the new Dean of Students. Learn more about her background, upcoming programming from the Dean of Students office, and more below!
You come to William James with a wealth of experience in higher education. Could you talk a bit about your background?
I'm really a student activities person at heart. That's where I started, in student activities and new student orientation, so I've led a lot of student programming and community building. In my most recent position, I worked with senior university leaders and the student affairs team to develop experiential education opportunities for students.
I also saw the growing need for behavioral health support for students and others. Coming to William James and doing my small part to help advance students' education, career development, and ability to positively change the world is the right next step in my own career journey. I'm truly thrilled to be here; I'm looking forward to getting to know the community more!
Did you find that students' behavioral health needs had increased because of the pandemic?
Oh, absolutely. And I just saw up close how people changed and struggled - and many still are. It just seemed to me people were just so disturbed by the pandemic and the many ways in which it impacted their lives.
I think what we're trying to do with our programming this semester is to try and build back community and social connections.
You started your work at William James College the week before Orientation this year. How was the experience of joining at the same time as the new students?
I met about a million different people that week [laughs]. I walked alongside students to learn who's on what floor, what all the acronyms stand for, and just how busy students' lives are. With studying, field placements, holding down jobs, family responsibilities, commuting, and just having a moment to breathe. I don't know how they do it!
Are there any upcoming plans from the Dean of Students Office this semester?
We've been hard at work planning a variety of programs. The Lunch and Learn Series will offer five workshops this semester. We'll be hosting weekly meditation and yoga. We've planned fun events like pumpkin painting, a Halloween door decorating contest, and a visit from Roxy's Grilled Cheese Food Truck. Add in community services such as food and sock collection drives and card making for local senior citizens. We'll also be offering booster shots for students. And I think the most exciting event we are trying to arrange is having a visit from much-beloved service dogs in December.
We're going to be working with student organizations and getting student government up and running. We're rebuilding after the pandemic. People are so excited to see other people and they are jumping right in which is really great.
You talked about the student organization groups, which I know must have been quieter during the pandemic. Are they starting to meet back up?
Yes, slowly but surely. One of the groups that there was great interest in before the pandemic was the Parent Student Group, and I think that's so important. How do students take care of their children, but also, how do they take care of themselves, manage their time, and manage all the competing responsibilities that they have? There are students who are interested in the group, but the students who led the organization have graduated so they are looking for new leaders.
This is a time of rebuilding for the student groups, so we need to get out and talk to students to see what they are interested in. Some students might want to just be a member of a group, or some might like to step up and take a leadership role. Either is fine!
If anyone is interested in signing up for or leading a group of their own, they can reach out to our office. We are also planning a Student Organization Fair for students to learn more about the groups available at William James.
Finally, do you have any hobbies you do in your free time?
I enjoy reading thrillers and examining local history. I go to the beach a lot - the Cape is my favorite place – except for the sharks! It's a different way of life that is so relaxing and peaceful. I also have nieces and nephews whom I enjoy spending time with along with my two brothers.
For a list of Dean of Students events, check out the Dean of Students calendar here.
Topics/Tags
Follow William James College
Media Contact
Katie O'Hare
Senior Director of Marketing