Dr. Natalie Cort, CMGMH Students, Lead Virtual Suicide Prevention Workshop for Guyanese Communities
By Josh Rizkalla, Communications and Media Relations Associate
Nov 18, 2022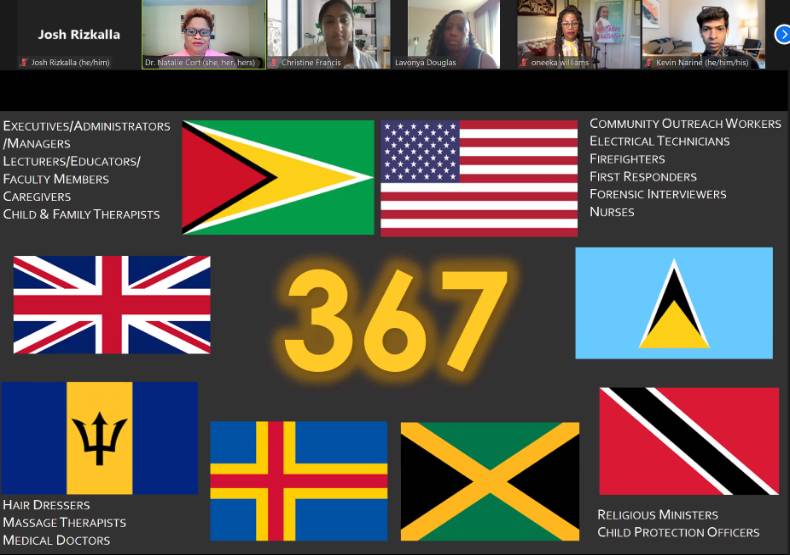 This summer, Dr. Natalie Cort, co-director of the Center for Multicultural and Global Mental Health (CMGMH), led a virtual Guyana Suicide Prevention Gatekeeper Training, which provided support skills and resources for a country that has long struggled with one of the world's highest suicide rates.
Over the four-day training, 367 audience members from eight countries joined to learn methods they could utilize to implement suicide intervention tactics, improve self-efficacy skills, and reduce the stigma surrounding mental illness. Additionally, workshop attendees were certified to conduct the Columbia Protocol suicide assessment.
"We were shocked by the number of people who registered and participated in this workshop," Cort said. "It clearly demonstrates how great the need is to more effectively address suicide worldwide."
A 2019 report by the World Health Organization found that Guyana's suicide rate was the second highest in the world. Although its government developed a suicide prevention plan to help address the situation, the pandemic ushered in a variety of new mental health challenges among its residents, causing the number to trend upward. When Cort learned of the rise, particularly among young girls, she felt compelled to act.
Cort, who is Guyanese, enlisted CMGMH students Kevin Narine, Christine Francis, Ericka Cobos, Olivia Fenty, and Lavonya Douglas to co-facilitate the event. Narine, also Guyanese, led the development of program's website and analyzed data collected by Dr. Cort in 2019 to establish the workshop's effectiveness. Dr. Oneeka Williams, a urologic surgeon and author, of Guyanese heritage, also presented.
Students Matthew Eisner, Shubh Agrawal, and Delora 'Dee' Sutton were available to conduct suicide assessments and provide support to attendees who were experiencing active suicidal ideation while they attended the workshop. Despite being over 2,500 miles from the Guyanese residents, the students successfully shared coping tactics and provided local resources to community members who reached out. WJC Student DJ King, CMGMH staff Anna Ustun, and Melissa Mitchell served as moderators and they were instrumental in ensuring that the workshop ran efficiently.
Cort praised the students' enthusiastic support and planning of the workshop.
"I'm overwhelmed with gratitude that these students were so eager to learn about my homeland, its strengths, and its tragedies. They enriched the suicide workshop with their thoughtful, wise, and compassionate perspectives and ideas," Cort said.
Traditionally, students in the Global Mental Health and the African and Caribbean Mental Health concentrations of CMGMH travel to the South American country of Guyana for a yearly 10-day service-learning trip. This trip allows students to immerse themselves in the culture and better understand the Caribbean immigrant patients they are learning to support.
Suicide prevention training has typically been a component of the trip; however, due to the pandemic, travel had not been possible since 2019. An in-person service trip to Guyana is planned for 2024 for CMGMH students. Due to the success of this year's event, a virtual workshop will occur again in 2023 and beyond to further connect with those in need of support.
For more information on the topic, visit the Guyana Gatekeepers website.
Topics/Tags
Follow William James College
Media Contact
Katie O'Hare
Senior Director of Marketing