Happy Holidays and Holydays
By Nicholas A. Covino
Dec 10, 2015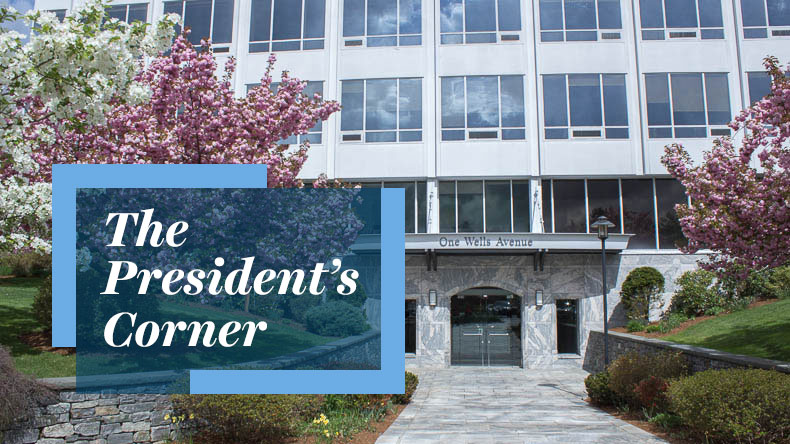 Dear William James Community:
December brings a number of spiritually and culturally significant holidays to our attention.
We are in the midst of Hanukkah which is the Jewish feast of lights that recalls the rededication of the Temple in Jerusalem. Tuesday was Bodhi Day that observes the enlightenment of the historical Buddha. Milad un Nabi or Malwid commemorates the birth of the Prophet Muhammad. Christians will observe the birth of Jesus on Christmas, later in the month. For many African Americans the holiday of Kwanzaa celebrates the values of family, community and culture.
These are holidays that highlight enlightenment, community and prophetic leadership, but, quite sadly, these are difficult values to find in these days.
The senseless destruction of innocent people and reports of abuse by police bring fear and sadness. The connectivity of our day makes tragedy anywhere in the world seem proximate and overwhelming. Yesterday, the Boston Globe reported that the campus police force at Northeastern University has equipped some of its officers with assault rifles to keep the campus safe! Rather than prophetic leadership, we hear hate-speech from politicians at a level that defies common decency and common sense, with a truly incredible number of followers applauding the insanity. We know that 'right' will win out, but it seems that the voice of what is right is having trouble accessing center stage at the moment.
These holidays are another opportunity for us to commit ourselves to the peace that we want to see in the world. Most mystics and holy people locate the start of peace within the individual. The philosopher Lao-tse advises that for there to be peace in the world, "there must be peace in the heart." The Mother Teresa of Calcutta writes: "the fruit of faith is love; the fruit of love is service; the fruit of service is peace." So, how do we, the William James College community, serve? By assuring that every member of our community feels safe, respected and valued. By committing ourselves to meeting others with appreciation and positive regard. This is our commitment.
We can't, in many ways, stop the insanity of violent rhetoric or the vicious actions of a few in this vast world, but we can ameliorate its impact by committing to create the peace that we can create in our halls, in our field sites, in our relationships and within ourselves.
Bahai' Prayer for Peace
Be generous in prosperity,
and thankful in adversity.
Be fair in thy judgement,
and guarded in thy speech.
Be a lamp unto those who walk
in darkness, and a home
to the stranger.
Be eyes to the blind, and a guiding light
unto the feet of the erring.
Be a breath of life to the body of
humankind, a dew to the soil of
the human heart,
and a fruit upon the tree of humility.
Happy Holidays
Topics/Tags
Follow William James College
Media Contact
Katie O'Hare
Senior Director of Marketing