Insights into terrorism, fear and politics in 2017Research & Advocacy
By Staff Report
May 15, 2017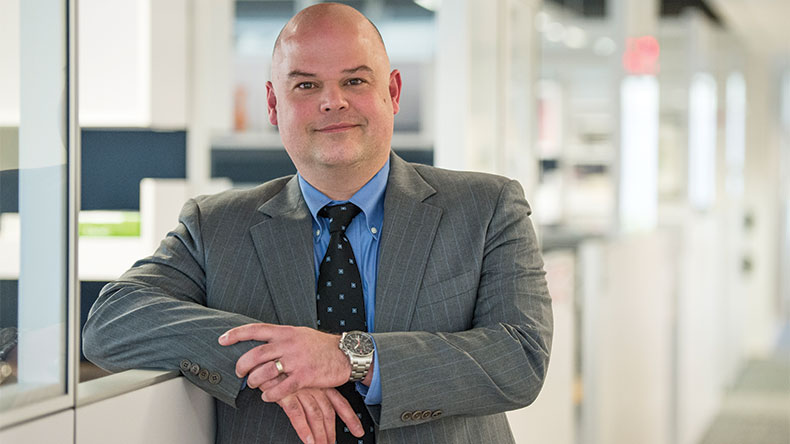 And the impact of the 2016 presidential election
Many may categorize Dr. Justin Sinclair as an expert in terrorism and political violence and that's correct, but it's only part of his story. Sinclair is a thoughtful explorer of the human condition. Long ago his skill in assessing mental health intersected with his curiosity about the societal impact of politics and fear and it led to an interesting and intricate career.
Sinclair joined William James College in 2016 and is an Assistant Professor in the Clinical PsyD program and a licensed psychologist. His first priority is to build a robust curricula that teaches psychological assessment. He is well suited to the task. His earliest clinical interests were in forensic psychology and the practice of psychological and neuropsychological assessment in clinical settings. Sinclair thought that psychological assessment would become his long-term career track. Then 9/11 struck and, like all Americans, he was changed by it.
When the towers came crashing down, Sinclair felt driven to understand the impact on the nation's psyche. There was no empirical data to help decipher such terror. That is when his assessment skills intersected with terrorism and political violence.
Sinclair founded, and was Co-Editor-in-Chief, of the academic journal Behavioral Sciences of Terrorism and Political Aggression with an editorial board representing 14 countries and four continents. He also founded the Society for Terrorism Research in Boston, Massachusetts and led annual conferences in Spain, Poland, Northern Ireland, and Cartagena, Columbia. The work had begun to understand the horrific fabric of terrorist acts, fear and politics.
Though attractive, restless government work on terrorism didn't suit his young family. In 2010 Sinclair accepted an offer from Massachusetts General Hospital to be Director of Research for
The PEaRL program where he was already a Clinical Staff Psychologist, and an Assistant Professor of Psychology at Harvard Medical School.
Then in 2015/16 the attacks in Paris, San Bernardino, California and the Orlando night club shooting occurred. CBS in New York and other media discovered his thought leadership on terrorism and fear and thrust him into the limelight as a subject matter expert.
"I'm not entirely comfortable in that role," says Sinclair. "But people need to make sense of these things. The research on the psychological effects of terrorism has presented two disparate messages. On one hand, society has 'normalized' in terms of psychopathology rates, and we now appear as we did prior to 9/11. However, many people remain fearful and it influences where they work, live, socialize, their willingness to take public transportation, and more. These fears have the potential to impact individuals' physical and mental health in meaningful ways."
Now Sinclair brings his unique understanding of terrorism and fear into the classroom and collaborates with students to craft thought leadership pieces on the issue. Sinclair's work at William James may just train the next generation who can help us to make sense of terror and its root causes.
---
Given Dr. Justin Sinclair's research on fear, terrorism and politics and their impact on individuals and groups, we asked him to comment on the current post-election climate in the country. Here are his thoughts.
Q: Many people are struggling to make sense of daily events, some are protesting and "resisting," in the aftermath of the 2016 presidential election. What are we witnessing?
A: More than at any other time our politics seem to be driven by psychology – fear, anger, insecurity, anxiety, etc. People are worried about terrorism and personal safety, whether they will be forced from the country, or lose basic human rights regarding marriage, abortion and more. These emotions have an extraordinarily polarizing effect on people's perspectives.
Q: Since the election, there has been a wholesale suspension of civility and tolerance. How does the nation step away from this untenable situation?
A: That's the million dollar question and unfortunately I don't think there is an easy answer. Classic social psychological research shows that we cling more dearly to what is similar and familiar to us when faced with an external threat. However, when fellow citizens are seen as threatening a different dynamic emerges entirely.
9/11 ushered in a new sense of threat and insecurity for many people; fear of immediate threats like terrorism and general insecurity about the future. These high-intensity emotions drive people to take more extreme measures in order to feel safe, regardless of which side of an issue they endorse. However, it is important to understand that people on different sides of an issue may be experiencing many of the same fears, worries, and uncertainties. Navigating these issues means emphasizing similarities as opposed to the differences.
I think people need to be willing and open to having difficult conversations. It's important to understand what lies beneath differing viewpoints. In so doing there may be a way to deconstruct these issues to find more similarities and common ground.
Popular Topics/Tags
Follow William James College
Media Contact
Katie O'Hare
Senior Director of Marketing and Communications