Dr. Jackie Lapidus '90 Helps Fund William James College Future by Making a Planned Gift
By Staff Report
Dec 21, 2022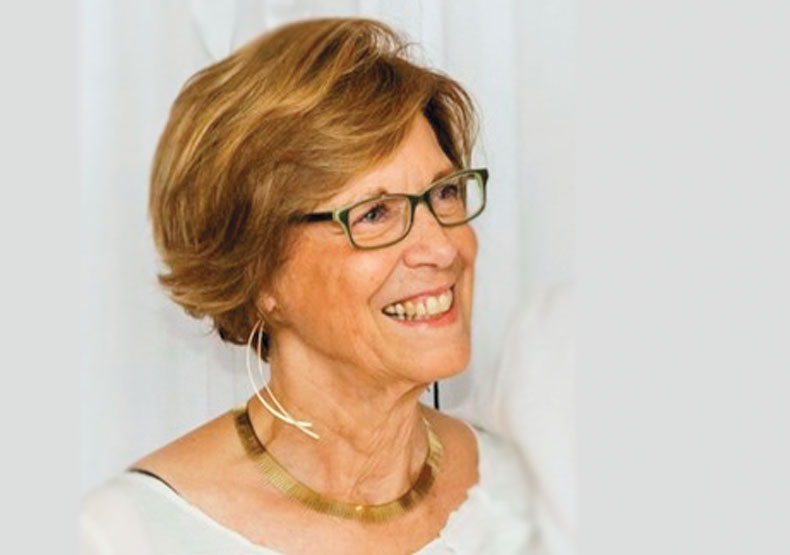 Dr. Jacqueline Lapidus graduated from William James College with a degree in Clinical Psychology in 1990. After completing her degree, Jackie remained close to the institution through her service as a member of the Board of Trustees from 1990 to 1993, as Director of Admissions from 1993 to 1994, and as an admissions ambassador for many years.
Jackie enjoyed her private practice in Massachusetts for several years before returning to Washington, D.C., with her husband, Leonard. She opened a new private practice in D.C., where she specialized in the treatment of anxiety disorders and worked extensively in the area of loss and bereavement. Jackie became a geriatric care manager and ran a geriatric care company, helping families negotiate the difficult choices about the care of an elderly or dying family member. She took training in Internal Family Systems (IFS) therapy and helped train other therapists in IFS. In addition, she was a disaster/crisis responder and trainer, active with the National Organization for Victim Assistance (NOVA) and the American Red Cross, where she served as president of the Capital Area Crisis Response Team (CACRT).
While in D.C., after a long marriage, she was widowed in 2016. "Death was no stranger to me.
I had much professional experience in the geriatric and disaster response work helping individuals and communities cope with death, loss, natural disasters, and terrorism. But when—as of course it will—death comes home, it's a different matter."
Jackie shared that her training at William James College, together with her post-graduate training and experience as an IFS (Internal Family Systems) therapist, was enormously valuable in integrating her husband's death into the narrative of her life. Not only were the training and experience helpful, but the communities of friends formed during those years provided the foundation for the necessary, integrative life work. She is enormously grateful.
Jackie writes, "More recently, I am fortunate to have reconnected and fallen in love with Fred Young, an old friend from high school (my high school boyfriend's best friend). We started a life together and decided to move from Washington to Charleston, SC. We were married in 2021. I retired from my private practice work, my work as executive director of the geriatric care company, and my work in disaster response. One thing I didn't leave was the sense of being a psychologist, even if my daily life does not include work, per se. It's just an important part of who I am."
According to Lapidus, who spent 13 years as a banker before finding her second vocation, psychology, William James College provided her with the kind of real-life training required to do this work. "I was drawn to the school's clinical emphasis, integration of theory with practice, its multidisciplinary approach and 'show-me-how' training that helps me understand the problems of the person sitting in front of me. Learning about the theoretical stages of dying is important, but each individual and family has a unique experience with death," she says. "As important as adding to my fund of knowledge, WJC (then MSPP) helped me to know better how to listen to others' struggles and triumphs and to listen to myself."
That's why she included a provision for William James College in her estate planning. Her appreciation of the profound experience she had as a student here, which promoted introspection and self-examination, were critically important to her and deepened over time. Jackie believes in the mission of William James College and wants to help ensure its future so that succeeding students can take full advantage of all the opportunities to learn and grow at WJC.
We hope Jackie's story may inspire you to create your own legacy by including William James College in your estate planning. For more information, please email Lynn Alberding, Director of Alumni Relations and Annual Giving, at lynn_alberding@williamjames.edu, or call 617-564-9459.
Topics/Tags
Follow William James College
Media Contact
Katie O'Hare
Senior Director of Marketing