Dr. Funmi Aguocha Named COO for Brookline Center for Community Mental Health
By Lynn Alberding
Oct 8, 2021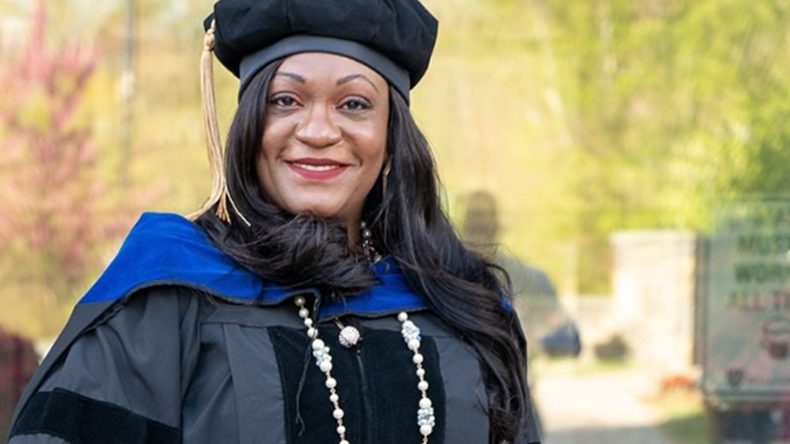 Following a national search, the Brookline Center for Community Mental Health has selected Dr. Funmi Aguocha MS, LSW, PsyD, as its new Chief Operating Officer. Aguocha, a 2021 graduate of the Leadership Psychology PsyD program and a Scholar with the Black Mental Health Graduate Academy, will play a central role in leading the organization through transformational change.
"At a time when the demand for services is rapidly increasing, I am excited to bring my 16 years of experience to help the Center design the structures and systems that will help it increase access and deliver results for those who struggle to get the care they need," Aguocha said.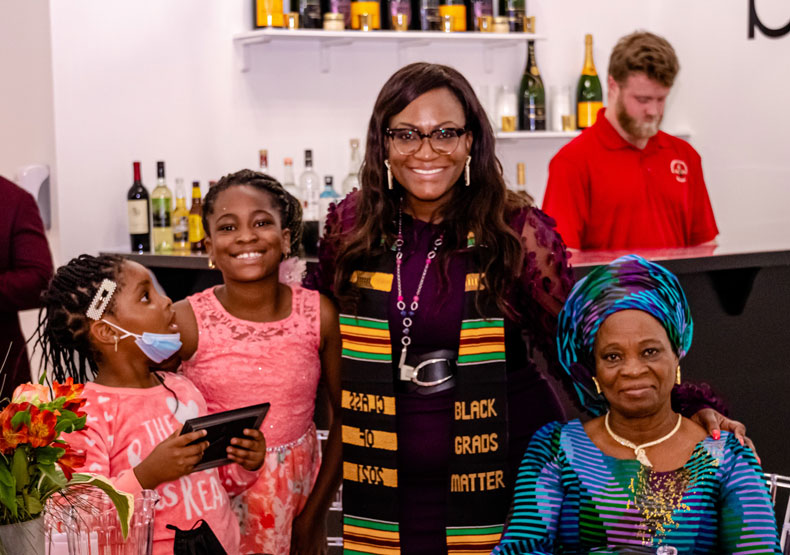 Dr. Funmi Aguocha with her daughter, niece, and mother at the 2021 Black Mental Health Graduate Academy graduate celebration. Dr. Aguocha's mother flew in from Nigeria for the occasion. (Photo: Conway King)
Already recognized nationally and regionally for innovative programs, the Center is seeking to expand its impact with new clinical and operational models that serve local and global mental health needs, with a close eye on bringing diversity into its leadership ranks.
In addition to recruiting Aguocha for the COO position, the agency also engaged in national searches for a new Chief Clinical Officer and a new Chief of Staff. With a new leadership team on board, Agoucha sees one of their shared tasks to be embedding DEI throughout the organization. "Our vision," she says, "is to have all staff bring the principles of DEI into everything they do so that it influences every stage of the client and the staff journeys."
Agoucha will lead the Center's multi-year change process, develop new operational models for both clinical and administrative functions, and join other executives in improving how the Center attracts, supports, and develops staff who are interested in community-based work, especially staff from BIPOC communities. That focus on staff is critically important to Agoucha.
"Virtually all of our staff are directly involved with some aspect of our clients' journeys to better care," Agoucha said. "It's not easy work. That is why I am so excited to be part of new thinking in how we can help staff feel supported in doing their best work."
The organization currently employs about 180 people and expects to grow their staff significantly over the next few years. As she settles into her new role, Aguocha said she is eager to tackle the challenges that lie ahead.
The William James College Organizational and Leadership Psychology Department provides leadership psychology and talent management professionals with the tools and understanding of psychological theory to be able effect positive and lasting change in organizations. The Black Mental Health Graduate Academy provides Black students in master's and doctoral programs at William James with mentorship, career orientation, skill building, and professional enrichment to support academic excellence.
"William James College has been a big part of my professional growth," Aguocha said. "My goal, in attending William James College, was to increase my leadership skills and competencies that have allowed me to transition into this role."
The Brookline Center for Community Mental Health is an independent, community-based organization that provides services to children, adults and families through a range of programs including individual and group therapy, psychopharmacology, testing, and through school and home-based services.
Topics/Tags
Follow William James College
Media Contact
Katie O'Hare
Senior Director of Marketing