Learning in the Face of Horrific Disaster
By Staff Report
Nov 1, 2016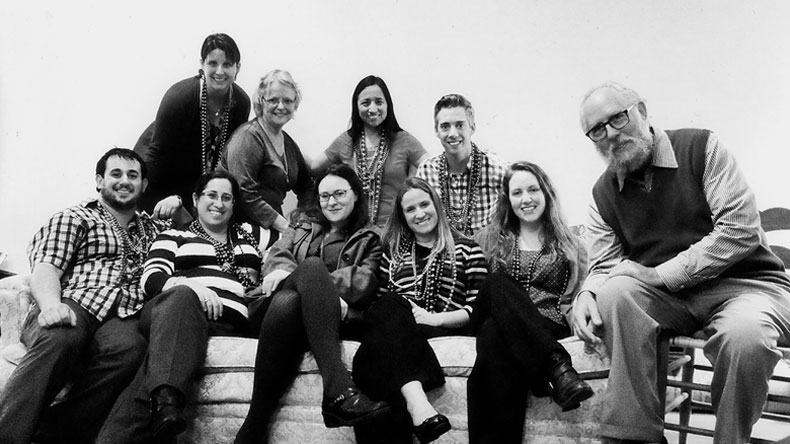 Red Batons Confront Katrina Trauma
They came with sleeping bags, compassion and courage. They left with new skills, new assumptions, new confidence and new relationships with people from a variety of backgrounds. Each year for several years, six to eight William James Red Batons, the full class of those taking a course called "Culturally Sensitive Responses to Trauma and the Aftermath of Disaster," spent a week in New Orleans and Baton Rouge, Louisiana, working with low-income African-American children, adolescents and parents, and with local mental health professionals and para-professionals. Meeting and consulting with individuals from Cajun, Creole and Southern African-American cultures was just the beginning.
It began when Sister Judith Brun, described by Core Faculty Member Lionel S. Joseph, PhD, PsyD, as "a force of nature," scooped up the first group in 2009. She needed them to do educational testing that would distinguish school children with severe learning disabilities from those with severe trauma but no pre-existing learning disabilities. Under careful supervision of local psychologists, they administered tests, wrote reports, provided brief supportive interventions, and resolved complex diagnostic questions to help the social workers in Brun's organization, Neighbors Keepers, provide appropriate treatment to the children. Without exception, they learned more than they'd ever imagined possible. Though Katrina's unprecedented rampage unleashed on people and property started when the storm hit early on August 29, 2005, the post-traumatic damage to countless individuals of all ages and ethnicities persists. Brun's Community Initiatives Foundation was busy serving children and families in dire need, but was eager and grateful for additional help. Brun was later selected as commencement speaker at William James College's graduation. She was introduced at that ceremony by three alums, Drs. Lindsay Henderson, Molly Parks and Talya Rabina, who had first introduced her to the college.
"They were generously bearing witness to others' emotional pain and feeling vicarious traumatization of their own." ­
—Lionel S. Joseph, PhD, PsyD, Associate Director of Training, Field Education
Joseph talks about the extraordinary enthusiasm his students brought to this experience, opening themselves to children's terrible stories, which the team processed at regular debriefings each night. He said, "They generously were bearing witness to others' emotional pain and feeling vicarious traumatization of their own." Students reported that many of the children they had talked with had never shared what happened to them with anyone because they'd never been given the opportunity. Until January 2014, Joseph traveled with his students to provide invaluable help during this specific and horrific time in history. The William James commitment to learning in unfamiliar environments has now transitioned to the Center for Multicultural and Global Mental Health, which sends students to several foreign countries for similar immersion programs and the challenging opportunities of working with and learning sensitivities to new cultures.
Topics/Tags
Follow William James College
Media Contact
Katie O'Hare
Senior Director of Marketing