Experiential Education: Learning While Doing at Schools, Prisons and Consulting Firms
By Staff Report
Nov 1, 2012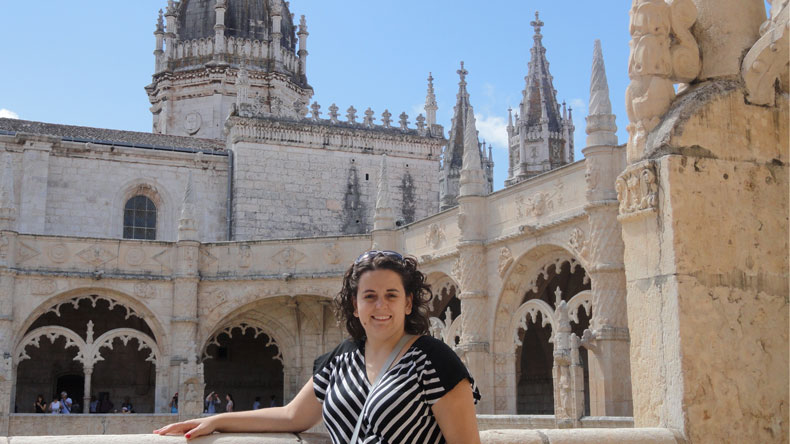 Twenty-nine-year-old Lisa Andrade speaks Portuguese, Spanish and English, works full time as a school psychologist for the Fall River Public Schools and has completed all her course work toward a doctorate in School Psychology at William James College. Lisa recently won the "Intern of the Year" award at Community Care Services (CCS) in Attleboro, MA where she completed her practicum and served an invaluable role of being able to work with non-English speaking clients, thanks to her foreign language skills. Her experience at CCS, which included working with clients ages 10-74, allowed her, she insists, "to keep expanding my skills." To call her highly disciplined is to grossly understate her ability to juggle several major responsibilities at the same time, and do it all superbly.
Lisa's parents came to the U.S. from Portugal and she is the first generation in her family to attend college, let alone graduate school. "My parents had a very strong work ethic," she says. "They drove me and my sister to be successful. Getting a doctorate is my way of thanking them." Lisa has paid her own way through William James College, from which she will graduate in 2014. Her program, designed for those who want to continue working full-time while attending classes in the evening and during the summer months is demanding, according to Lisa, but she is quick to say her faculty and supervisors have been very understanding, flexible and supportive. She is thrilled to have learned to be a more knowledgeable and effective school psychologist. When people ask her if her demanding schedule is really worth it, "I always say yes. It's a financial investment; it takes a lot of time; and I have to work hard, but I love it. I'm so glad I chose William James College; I've had great field experience, great faculty and I have learned to feel so good about myself and what I'm able to do."
Some William James College students are captivated by systems' issues and, with a myriad of academic and business and organizational field sites, William James College accommodates a wide range of preferences, passions and placements. At the Oliver Wyman consulting firm in Boston, Rachel Kriete trained groups to orient and support new employees. "It's an internal team," she explains, "that provides practice case studies, valuable feedback and hands-on skill building to people at the start of their employment." Rachel developed interview protocols, interviewed employees to ascertain what worked and what didn't in their orientation, and provided the valuable perspective of an outsider, enabling people to be more honest and open in their responses to her questions.
"William James College prepared me well," says Rachel, who graduated in June 2012 with an MA in Organizational Psychology. "I learned to foster healthy cultures in organizations, to create good places for people to spend their days and enjoy their work." Rachel says the experiential education component is what drew her to William James College. "You get to put into practice what you're learning in the classroom," she says. "It's a real-life setting, even though you're still a student, still learning, still getting important supervision." She especially singles out Dr. Kathryn Stanley, Director of Field Education, for the Organizational Psychology program and faculty member, for giving her helpful feedback as she worked on the job. Like others at William James College, the program enabled Rachel to continue working part-time. Her academic work was completed online and during monthly weekend residencies on our campus. "I valued the flexible delivery format of William James College's Organizational Psychology program that allowed me to take courses fully online and in a "blended" onsite/online format. I also valued the opportunity to make the personal connections that are important to our professional growth." She praises the fact that William James College faculty are also practitioners who know the real world of work. As for the field placement, "It was an invaluable learning experience," she says, "and at the same time I felt it was also a way to give back to the community. I knew the data I presented was really being taken seriously. It wasn't just a random exercise; it was real."
Paul Doolan, a 23-year-old Clinical PsyD student and a graduate of William James College's MA program in Forensic and Counseling Psychology, loved his placement at the Federal Medical Center Devens so much that with 3 or 4 years still to go before he'll complete his doctorate, he says a full-time job at the Bureau of Prisons would be his idea of the perfect job. Paul led several inmates' groups on drug education. He and his supervisor created a treatment plan for a patient who was shot by the police during a drug smuggling incident. The man was suffering from post-traumatic stress disorder (PTSD) and over an 18-week period, Paul could see real change. "His symptoms diminished greatly," he says. "Nightmares, fear of loud noises, and panic attacks had plagued him and now the guy is happier, has a better relationship with people at home and feels more under control. He thanked me," says Paul. "That's very rewarding."
During his experience working with inmates, Paul says the staff helped him see their crimes as just one aspect of these incarcerated men. According to Paul, "They taught me to individualize the person and remember that each is a person with different challenges. I learned to compartmentalize." Paul treated men of many ages. One man, 79, who'd been involved in a Ponzi scheme, was having a tough time being imprisoned for the first time. Asked how he managed not to be judgmental, Paul says, "It's tough not to be, but we talk about that in supervision." Fort Devens supervisor and William James College faculty Dr. Diana Schoeller worked with Paul on not letting his personal judgments interfere with useful therapy. "You can't always stop yourself," says Paul. "But you need to be aware of what you're doing."
"Some guys are really grateful for psychological treatment," says Paul. "They feel listened to. Some guys came to the groups just to get a certificate and were disruptive. Those days were frustrating. Still, there's a high demand for individual therapy, despite the cultural stigma and fear of being labeled crazy," Paul admits, but he feels his experience at Devens was so good he couldn't possibly have learned more anywhere else. He credits the overlap of supervisors and faculty like Dr. Shawn Channell, at William James College who also does that kind of work at the prison. "Experiential education is invaluable," says Paul. "In fact, I can't say enough how important it is."
Topics/Tags
Follow William James College
Media Contact
Katie O'Hare
Senior Director of Marketing