Tukae Tusemesane – Let's Sit Down and Reason Together Enlivening Strengths and Community
By Claire Fialkov
Aug 1, 2015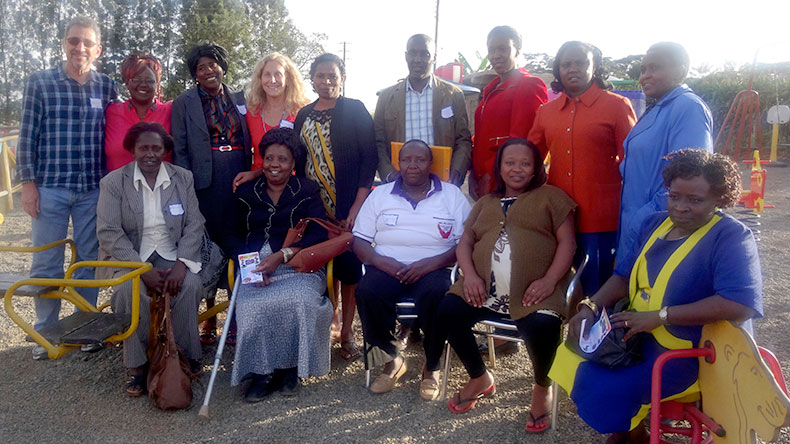 "Tukae Tusemesane" means "Let's sit down and reason together" in Kiswahili. This paper presents a collaborative project between Kimo, a Kenyan NGO and a US based consultancy that explores the practice of "sitting down together" to enliven individual and team strengths and send them outward into the community. Following the post election violence in 2007 a group of Kenyan counselors and practitioners gathered with the common cause of alleviating the human suffering caused by ethnic clashes, the displacement of families, and the marginalization of communities. This pioneering group formally created Kimo in 2014, an NGO designed to carry community support initiatives into action. Kimo's mission is to help relieve human suffering through counseling programs, access to education, and support networks in the community.
Kenya faces "man-made" challenges that are both local and international and present a threat to security and safety. Recent examples include: terror attacks, radicalization of youths into militia groups, substance abuse, ethnic clashes and wars, and conflict over newly discovered mineral resources. Leaders from Kimo affirm that the community craves "share holding" and wants to be a part of the fabric of life and have agency and self-efficacy, but this instinct is too often silenced by conditions of social and political oppression. The barriers to fully participate in all aspects of civic life heightens anxiety and contributes to the continuous stress (Eagle and Kaminer, 2013; Ungar, 2013) that is at odds with enlivening strengths and human potential, creating more urgent need for strength-based innovations. Our partnership with Kimo speaks to this need.
Appreciative Inquiry (Cooperrider and Whitney, 2005) provides the action research methodology for collaboration among Kimo, Appreciative Action and William James College. We wondered: When communities live under conditions of continuous stress, what methods are best to help develop positive capacity? Together, we spent many hours sharing our own strengths and values and acknowledging the importance of trust and safety. Then we used assessment tools to help develop individual and team character strengths, we designed appreciative interviews, and we structured dialogical processes to address the question How do we take our strengths outward from ourselves and our families to workplace teams and communities? Our partnership with Kimo seeks to address this need by co-designing a learning process built upon the ideas of Appreciative Inquiry: lift all voices, ask positive questions to produce positive change, and amplify strengths (Whitney and Trosten-Bloom, 2004).
Our curriculum is designed to encourage self-reflection about the roots of character strengths and provide a structured process for transformational dialogue. Martin-Baro (1994) tells of the importance of the recovery of an individual's historical memory, especially under conditions of continuous stress and sociopolitical oppression. In our project, strengths are cultivated and refracted outward through a process designed to have people share the story of the origin of their strengths with the team as "appreciative witnesses" who offer reflections to the storyteller. We draw on the field of character strengths using a self- assessment called the VIA-IS (ww.viacharacter.org) that is vital to the development of a culturally relevant vocabulary of strengths and virtues, and yet 3 central to this project is the idea that character strengths do not reside inside individuals, but are instead remembered in stories of past and present relationships.
Click here to read the rest of this article.
---
International Journal of Appreciative Inquiry: AI Practitioner
August 2015
Volume 17 Number 3
ISBN 978-1-907549-24-3
dx.doi.org/10.12781/978-1-907549-24-3
Topics/Tags
Follow William James College
Media Contact
Katie O'Hare
Senior Director of Marketing