William James College Honors Longtime Faculty Members' Impact on College and Students at Transition Celebrations
By Josh Rizkalla, Communications and Media Relations Associate
Jul 25, 2022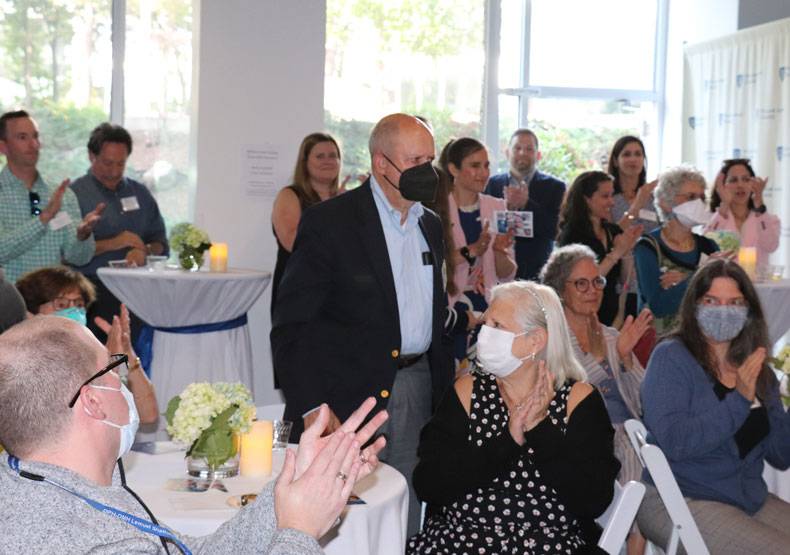 William James College faculty, staff, and alumni gathered for two events in the month of June to honor and celebrate the accomplishments of a group of ten faculty members who announced they would be moving on from the College this summer.
Those honored included:
Stan Berman, PhD
Bob Childs, PsyD
Ron Cobb, PhD
Edward De Vos EdD
Jackie Gagliardi MEd, CAGS
Jodie Kliman, PhD
Barbara Miller, PhD
Craig Murphy, PhD
Ethan Pollack, PhD
Elana Weiner, PsyD
Each faculty member made a significant difference, not only for generations of William James students but to the College itself, helping establish it as the behavioral health institution it is today.
While each has been with William James for at least a decade, some were a part of the community for over 30 years. Together, they introduced initiatives and programs, taught thousands, and exhibited a constant commitment to the College's diversity efforts as well as the mental health needs of an evolving world around them.
In his speech to the group, Dr. Nicholas Covino, president of William James College, stressed how much the school has grown thanks to these faculty members. "We've got an exceptional College. It happened because of the work you did, it happened because of the investment that you made, it happened because of the generosity of spirit, and talent you have contributed to our learning community," Covino said.
Covino, referred to this group as the "Greatest Generation," citing a similar intrinsic dedication to others as the group Tom Brokaw nicknamed. He added, "[they] have been some of the important architects and stewards of this learning environment."
During the first event on June 2, faculty members both current and retired, convened to honor the departing group. On June 16, a group of local alumni came to the College to honor their former faculty. Topics of conversation included future plans, family updates, and old memories of what the College was like in its infancy.
In the beginning, the school had to share its buildings with other businesses (though one had a full kitchen in which President Covino would sometimes cook breakfast), and its singular focus in the early years was the Clinical Psychology PsyD program. "Now we own the building, now we own a corner of the tremendous responsibility to build the workforce of psychology professionals that the world needs," Covino said.
As the students, alumni, and the College continue to their next chapter, they will be better off for this generation of faculty who made a difference in all that they did. The College thanks them for their commitment and contributions.
---
Stan Berman, PhD
Dr. Berman has been a member of William James College since 1987. Along with his time as a faculty member in several programs, Berman also served as Vice President of Academic Affairs, helped create the Clinical Health Psychology concentration, the Center for Multicultural and Global Mental Health, and served as Dean of Programs of the Advanced Graduate Studies.
"I have so treasured working in a college that not only talks the talk but walks the walk, in training students to enact programs of social justice, equity, and inclusion. We recognize our responsibility to serve our community in deeply meaningful and impactful ways."
---
Bob Childs, PsyD
Dr. Childs has been with William James College since 2008. An assistant professor in the Clinical Psychology Department, Childs started the Humanistic Psychology Lecture Series in 2017 which has brought a variety of outside speakers to the College to speak on various topics related to humanistic psychology.
"I have absolutely loved teaching the students of WJC and have so many great memories of classroom discussions that helped emerging clinicians apply humanistic theory and practice to their work."
---
Ron Cobb, PhD
Dr. Cobb joined William James College in 2008 as a part-time staff member in the Admissions Department. In 2009, he transitioned to working as a professor in the Clinical Psychology Department. Cobb has also served as Chair of the Clinical Psychology Department Curriculum Committee and developed the College's Clinical Competency Exam.
"I have worked here as a member of the staff, as a faculty member, and to a small extent as an administrator. I have enjoyed the relationships built with peers at all levels, but my heart will forever remain with the staff members I began working with early on. The heart of our institution is the staff."
---
Edward De Vos, EdD
Dr. De Vos has been with the College since 1987. A professor in the Clinical Psychology Department, De Vos has served as Associate Vice President for Research, and as founding chairman of the William James College Institutional Review Board. He has also served on numerous governance committees, board committees, and taskforces across the institution.
"It's been a pleasure and an honor to share in the development of clinicians at an institution committed to social justice and a better world for all."
---
Jacqueline Gagliardi, MEd, CAGS
Dr. Gagliardi joined William James College in 2008. She is the creator and inaugural director of the Couples and Family Therapy area of emphasis in the MA in Clinical Mental Health Counseling program, and is proud of the work she did with the Faculty Stewardship Committee. She also served as grand marshal at the 42nd Commencement in 2022.
"[When I started as an adjunct faculty] Ally Cherkasky, associate professor in the Clinical Mental Health Counseling program, invited me to share her and her office mate's space. This was the first act of kindness that I experienced and there were many more to follow over the years from the WJC community. I have great appreciation for the support and camaraderie from the WJC administration, staff, faculty, and students."
---
Jodie Kliman, PhD
Dr. Kliman joined William James College in 1984 as the youngest faculty member, staying until 1998, then returning to the College in 2004. A professor in the Clinical Psychology Department, she also helped establish both the Latino Mental Health and Global Mental Health concentrations. She is proud of the work the College has done to establish itself as an inclusive and diverse institution as it has grown.
"I first came in 1984 and – three buildings, a name change, and many other big changes ago, when, at 32, I was the youngest person on faculty. I have been here ever since then, apart for a six-year stretch. I grew up professionally at William James College and it has been very meaningful and rewarding to work with the WJC community. I have learned so much from you, my colleagues, and from our students."
---
Barbara Miller, PhD
Dr. Miller joined the College in 2007. An assistant professor in the School Psychology Department, Miller is proud of her Practicum Seminars and Clinical Services Seminars which supported students' experiential fieldwork as well as her work as an advisor and a mentor to graduate students on their journey to becoming licensed school psychologists. Miller has also participated in Institutional Committee work such as the Faculty Stewardship Committee. She served as grand marshal at the 42nd Commencement in 2022.
"There are so many things I have valued about my time at WJC, including the intellectual rigor and the warm collegiality. I feel proud to have an affiliation with this college and its mission, especially its commitment to diversity, equity, and inclusion."
---
Ethan Pollack, PhD
Dr. Pollack joined the College in 1978. An associate professor in the Clinical Psychology Department, Pollack's passion for ethics led to the development of a course on the topic still used decades later by the College. Pollack was awarded the Excellence in Teaching Award in 2007 and was a recipient of an honorary doctorate during the 2018 Commencement.
"I have so many memories of my years at WJC, but the ones which stand out are of the relationships with students who continue to seek me out for consultations."
---
Elana Weiner, PsyD
Dr. Weiner joined the school as a faculty member in 2002. She had previously attended the College as a student after she came to the school in 1990, a year after immigrating to the US from South Africa. Weiner called her time as a student "a core part of my immigration experience, as I learned to acculturate to the US in the context of being a student and a developing clinician at William James College." Dr. Weiner has a special interest in psychoanalysis, developmental theory, and contemporary psychoanalytic theories of trauma.
"I'm most proud of my contribution to keeping psychodynamic theory and practice alive at the College. I am deeply appreciative of all the faculty, and administration, who have supported this and made it possible."
Topics/Tags
Follow William James College
Media Contact
Katie O'Hare
Senior Director of Marketing