Marc Abelard, William James College, Named "Business Partner of the Year" by Massachusetts Providers' Council
By Anne Wilson
Nov 4, 2021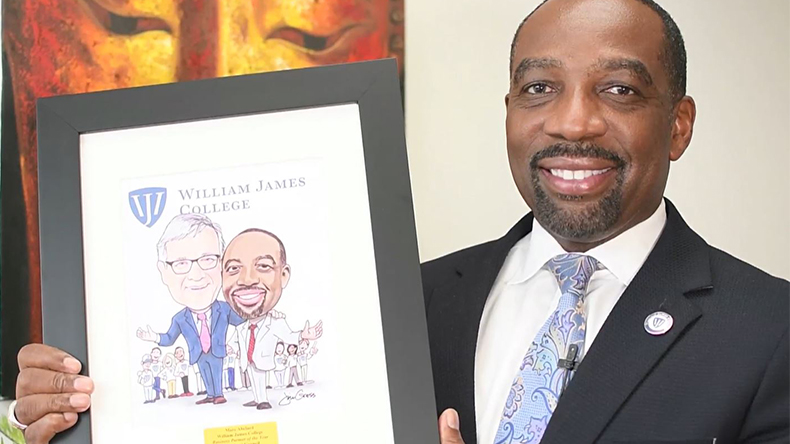 The Providers' Council, Massachusetts' largest human services membership association, is a statewide association comprising more than 220 health and human service agencies.
William James College and Director of Strategic Partnerships Marc Abelard received the Council's "Award of Excellence" for "Business Partner of the Year" this year following a nomination by partnering organization JRI. Abelard is Director of Strategic Partnerships for the William James College Center for Workforce Development and was founding director of the College's Bachelor's Completion Program.
The award was presented virtually in a rather catchy way (advance the video to 10:25 to see the presentation). Through song, the Council recognized Abelard and the College for having "the knowledge to help JRI create change," including lowering barriers to access and providing the supports in the program that students need to finish their degree.
Abelard leads the William James College side of a collaboration and partnership with JRI designed to further the organization's interest in both building the workforce and in addressing the need for more diversity in the field of human services.
"We knew that we wanted our staff to more closely reflect the diversity and lived experience of the clients and communities we serve. We also knew that we needed to reduce economic barriers to advancement," wrote JRI in a Facebook Post congratulating Abelard and the College on receiving the award.
"With William James College, we found partners that share our social justice mission, our commitment to racial equity and our dedication to culturally competent services. Together we found a way to significantly ease the financial burden of earning a degree," the post continued.
The collaboration supports JRI employees who are pursuing a degree through William James College while working, and it also supports JRI's broader commitment to social justice.
"Marc's commitment to this shared mission has been integral in JRI's work to help the larger community focus on creating a diverse workforce. Together, we are going into local communities, discussing social justice and how through non-profit work and a degree from William James College, you can 'be the change.' This initiative is helping us reach an entire new group of people who bring diversity, lived experience and passion to our work," JRI wrote.
The partnership between JRI and William James College provides generous support for JRI employees to complete their bachelor's degree or to pursue a master's degree.
"Being nominated to receive the Provider's Council Business Partner Award is a tremendous honor," said Abelard. "After being in the education and workforce development space for the better part of fifteen years, I continue to have a deep commitment to education equality and a passion to see career ladder growth for folks in the behavioral health field."
"But," he added, humbly, "You don't do this work to win awards, you do this work to improve people's lives."
And changing lives, it is. Partnerships like the one Abelard developed with JRI have now helped many people reach their educational goals, allowing them, in turn, to better serve others.
Maria Dixon, MA, earned her Master of Arts in Clinical Mental Health Counseling through the JRI partnership. In a reflection posted to the JRI website she said she chose to advance her education after reflecting on the needs of families JRI serves, who "deserve to have a clinician that looks like them, shares the same or similar language, and can see past cultural concerns."
"The experience gained from WJC was one of respect, fighting for social justice and being humbled," said Dixon. "I was an immigrant who… struggled to learn the language and navigate a system that told me I would be nothing. JRI has lit the flame and kept it burning for me… I have a purpose and a career."
The award was presented at The Providers' Council's 46th Annual Convention & Expo, this year themed Essential: Then, Now and Always. The event, which was held on October 21 and welcomed nearly 1,000 members from across the human services sector, featured addresses from Governor Charlie Baker, Suffolk County District Attorney Rachael Rollins, and Executive Office of Health and Human Services Secretary Marylou Sudders. Nonprofit advocate, leader, and author Vu Le served as keynote speaker.
The first bachelor's degree recipients from William James College graduated in 2020. Douglas Mariano, BS, a JRI employee, graduated at the top of the cohort with highest honors. Following graduation, he decided to continue his studies at William James and is now working toward a master's degree.
Topics/Tags
Follow William James College
Media Contact
Katie O'Hare
Senior Director of Marketing