Meet Ann Carter
By Staff Report
Nov 20, 2018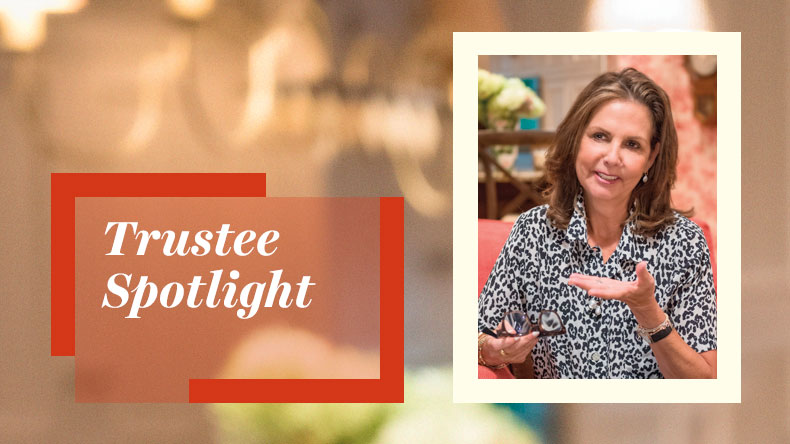 Board Member and Proud Pragmatist
"We all share a common passion for the school's mission. It's very personal to all of us."
That's how Ann Carter, MBA, describes the Board of Trustees of William James College. An expert in communications with 20+ years of agency experience, 15 years of corporate experience and membership on numerous profit and not-for-profit boards, Carter describes serving on the board of William James as "humbling" and "awe-inspiring."
"As a member of the board, it is truly a privilege to sit among the leadership and department chairs and beside Nick (Covino) as president," she says. "These people have dedicated their lives to alleviate the suffering of others, and they pursue it day after day, year after year with incredible passion and perseverance. I am in awe of their life's work. When you engage in volunteer work and walk away with more energy than you walked in with, that is a fabulous feeling."
Carter joined the board out of a "strong personal passion" about access to mental health services and a desire to improve access parity. While researching how to become involved in that area she was introduced to William James President Nicholas Covino, and the rest is history.
As a member of the board, Carter has a bird's-eye-view of the College's leadership in the development of a behavioral health workforce. William James is a force to be reckoned with. Carter attributes that to the tenacity of the president and the agility of the school itself.
"Nick's focus, along with efforts of many, has given the school a foundation from which it can grow," says Carter. "As a communicator, Nick has much to say and he delivers it with great sincerity. He approaches the issue of workforce development not just from the standpoint of an efficient solution to a problem, but also from the standpoint of social justice. The convergence of those two things make him very passionate, compelling and authentic."
Participating in the strategic and creative environment at the College is a source of pride and joy for Carter.
"William James is a receptive environment for idea generation," she says. "Because of that it is able to be opportunistic and move in real time to address new challenges and opportunities. William James is nimble. We are not an ivory tower."
Carter knows whereof she speaks. She holds a sophisticated understanding of the pressures facing senior-level leaders charged with achieving organizational objectives. She was a founding partner at Rasky Baerlein Strategic Communication where she led high-profile client assignments and numerous crisis management projects. She then founded ACcommunication Partners to focus on the needs of senior level executives and boards. She was a long-standing member of the National Investor Relations Institute, The Commonwealth Institute and Bentley Executive Club of Boston and holds a Bachelor's degree from Bentley University and an MBA from Babson College.
"William James has long understood that to make a difference in the lives of people therapeutically you need to meet them where they are in life," says Carter. "Whether you are Latino and need someone to understand your culture, black and need someone who identifies with you, a woman, man or transgender, it's the aspects of who we are that inform where we are in life. William James understands that is fundamental to its programs."
"I know it sounds like a cliché but I truly believe that William James can be part of making the world a better place," says Carter.
Popular Topics/Tags
Follow William James College
Media Contact
Katie O'Hare
Senior Director of Marketing and Communications