Meeting the Needs of Children Where They Live
By Staff Report
May 15, 2017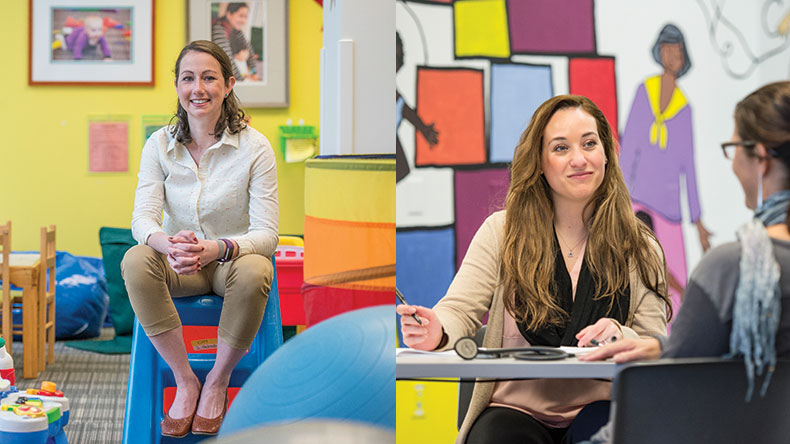 Preparing Students for a Changing Landscape
To prepare students to work with children in team-based models at schools and healthcare settings, the College is launching several new programs.
We want to think about how everyone who touches a child's world can promote health and wellness. —Nadja Reilly, PhD
As one of 30 sites in the country—and the only one in Massachusetts—to receive a $1.1-million grant from the Federal Health Resource and Services Administration, William James recently began an internship program to integrate behavioral healthcare with medical healthcare.
Placing students like Vasserman in underserved communities for hands-on experience, the grant will ultimately fund 31 internships.
Ecker points out that, while not new, the Clinical Psychology PsyD Program also offers a Health Psychology Concentration that trains people to work with medical providers, and the program is planning to integrate primary care skills into all clinical courses.
As part of the School Psychology Department, the Freedman Center for Child and Family Development at William James College is starting a Graduate Certificate in School Climate and Social Emotional Learning in September of 2017.
Reilly explains, "The goal is to train teams of administrators, teachers, and mental health care providers from different school districts to infuse social and emotional learning into every aspect of education. We want to think about how everyone who touches a child's world can promote health and wellness rather than waiting for a crisis to find services. Trained teams can share that learning with others in the district to make a bigger systemic impact."
Another new program at the Freedman Center is the Certificate in Pediatric and Behavioral Health Integration, which will launch next January. "We want to train pediatric medical providers and mental health practitioners interested in creating integrated models of care," says Reilly.
School Psychology Department Chair Arlene Silva, PhD, notes there is a new program offered in her department: the MA in Applied Behavior Analysis. This program, which can be completed in a year while working full-time, combines instruction in behaviorism and learning theory with real-life application to prepare students to become Board Certified Behavior Analysts, many of whom will work in school settings.
The Children and Families of Adversity and Resilience (CFAR) concentration is also now available to students in the School Psychology MA/CAGS and PsyD programs. For school psychology students, an important component of the CFAR program will include working in settings where they are dealing with more complicated family needs and/or challenging environmental conditions, such as substance abuse, severe disabilities, and poor access to services.
"Well-trained school psychologists can be resources for families and schools. Our school psychology trainees understand school culture and how schools work. We work at various levels to maximize our impact," Silva says.
Ecker adds, "We know that care works best when professionals work together and mental health providers are embedded in teams at schools and primary care settings. We seek to increase access of care for children through all of these programs."
Topics/Tags
Follow William James College
Media Contact
Katie O'Hare
Senior Director of Marketing