Michelle Harris: Expressing a Powerful, Long Journey on Canvas
By Staff Report
May 26, 2016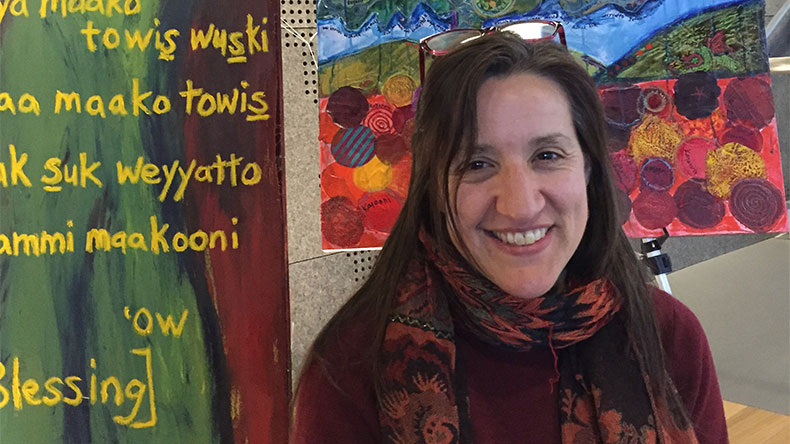 The language written into Michelle Harris' bold paintings is unfamiliar. So is the name of the Native American tribe in central California from which she descends. But the power of her attachment, the strength of her connection and the emotional tug of her Coast Miwok people are clear. She's a member. She belongs. She yearns for closeness to this ancient story.
"I'm unpacking my history," says this Core Faculty member in Expressive Arts Therapy in the Clinical Mental Health Counseling Department at William James College. She describes her art as "intergenerational trauma processing. I'm crying as I'm painting," she says. "It connects me to a brutally intense process."
Harris exhibited seven of her paintings in the atrium of the College, part of her presentation for an Expressive Arts Therapy Conference. She explains her work as "trying to highlight symbol formation where words will not suffice. "
Harris' grandmother died when she was five and her father chose not to ever talk about the part of him that was Native American. Harris is the first woman in her family to be a college graduate, first in her family to be a professor. She says there are multiple layers of family trauma that go back five generations. From the original tribal members, only 13 people survived.
According to Harris, "Painting is a spiritual practice," she says. "For half of my life, painting has opened important avenues for me—connecting, truth seeking, it's very visceral. It's me coming alive. It's who I am." Koyanni, which means singing in her native language, enables Harris to feel the texture and rhythms of her people. "It's like regrowing an old soul," she says.
As a teacher, Harris is careful to remind her students that they must create safe, secure places for their field placement clients. They have to always be aware of clients' vulnerabilities and allow their searches to be carefully paced, strength based explorations.
"I have to paint to be spiritually alive," she says. "It's who I am. I love to teach. I love the creative process. I love collaborating. This is a beautiful thing to be part of."
Topics/Tags
Follow William James College
Media Contact
Katie O'Hare
Senior Director of Marketing