Dr. Paola Michelle Contreras Receives Award for Anti-Human Trafficking Work
By Staff Report
Jul 12, 2019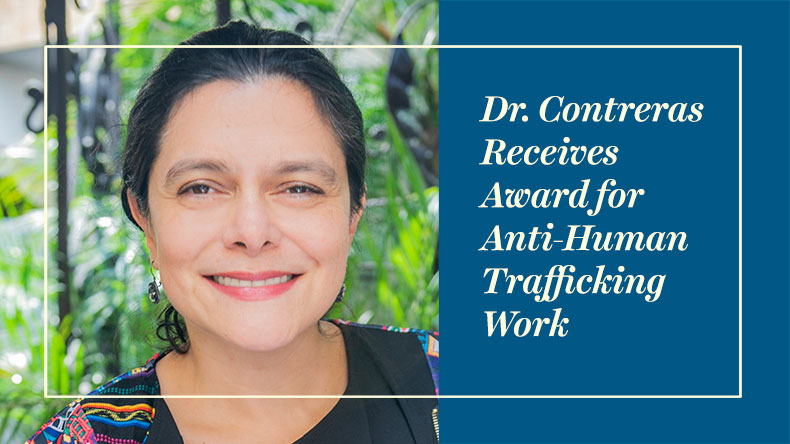 Dr. Paola Michelle Contreras, William James College counseling faculty member and alumna of the College's clinical psychology PsyD program, received the 12th Annual Arthur R. Kravitz Award for community Action and Humanitarian Contributions from the Boston Psychoanalytic Society and Institute (BPSI). This award honors "members of BPSI who have provided noteworthy psychoanalytically-informed service to our broader community."
Contreras has spent her career on social justice and humanitarian issues, including post-war work after the Guatemalan civil war and refugee work in the United States. In 2006, Contreras moved into the specific area of human trafficking, advocating for legislation, working with international survivors directly and serving as a consultant with both national and international organizations.
In the last five years, Contreras directed her focus on internal trafficking issues within the United States. Currently, she is an Action Research Consultant & Supervisor at RIA House, an anti-trafficking program serving adult women, and Lead Researcher of the William James College Human Trafficking Community Research Hub (HTCRH).
Contreras was featured in the 2019 Spring/Summer BPSI Bulletin for her achievement, where an article said, "We celebrate Dr. Contreras' remarkable commitment to advocacy against human trafficking in the community. We appreciate her scholarship, her clinical work, and the application of psychoanalytic principles in all her endeavors."
On receiving the award, Contreras said, "I felt very fortunate and appreciative to have received recognition from a group of people that I admire. A lot of them have been my mentors for years, supervisors, people that I've been working with ever since I was a [doctoral] student here at William James, actually."
Dr. Nilda Laboy, chair and faculty member in the William James College counseling department, attended the award ceremony. In an email to the William James College Community, Laboy said, "We are so proud to count Dr. Contreras among our WJC Clinical PsyD alumni and among our faculty in the Counseling and Behavioral Health Department. Her research, advocacy and clinical work in this very much needed area is critical and her dedication is without par."
Contreras is a sixth-year candidate in psychoanalytic training at BPSI and said she consistently applies this education in her work, which she said, helps her develop trusting relationships with clients. She also said that her psychoanalytic training has served as a self-reflective tool that helps her understand and work through issues of power that are highly relevant to working with the consequences of exploitation. She believes the work cannot solely revolve around concepts and training but must include a mutual "back and forth" between clients and mental health practitioners.
"We know a body of theory, but it's wholly lacking if we don't remain curious and open to the experiences that people are bringing to us and if we don't take that extra step and use what people have learned from their experiences to change how we do our work as therapists and researchers," said Contreras.
William James College's Human Trafficking Community Research Hub (HTCRH) aims to address the mental health and psychological consequences of human trafficking with research in collaboration with communities. William James College's HTCRH and its community partners, together, evaluate human trafficking-specific services and engage in research that studies the concepts, tools, and best practices relevant to working with people affected by exploitation.
Topics/Tags
Follow William James College
Media Contact
Katie O'Hare
Senior Director of Marketing