President's 36th Commencement Remarks
By Nicholas Covino
Jun 5, 2016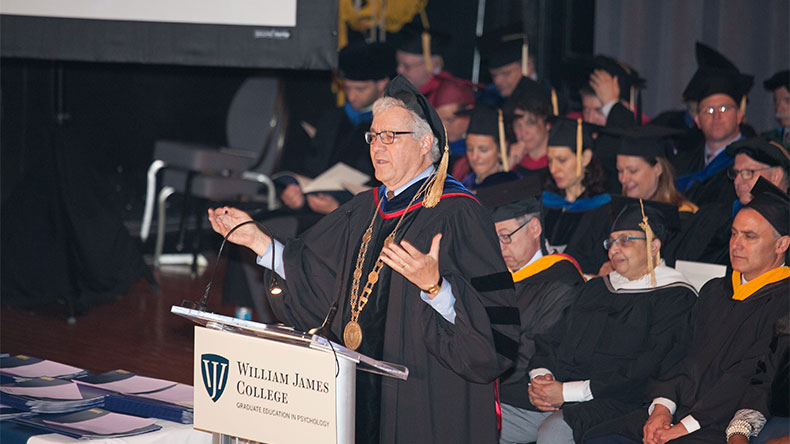 "For those in need, you are the Ambassadors of Hope"
On behalf of our Trustees, Faculty, Staff, Students and our honored guests, I welcome you to the 36th Commencement Exercises of William James College. This is the first graduation in many years that our colleague Ken Hopkins and Trustee Stuart Cohen are missing; they passed away during the school year. They would both be very pleased to know that among our graduates are the first to complete the Doctoral program in Leadership Psychology.
We are about 1100 individuals in this room. We rightly come to celebrate the achievements of our daughters and sons, friends and partners. We are proud of our graduates and we want to take time today to witness their achievement and to recognize their very good work.
These days, we hear a great deal from those who would lead our country about what should divide us. One would expect policy differences between political parties, but we are told that religious beliefs, country of origin, social class, language, dress and gender should be points of opposition and, even, contention. This college of psychology is at its best when individual differences are understood, respected and engaged. Leadership psychology teaches that an organization is strong and effective only when all of its members are respected and valued contributors.
Animals and human beings are afraid of what is unknown and unfamiliar. The counseling, organizational, clinical and school psychologists before you have spent their graduate training acquiring the skills to listen, to understand, to problem solve and to reduce apprehension and to facilitate growth for their clients and patients. They have spent as much time in understanding their own impatience, fears, prejudices and tendencies as they have in learning about these issues in others. Moreover, they know that such introspection is to become a way of their professional life and their best teacher.
These young people are comforters, bridge builders, healers, educators and advocates who are about to engage a world that is greatly in need of them. They value hard work and achievement, but they value service to others.
While they have been students at William James College, they have been teachers and leaders who have transformed our learning community and brought relief and hope to others.
Army Captain Evan Bick of the Clinical Department, helped us to refine the curriculum for our Military Veterans Psychology specialty. He gave his time, whenever he was asked, to speak his service in Iraq and the psychological needs of Veterans of war even while he and his wife were raising young twins.
Fatin Alhadi, has been an informal mentor to students, faculty and staff. In response to the college's wish to understand more about Islam, she created an open forum with Dr. Bruce Ecker to discuss her faith and some of the challenges of Muslim students in America.
Dr. Sweet said that William Jackson's work on, "Chronic Pain, Mindfulness and Physical Function was one of the most impressive pieces of scholarly work that he has seen here. During his graduate years, William became married and the proud father of a little girl.
Miranda Ralston of Leadership Psychology undertook an experiment that empirically linked workers' psychological safety with Resonant Leadership. She received a $33,000 grant to do this work and she has a second one to continue this exciting area of research.
Leadership PsyD graduate Bob Hill has already made a career of helping underprivileged youth to achieve a bachelor's degree. As the founder of Match Beyond he is collaborating with William James Faculty to develop a bachelor's degree completion program for state service workers with an interest in human services.
A supervisor of Ben Aronson spontaneously wrote to commend his work with a complicated young person. "Ben is thorough, thoughtful and has excellent clinical insight," he writes. "It has been one of the most collaborative experiences we have had with an outpatient therapist and I simply wanted to make note of this in writing. I would gladly serve as a reference for Ben and for your program - which clearly provides wonderful training opportunities and creates clinicians who bring so much to this profession."
The AAFMT Research and Education Foundation awards a national fellowship to students who are interested in providing behavioral health services to racial or ethnic minority children. This year it went to Counseling student Hilary Leamer
Glavielynis Cruz: Six notes from teachers, I put two together:
"Glavy has charted a course characterized by enthusiastic engagement, a warm manner, a ready sense of humor and an incredible work-ethic. Her academic and field work have been consistently exceptional, and a peer who co-led with her a parenting group for homeless parents and their young children described Glavy's "unique ability to make each person feel safe despite their histories of adversity and homelessness." Glavielynis, Cruz embodies the highest values of William James College in terms of the quality of her academic scholarship, her service to others, and her commitment to community.
Sarah Tannenbaum has been a model of competence, spirit, and commitment to the WJC community. She excelled academically in all of her classes, completed competitive field placements at the Mass. Mental Health Center, the Brookline Mental Health Center, and most recently in an APA-accredited internship at Riverbend Mental Health Center in New Hampshire. In the first class of the nascent CFAR concentration, she helped at numerous concentration activities and was a dependable volunteer for college events.
Michela Volpe of the Counseling Department expanded her field placement with a coat drive and social advocacy for refugees from Central America.
Milay Lemos presented the findings of her study on human trafficking to national conference of state and federal law enforcement officers.
These are some examples of the talented and compassionate people we are graduating today. There are many more among the 150 who sit before us. Help me to recognize their hard work and to thank them for their contributions with your applause.
Last week, I received this note:
President Covino,
This Sunday my daughter, Kathryn Lydia Shea will be graduating with her Master's degree. This is a great achievement, not only for Katie, but for our whole family. Let me explain.
Katie's great-grandmother, Lydia Forsey, was born in a remote fishing village in Newfoundland. The community had no school, and she never learned to read or write. After she married and moved to Massachusetts, she did everything she could to ensure that her children would attend school and have the opportunities that she didn't have.
When Katie's grandfather, Al Smith, was 10 years old, his mother died. It was the height of the Great Depression, and he was forced to quit school in order to work to support himself. He served in the Army Air Corps during WWII, and later had a long career in sales. And he did everything he could to ensure that his children could complete High school and have opportunities that he never had.
I am Katie's dad. Although I did well in High school, there were no scholarships, and neither I nor my family had the financial resources for college. But I was blessed to work for several local high-tech companies and have had a long career in computer aided design. Like those before me, I also tried to do everything I could to ensure that my children could attend college and have opportunities I didn't have.
Certainly our story is not unique. So as we celebrate Katie's graduation, we also recognize that this achievement was 4 generations in the making, and could not have happened without the loving, sacrificial, hardworking, supportive parents who came beforehand. As I believe this "Pay it forward" tradition will continue, I am very optimistic for future generations!
Sincerely,
Dan Smith
I was struck by many things in the note. However, I was particularly impressed by the repetitions of the word ensure: meaning to safeguard. All of us are here because people before us took care to safeguard our future.
Research in psychology underscores that individuals can only give what they have received.
The calls for the two-o'clock feeding that pierce a parent's deep sleep;
The attunement that recognizes that this child's desires and abilities differ from his brother's;
The time spent organizing play dates, helping with homework, planning family outings,

and
The hours spent in seats like these witnessing performances and achievements great and small are the non-verbal lessons that parents teach children about caring.
These generous interactions are the DNA of character and the building blocks of social responsibility that parents and partners contribute to the creation of exceptional people.
Our graduates have worked hard, but part of the credit of today belongs to the group behind the black robes. I know that our graduates want to rise and thank you with their applause.
Rev. Dr. Martin Luther King wrote: "The first question that the priest and the Levite asked of the beaten traveler on the road to Jericho was: 'If I stop to help this man, what will happen to me?' But the Good Samaritan reversed the question: he asked 'If I do not stop to help this man, what will happen to him?"
Our Grand Marshall today, is a faculty member who is among our best writers and the most generously engaged with our students. Dr. Paola Contreras is a passionate advocate for the vulnerable young people who are victims of sexual exploitation and human trafficking. But we asked Dr. Contreras to be our Grand Marshal so that we could speak of her brother Luis.
Luis served in the Marines. He could have remained in the United States, but a family tradition of social and political service and a desire to ensure the care of children, the sick and the disenfranchised, prompted him to return to Guatemala to serve his parent's country. In 2013, Luis helped open the first HIV health service in his region where today 823 patients living with HIV are receiving comprehensive care. Inspired by his sister Paola's commitment to mental health he made sure that the HIV service included a staff psychologist. To date, 42 children born to HIV positive mothers, have been born HIV negative.
Luis ran for City Council following the example of his father and grandfather, to advocate for social and health issues and to work against the rampant business of illegal drug trafficking. Shortly after his election, while driving home from the grocery store with his family, Luis Alberto Contreras Merida was executed by people who were involved with the narcotics network. Ironically, Luis' grandfather, also a political figure, was assassinated in the late 60s in the same way.
Today, Luis' mother Norma and his wife Midore are with us. Despite these losses this family remains committed to service and to fighting for social justice.
Let me ask the family to stand and With your applause, please let us let this family know that we are with them in their grief and grateful for their courage and service.
Endnote
A Commencement is not about an end, but it is about a beginning. You are each moving into a profession for which there is great need.
Four of the six leading causes of disability in the world are depression, alcohol-use disorders, schizophrenia and bipolar disorder.
One in four families in this country has at least one member with a mental disorder.
On average, four children in every classroom in every school in the country suffer from mental illness and the learning of all students suffer, because 60% of the time parents cannot find a provider to care for the social and emotional needs of their child.
Over 4 million work days in the US are lost and more than 20 million days are less productive due to behavioral health problems. The economic cost to business of deficient or lost productivity is in excess of $100 Billion.
Unlike medicine where patients are seen as courageous people who battle serious diseases, our patients are likely to be shunned or stigmatized.
Unlike medicine, where those with the most severe illness are viewed with compassion, the public image of our folks is shaped by the 3% who commit violent acts, not the 97% who suffer.
You will need to battle stigma and prejudice in your practice still for some time, but you have a lot to offer. Fortunately, unlike many areas of medicine, the vast majority of those who find their way to psychological services get better.
For those in need, you are the Ambassadors of Hope.
When things get discouraging or challenging, know that we will be here to help. And when you have successes, know that we want to hear about those as well. You are no longer students, but today you become our colleagues.
Congratulations!
When I call your program, please stand and we will make your graduation official.
Popular Topics/Tags
Follow William James College
Media Contact
Katie O'Hare
Senior Director of Marketing and Communications