Profile of Fourth Year PsyD Student Alessandra Solberg
By Staff Report
Jun 17, 2020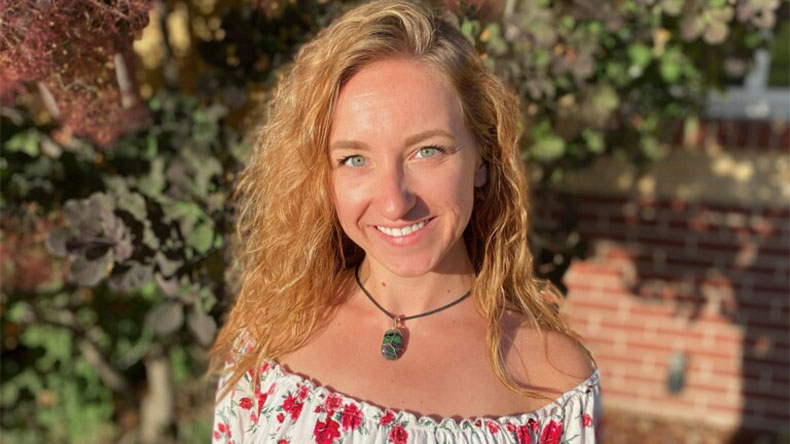 Alessandra Solberg, a 4th year Clinical PsyD student at William James College, presented her doctoral project colloquium – The Healing Properties of the Unconscious During Psychosis – this spring. During the ensuing discussion, Alessandra spoke about her humanistic orientation and shared the affirming story of how she matched at her top choice APA internship at the Colorado Mental Health Institute at Fort Logan starting this August. We recently had a chance to speak with Alessandra to learn more about the process of finding that internship and about what her William James College education has meant to her.
In looking for my APA internship, I applied to public in-patient state hospitals all over the country. I had interviews in Oregon, Colorado, Florida, California, North Carolina, and Maryland. In thinking back on my interviews for practica over the past several years, I see that there can be a lot of pressure, especially if the site really promotes a certain model, to oversell yourself as a specific type of therapist. I certainly felt that. But we all have something that is individual and unique to bring to the field. I decided that I was going to be honest about my humanistic orientation, which I follow even though I think it is equally important to have techniques from all different models in your toolbox. There were interviews where I would hear, "those are really great ideas, but probably wouldn't work for this population." When I would get responses like that from time to time, I'd think, "That's ok. I just don't fit here." That's really important to figure out during the interview.
Then I got to Denver, and it just felt like a special place as soon as I landed and could see the mountains in the horizon. I was interviewed by a neuropsychologist at the Colorado Mental Health Institute at Fort Logan and the conversation flowed really well. At one point she paused and said, "I just want to pause here for a moment because you really do embody humanism and I just want to hold the space for that because that's really special." I immediately felt a belongingness and a respect and knew that I was meant to do my training there.
I'd had maybe 10 interviews before that. This trip to Denver was near the tail-end of my interviews, and prior to that, there were places where I thought, "I could see myself here." But I didn't have that strong sense of belonging until I was in Denver. There are so many things, people, and events throughout graduate training – and throughout life – that may influence you to stray from being your most authentic self. When you persevere and do decide to stick with your values and authenticity, and things fall into place, it's really reinforcing.
Starting on August 1st, I'll be working at the Colorado Mental Health Institute at Fort Logan as part of a treatment team caring for adults with severe and pervasive mental illness. I will be doing assessments, psychotherapy, group therapy, and writing reports for the courts. When my internship ends in July 2021, I plan to pursue a forensic post-doc because I always want to be able to work within the intersection of the public mental health sector and the legal system. People with severe mental illness are a marginalized population in and of themselves, and are typically largely underserved. My hope is to become an advocate for these individuals and to make positive changes within the field, especially in the context of policy reform.
I have benefitted tremendously from the warm, thoughtful mentoring I have received from Dr. Erlene Rosowsky. She interviewed me before I was accepted into the program, and then I was in her clinical seminar my first year. After that, I requested that she be my advisor. Having that consistency throughout the program has been so helpful. And then, when I took the humanistic theory classes with Dr. Bob Childs, I thought, "OK. This is why I do this. This is the type of psychologist I want to be." I was then fortunate to have had the support of Dr. Gary Rose, who was the chair of my doctoral project committee. When many other faculty members attempted to convince me to go in a different direction with my doctoral project, and specifically, not to pursue a theoretical project, Dr. Rose and Dr. Childs supported me every step of the way and really allowed me to take my own approach and do things my way. They truly supported and reinforced my dreams. Not only did they support me, but they understood and respected my vision. I am beyond grateful.
We are seeing a paradigm shift across the entire field. Whereas we used to be more psychodynamic and humanistic, during the times of Sigmund Freud and Carl Jung, we now primarily talk about Cognitive-Behavioral Theories, Attachment Theory, and more trauma-focused therapies. At times this would cause me to feel I needed to silence my humanistic values. But our school was founded upon humanism – William James was a humanistic psychologist. It is disheartening that humanistic theory will no longer be a part of the core curriculum at the school. It was my favorite of my training and what has shaped and impacted my identity as a clinician the most.
Seeing this paradigm shift may be partly why I found myself trying to oversell myself on the skills in my toolbox that are not humanistic. But I feel like when I reflect on the past four years and my training at WJC, what I found was my voice, In the beginning you're just this novice student – a sponge absorbing so much. And then I think, hopefully what happens – and this is what WJC and my training has helped me to do – you take all of that information and integrate it and figure out where you, as an individual, authentically lie. I learned how to be confident in myself, but also humble and open to other things too. You start to realize that you actually know what you're talking about, and recognize that you are competent, and gather strength from experiences like someone complimenting your humanistic orientation during an interview, and see that people do show up to your colloquium and take interest in your abstract topic. You start to build on those moments until you're not as overwhelmed about going out in the field. Now I'm so excited because I can see my path clearly and feel like, "I can do this!"
Popular Topics/Tags
Follow William James College
Media Contact
Katie O'Hare
Senior Director of Marketing and Communications