Re-envisioning the Brilliance of Boys of Color
By Staff Report
Dec 18, 2017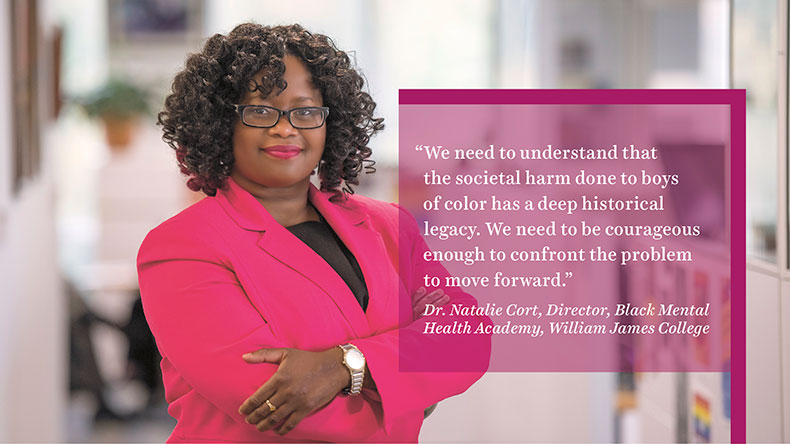 There is a critical yet quiet crisis in mental healthcare that is resulting in disparities in the treatment of racial/ethnic minorities in this country.
According to President George Bush's 2002 New Freedom Commission on Mental Health, mental health providers' "…misunderstanding and misinterpreting behaviors [of racial/ethnic minorities] have led to tragic consequences, including inappropriately placing minorities in the criminal and juvenile justice system."
Dr. Natalie A. Cort, an Assistant Professor in the Clinical Psychology Department and Director of the Black Mental Health Graduate Academy at William James College, provides a stark example of the misdiagnosis of the cradle to prison pipeline noted by the Commission. She spotlights research findings that racial/ethnic minority children with attention deficit hyperactivity disorder (ADHD) are 50-69 percent less likely to be accurately diagnosed with the disorder by mental health providers (Morgan et al., 2013).
"Many of these young people, particularly Black and Latino boys, tend to be wrongly diagnosed with oppositional and defiant behaviors—labels that will last a lifetime. Left untreated, the consequences of ADHD include depression, academic problems, substance abuse, and incarceration," she says, pointing to research suggesting that 50-70 percent of youth in the juvenile justice system have untreated psychiatric conditions (Schubert & Mulvey, 2014).
To better understand this crisis and its impact on boys of color, William James College's Center for Multicultural and Global Mental Health, Concentration on Children and Families of Adversity and Resilience, School Psychology Department, Department of Community Engagement, and Counseling Department's Expressive Arts Therapy Program sponsored a conference on May 20 called Re-envisioning the Brilliance of Boys of Color: Inspiring Professionals Dedicated to Empowering the Social-Emotional and Academic Development of Our Youth.
The goal of the conference, explains Cort, was to bring this issue to the forefront and increase awareness. "It's important to realize that we, mental health providers, educators, etc., unwittingly allow implicit negative racial/ethnic biases to impact our diagnostic and treatment behaviors, and, as a result, we are losing beautiful, talented young boys and men who could have contributed to society in amazing ways. These are our babies, and this is our loss. We can do better."
The event presented three panel discussions: 1) deconstructing the cradle to prison pipeline; 2) innovative mentorship and advocacy; and 3) increasing cultural responsiveness and reducing racial disparities in our school systems. Panelists and moderators included nonprofit directors, educators, mental health providers, and juvenile justice advocates.
The Hon. Leslie E. Harris, JD, (Ret.), Former Associate Justice for the Suffolk Juvenile Court, and Ron Walker, Founder and Executive Director of the Coalition of Schools Educating Boys of Color, gave keynote addresses. Both stressed the need for mentors and advocates to support the resiliency and existing strengths of boys of color.
In a podcast interview with William James College President Nicholas Covino, Harris shared some of his experiences as a juvenile court judge. "If third grade boys get into a fight today in Boston, the police are called, and the children are often labeled with a criminal record for the rest of their lives for doing the same things I did as a kid like fighting with my best friend. Their normal behavior has been criminalized starting in third grade," he said, noting that if the fight occurred in a suburban school, the parents would be called without police involvement.
He observed that in Massachusetts, records cannot be expunged, which means young boys with records are later barred from opportunities like joining the military. "Doors they don't even know they want to go through are closed forever. We do children a disservice by criminalizing them and destroying their future."
During Walker's talk at the conference, he challenged the audience to first recognize the problem in order to fix the problem, which means being honest about the contemporary inequities that come from the country's history.
Cort agreed, stating, "We need to understand that the societal harm done to boys of color has a deep historical legacy. We need to be courageous enough to confront the problem to move forward. I know it is absolutely possible for us to change what has been an ignored crisis."
She says, "This conference was about putting a spotlight on this issue because we have the power, privilege and opportunity to change systems we are a part of and it's our responsibility to do so. I hope the participants came away with the intention to look at themselves individually and collectively to consider ways of responding to the needs of boys of color." Look for coverage of a follow-up event called "The Black Man Can" in a future issue of Rapport.
Topics/Tags
Follow William James College
Media Contact
Katie O'Hare
Senior Director of Marketing