School Psychology Students, Faculty Collaborate on Research and Publication
By Katie O'Hare, Senior Director of Marketing
Jul 25, 2022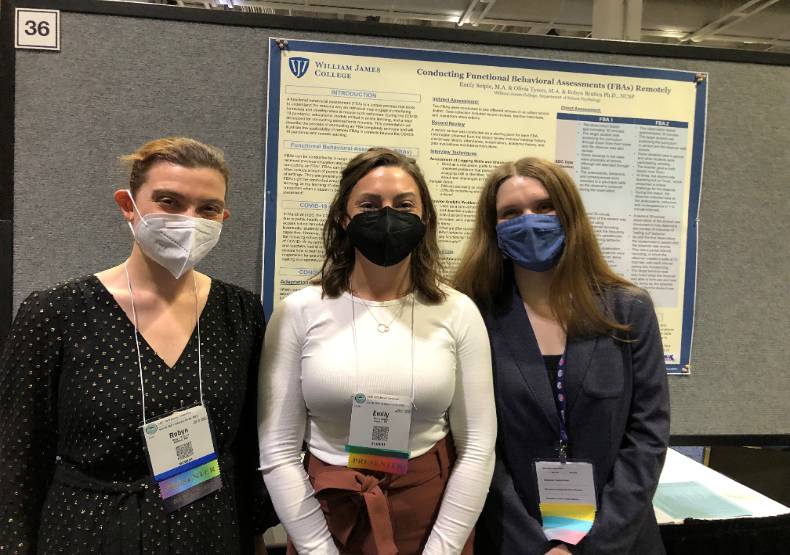 Two students in the School Psychology MA/CAGS program turned a class assignment into a research trifecta with the support of Dr. Robyn Bratica, assistant professor and program director. While taking the Behavioral Assessment, Intervention, and Consultation class, Emily Sieple and Olivia Tyson found themselves adapting a traditional Functional Behavioral Assessment (FBA) to the virtual space in light of the COVID-19 pandemic.
An FBA is often conducted when behavior interferes with a student or students' education or learning environment. Typically, teams conducting an FBA might observe behavior directly in classrooms and/or interview school staff in person; however, Sieple and Tyson needed to rely on technology, in the remote space, to gather information and develop interventions.

Hoping to educate the wider school psychology community and to increase accessibility to FBAs, Sieple and Tyson, along with Bratica, presented their work and research at the National Association of School Psychologists (NASP) Annual Convention, held in Boston in spring 2022. They wanted to highlight the applicability of remote FBAs in contexts beyond the COVID-19 pandemic and remote learning.
Their poster and presentation served as a research base for an article that was later published in Behavior Today, the newsletter for the Council for Exceptional Children Division for Emotional and Behavioral Health. The article, "Conducting Functional Behavioral Assessments (FBAs) Remotely," was released in Issue 39, Volume 3.
This full-circle experience embodied the values and commitment of William James College to prepare culturally responsive leaders and highly trained school psychologists. Sieple, Tyson, and Bratica used coursework, fieldwork, and research to bring learning to the next level.
Bratica shared, "Students in our program are not only reading about theory, they are putting their learning to practice so they will be fully prepared to hit the ground running after they graduate. As faculty, our philosophy is to train students as practitioner-scholars who are able to not only deliver high quality school psychological services, but also share their knowledge with the greater professional community. This is why we created the poster, delivered the presentation, and submitted our article for publication."
In the post-COVID era, school psychologists are in greater demand than ever before. Read more about the role of a school psychologist and the career outlook for our graduates.
Topics/Tags
Follow William James College
Media Contact
Katie O'Hare
Senior Director of Marketing