Serving the Mental Health Needs of the Underserved
By Staff Report
Dec 19, 2022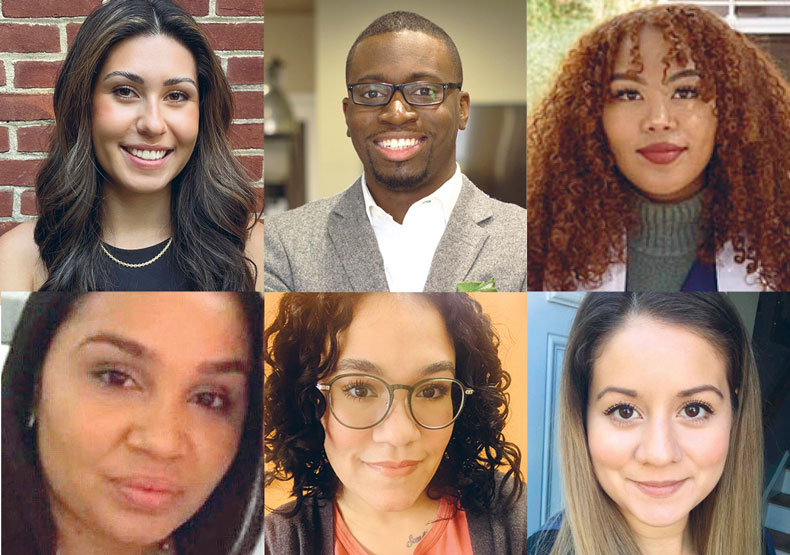 Meet our 2022-2023 CMGMH Fellows and Scholarship Awardees
---
Reflecting the College's commitment to promoting social justice and addressing mental health disparities among historically marginalized populations in the United States, the highly competitive Serving the Mental Health Needs of the Underserved Scholarship recognizes the achievements and promise of students committed to this work who are pursuing Master's (MA), Certificate of Advanced Graduate Studies (CAGS), or Doctor of Psychology (PsyD) degrees.
The 2022-2023 Scholarship Awardees—Sandra Bazalar, Edsel Cadet, Jasmine Drummer, Jeniece Gonzalez, Shani M. Jean-Charles, and Nuria Martinez—were selected based on a combination of academic achievements, volunteer and community service to underserved groups, demonstrable commitment to social justice and advocacy, leadership skills, and financial need. As CMGMH Fellows, they will actively engage in mentoring, community service, and social-cultural and professional development initiatives at WJC.
This scholarship program is generously supported by the William Randolph Hearst Scholarships Grant from the Hearst Foundations and William James College.
---
Sandra Bazalar
Clinical Psychology, PsyD, Concentrations in Global Mental Health, LGBTQIA+, and Latino Mental Health Program
Having earned her Master's in Clinical Mental Health Counseling with an emphasis in Latino Mental Health from William James College in 2022, Sandra Bazalar joins the Clinical PsyD program hoping to expand her knowledge and skills to serve historically underserved communities. As a first-generation Latina, Bazalar says she is proud of her achievements, noting, "We are paving the way for future Latinas to enter graduate programs and make positive contributions to the field."
---
Edsel Cadet
Clinical Psychology, PsyD, Concentration in African and Caribbean Mental Health
Edsel Cadet is a pastor who holds a Master's in Divinity and Clinical Mental Health Counseling with a concentration in couples and family therapy. So far in his career, Cadet is proudest of the work he has done in his community and as a clinician. When asked what it means to have been selected as a recipient of the Serving the Underserved Scholarship, Cadet shared, "I see it as an opportunity to pour back into the communities that made tremendous sacrifices to raise and nurture young people like me while forgoing mental health services."
---
Jasmine Drummer
Clinical Psychology, PsyD, Concentration in African and Caribbean Mental Health
A West African and Filipina woman born and raised in Arizona, Jasmine Drummer prides herself on her culture and family history. As a student in the William James College Clinical PsyD program, she is on track to become the first female doctor on both sides of her family. Drummer plans to be an advocate for social justice issues, serve underserved communities in Massachusetts, and help break the mental health stigma in communities of color. "Words cannot explain enough how thankful I am," Drummer said of receiving this scholarship. "I will use this award to fund my education and give back to my community through my career path."
---
Jeniece Gonzalez
School Psychology, MA/CAGS, Concentration in Children and Families of Adversity and Resilience
Enrolling in graduate school is the accomplishment Jeniece Gonzalez is most proud of. As a student in the William James College MA/CAGS in School Psychology program, and a mother of two boys, Gonzalez aims to make a difference in school communities. She shared, "Receiving this scholarship will allow me to pursue my dream of becoming a school psychologist and assisting diverse parents and guardians, in the school system, who cannot advocate for their children, while providing them with the knowledge and resources to help
their children succeed."
---
Shani M. Jean-Charles
Clinical Psychology, PsyD, Concentration in Latino Mental Health
At an early age, Shani Jean-Charles knew that she wanted a career that involved helping others in the Latinx community. Having already earned her Bachelor's degree from William James College, Jean-Charles enrolled in the Clinical Psychology PsyD program with a concentration in Latino Mental Health. She plans to bring awareness to mental health by continuing research, opening conversations, and dismantling the stigma and disparities. "To be the first woman in my family to continue with my education and receive a scholarship that will allow me the opportunity to help others within our communities is breathtaking," she shared. "There are no words to describe how appreciative I am, and I can't wait to continue on with this journey."
---
Nuria Martinez
Leadership Psychology, PsyD, Concentration in Leading Non-Profits & NGOs
Nuria Martinez earned her Master's in Clinical Mental Health Counseling from William James College with an emphasis in Health and Behavioral Medicine and a concentration in Latino Mental Health. Now, she is enrolled in the Leadership Psychology PsyD hoping to do more systems work with non-profit organizations. "Serving the needs of the Latinx community has been a privilege, and the scholarship has provided the opportunity to work on a larger scale with non-profit organizations to lessen the gap between mental health services and underserved communities," said Martinez.
Topics/Tags
Follow William James College
Media Contact
Katie O'Hare
Senior Director of Marketing