Spring 2017 From The President
By Staff Report
May 15, 2017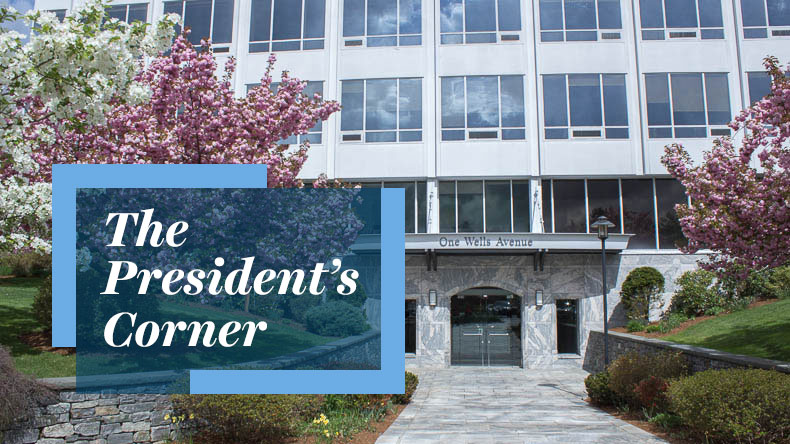 Dear Friends of William James College,
The need for educational excellence, service and discussion in applied psychology could not be greater. Whether it is partnering with community leaders to bring compassionate care to several Syrian families, academic success to socially challenged high school students or engaging business leaders to create greater acceptance and resources for families who struggle with substance abuse and behavioral health, the mission and the place of William James College is critically important.
This has always been a learning community where devoted practitioners invest time and care in developing the skills and vision of future professionals. The opportunity to engage in the work that will be done upon graduation, under the watchful eye of an experienced professional is energizing, challenging and formative for our students. Faculty and field supervisors are exciting examples and patient mentors for inquisitive learners. At a time when 12% of psychologists and 40% of psychiatrists are over 65 and access to mental health care is difficult and sometimes impossible, especially for parents and culturally diverse people, workforce development is a priority.
In recent years, institutional growth has positioned William James College to be a local resource, a respected convener, and a valued partner for those who are interested in behavioral health and change in organizations, schools, prisons and health care.
With support from a growing number of philanthropic partners, we now educate teachers in social/emotional learning, military for careers in mental health, leaders to consult with business professionals, many more people of color, and attorneys and other professionals to become resources for families in crisis. With the use of technology, faculty and staff are bringing psychological skills to pediatricians, medical personnel and experienced mental health personnel to improve their work and to address the burden of mental illness.
We hope you enjoy reading about our programs and our commitment to the underserved and to making the system better. If you feel inclined, we hope that you will consider lending a hand as part of our learning community and our mission to be: "Meeting the Need and Making a Difference."
Sincerely,
Nicholas Covino, PsyD
President
Popular Topics/Tags
Follow William James College
Media Contact
Katie O'Hare
Senior Director of Marketing and Communications