Student Spotlight: Christine Smith
By Staff Report
Jun 1, 2016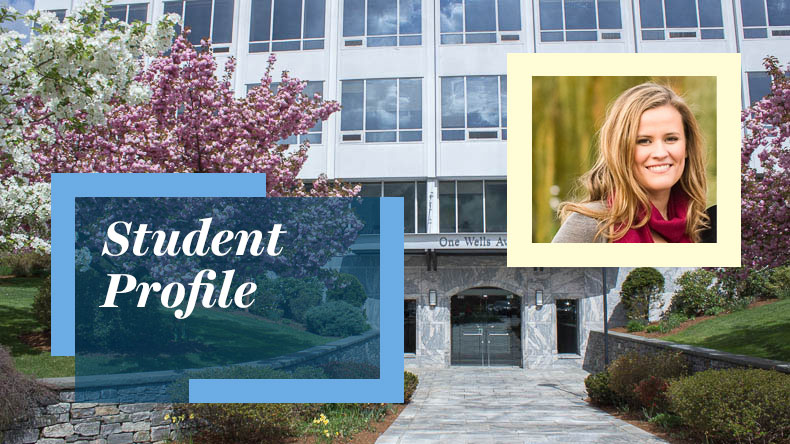 Health and Behavioral Medicine
What motivated you to pursue the field of health and behavioral medicine?
Prior to enrolling in the master's program at William James College, I was a chemical engineer in the biotech field for six years. I chose to pursue the field of health and behavioral medicine because fitness and exercise have always been a constant in my life, as I believe physical activity has a lot of positive effects on both mental and physical health. From experience, the points in my life when I have been at my best physical health is when I have had the best mental health and clarity. I also went through a period of my life where I had chronic pain as a result of an illness, and I managed my pain with mindfulness techniques and hypnosis. These factors drew me into the Health and Behavioral Medicine emphasis in the MA in Clinical Mental Health Counseling program, as I would like to pay forward what has been so incredibly helpful to me.
How has your training experience prepared you to enter the field after graduation?
I believe that my training experience at both my practicum and internship sites have helped me learn concrete tools to use with future patients, such as cognitive-behavioral therapy, dialectical behavior therapy, motivational interviewing, and person-centered therapy just to name a few examples. I'm now comfortable working with individuals, leading group therapy, and conducting family therapy. I've worked with adolescents with eating disorders in my most recent internship, and the year before that I got to work with adults in a hospital setting with a wide array of diagnoses and symptoms. I've come such a long way since I changed careers in only two years thanks to both the strong theoretical foundation taught by the excellent faculty as well as the emphasis on field education. I absolutely feel fully equipped to enter the field after graduation as a counselor and am confident I have a competitive resume to apply for counseling jobs; however, I have discovered newfound passions in research and assessment in addition to clinical work and have thus decided to continue on into the PsyD program in Clinical Psychology at WJC starting September 2017!
Do you feel you have an edge over interns from other programs? If so, why?
I do feel as though I have an edge over interns from other programs because William James College is experiential-education based. I have had so many clinical hours that I feel comfortable sitting with clients. I also feel that the College does an excellent job integrating both theory and practice in real time, as my coursework substantially supported my work in the field. For example, I was leading a weekly anger management group for adults at my first-year practicum site and was taking a Group Counseling class at the same time. I could bring issues or questions into the classroom for academic discussion immediately after they happened at my site. This course really informed my practicum experience and made me a better group leader!
Would you recommend the program to a friend? If yes, what would you tell them?
I have already recommended this program to a friend. I just pulled out an old email and here is what I wrote to this friend who is considering a career change: The school is located in Newton, MA on Wells Avenue, and it's a school specializing in graduate psychology programs. In my experience, it's good for career changers because 1) there aren't any prerequisites for the program (other than having a bachelors) and 2) because there are actually several career changers in the program. It's also really great because they get you right into the field — you will be doing an internship at the same time as your classes, so you get to know very quickly whether the field is a good fit. I was especially grateful for this and wound up starting my internship the first week of my classes. I wound up going to an information session at the school before applying, which is when I wound up getting hooked. I would definitely take a look at their admissions page and see if there are any upcoming sessions or webinars.
If you are looking to pursue a career as a mental health counseling, check out our MA in Clinical Mental Health Counseling with an emphasis in Health and Behavioral Medicine.
Topics/Tags
Follow William James College
Media Contact
Katie O'Hare
Senior Director of Marketing