Students Organized Fundraising to Support Survivors of Domestic Violence
By Staff Report
Jan 31, 2019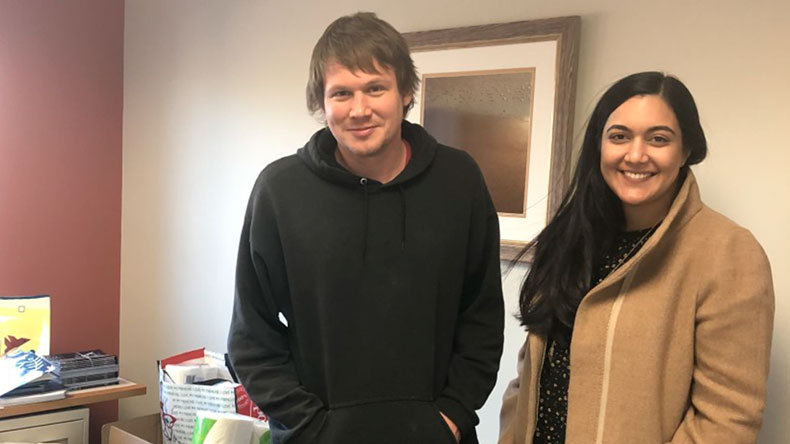 In December 2018, as part of a community service project for the course, "Systems Theory and Practice: Psychological Interventions in the Community," a group of students (Ayesha Ludhani, Emily Montgomery, and Peter Moulton) organized a fundraiser to collect toiletries for a shelter that serves survivors of domestic violence and their children. The shelter is a non-profit agency in Massachusetts that works to prevent domestic violence and aid survivors in a variety of ways. In addition to offering housing to women who are escaping abusive relationships, the organization facilitates separate support groups for survivors and children who have experienced domestic violence. It also engages in public policy, legal and advocacy efforts that recognize and support survivors.
Domestic violence is a pervasive problem that affects more than 10 million individuals in the U.S. annually. According to the National Coalition Against Domestic Violence:
1 in 3 women and 1 in 4 men in the U.S. have experienced some form of physical violence by an intimate partner.
Each day there are more than 20,000 phone calls to domestic violence hotlines in the U.S. (approximately 15 calls every minute).
Intimate partner violence accounts for 15% of all violent crimes.
19% of domestic violence cases involve a weapon. The presence of a gun in the home during a domestic violence incident increases the risk of homicide by 500%.
In support of the organization's heroic work, the students reached out to the William James community and a local apartment community to help collect toiletries for the shelter. The group gathered a large number of items that were donated to the shelter prior to the holidays. Thank you to the Dean of Students Office and to everyone who contributed so generously!
Popular Topics/Tags
Follow William James College
Media Contact
Katie O'Hare
Senior Director of Marketing and Communications