Top 10 Questions to Ask an Admissions Counselor
By Sarah Johansson, Assistant Director of Marketing
Oct 25, 2022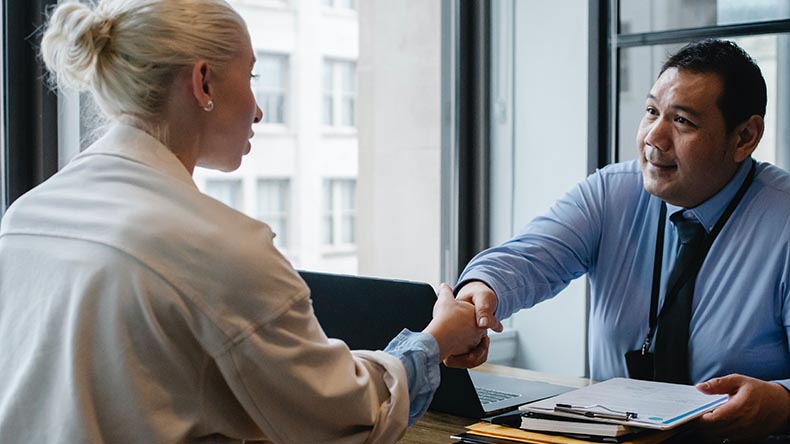 Deciding to go back to school is a big decision—one you should spend time figuring out. It's important to find a program that best fits your career goals, learning style, and life circumstances. Whether you're looking into an eight-month certificate program or a multi-year graduate-level program, we have created a list of the top ten questions to ask an admissions counselor during your research.
1. What program delivery options are available to me?
Maybe you're looking for a part-time option so you can continue working during the semester, or maybe you live in a different state and would prefer your classes be held online. Our admissions team can walk you through which options are available for your program and the type of commitment that is required.
2. What is the course sequence like?
Before committing to an academic program, ensure the curriculum covers the topics or experiences you're looking for. Research what classes you'll be taking, if there are options for electives or concentrations to focus on your specific interests, or if there are internship or field education requirements built into the program.
3. What can I do with this degree?
Make sure the program you're interested in will bring you closer to your career goals. Have a conversation with an admissions counselor about topics like the types of jobs you will be qualified for, what alumni are doing after graduation, licensure requirements (if applicable), experiential learning opportunities within the program, and how you will be prepared for a career in the field.
4. What is the size of the program?
Knowing information like how many students will be in your classes, what the student-to-faculty ratio is, and how much-individualized attention you'll get from faculty members will help you determine if a program is a good fit. You can also ask an admissions counselor if you can speak directly with a faculty member to get a better sense of what the academic experience will be like.
5. What financial aid or scholarship opportunities are available?
Going back to school is an investment, and our admissions counselors are here to help you make the best choice. Find out more information about financial aid options and any scholarships you may be eligible for, and be sure to ask about separate applications and deadlines to make sure you don't miss any opportunities.
6. What resources are available to me as a student?
In addition to faculty support, you will want to ask about other resources that the college may provide, such as academic support, veterans resources, mentorship opportunities, faculty advising, affinity groups, and more. Be sure to check whether the same resources are available if you are applying to an online or on-campus program.
7. What extracurricular activities or student groups are available?
Your education is not only about academics. Ask your admissions counselor about the culture of the institution, what extracurricular groups or activities exist, and if the opportunity to create your own student group is available.
8. What is unique about this program and your institution?
Find a program that aligns with your priorities and values as a student and as a professional. Speak with your admissions counselor about what sets this particular program apart from others and why so many students choose to enroll.
9. Can I speak with a current student?
There is no better person to speak on the full experience than a student currently in the program. You will be able to ask questions on topics ranging from the application process to course load to where students choose to live and more.
10. What are the application requirements and next steps in the admissions process?
Now that you've researched the details of the program, don't forget to ask about the application requirements, deadlines, and overall process. Find out if you should reach out for letters of recommendation, start preparing an essay, or complete any prerequisite courses. Additionally, you should check if your program requires an interview prior to admission so you can be best prepared. The admissions team is always happy to help you at any stage of the application process.
Knowing what to ask an admissions counselor can help you on your search for the perfect academic program. These 10 questions are a great start and can spark a longer conversation with questions you didn't even know you had. Your education is important and is worth taking the time to find the best program to achieve your acadmic and career goals.
Ready to take the next step? Call 617-564-9376 to speak with a William James College Admissions Counselor.
Topics/Tags
Follow William James College
Media Contact
Katie O'Hare
Senior Director of Marketing