The Role of the Clinical Mental Health Counselor Today
By Staff Report
May 15, 2017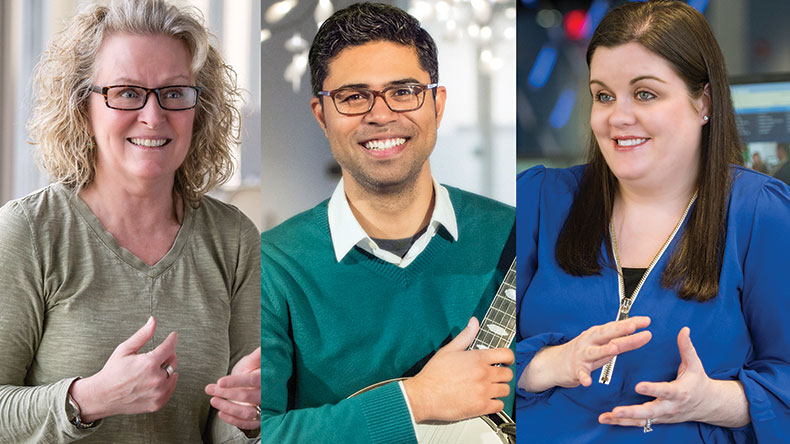 What do a musician, a 50-year-old mother of three and a corrections manager have in common? They are all part of the diverse, vibrant tapestry that is the Master of Arts in Clinical Mental Health Counseling program at William James College. The program educates students from distinctly different backgrounds who are in pursuit of one common goal; the support and comfort of individuals and families living difficult lives. The role of the clinical mental health counselor is increasingly important for underserved communities where the number of mental health professionals is sorely insufficient to meet the need. The role is also becoming increasingly attractive for those determined to make a difference.
"As a musician I was always interested in interpersonal relationships and people's mental and physical well being."

- Mark Whitaker, class of 2017
"As a musician I was always interested in interpersonal relationships and people's mental and physical well-being," says Mark Whitaker, who will graduate from the program in June 2017. "For me, some of the most impactful moments have been heart-to-heart conversations with people, talking about their emotional, family or career issues."
"I have always been interested in helping people, especially those with mental illness, to function better in their lives."

- Elizabeth Samson, class of 2012
"I have always been interested in helping people, especially those with mental illness, to function better in their lives," says alumna Elizabeth Samson, a 2012 graduate with an emphasis in forensics. "Before graduate school I took psychology and law courses and that is when I discovered the field of corrections. I wanted to specialize in criminal behavior and psychopathology so I could help those that few want to work with."
"I'm a career changer... I want to help those who have been exposed to trauma and violence. I want to do more."

- Kathleen Rice, class of 2017
"I'm a career changer," says Kathleen Rice, who will graduate in June of 2017 with an emphasis in expressive arts therapy. "For many decades I have been a special education teacher working with at-risk kids. I wanted to learn about their development and treatment in order to fully help those who have been exposed to trauma and violence. I want to do more."
Perhaps that describes best the motivation of the students and faculty in the William James counseling program; they want to do more. "There is a great need for mental health professionals," says Dr. Nilda Laboy, Chair of the Counseling Department. "Our program offers areas of emphasis based on the need we have seen in the community."
Those four areas of emphasis train practitioners to work with underserved populations in a program that integrates field training with academic experience: Forensic and Correctional Counseling, Health and Behavioral Medicine, Expressive Arts Therapy, and Couples and Family Therapy.
According to Laboy, "The need for mental health counselors to work with vulnerable populations is particularly critical in the current sociopolitical environment.
"Changes in the United States since the 2016 presidential election are causing stress at the most fundamental levels of society, and this is evidenced by students' experiences in the field," she says.
"The majority of our students work with underserved populations. Clients have told them that they fear they will be deported or that their status allowing them to remain in the US may change. Those with green cards are afraid to leave the country for fear of not being allowed to return to be with family."
Laboy adds that racism is increasing as well. "Our students relate that people seem to feel they have 'permission' to express negative feelings and attitudes toward minority groups. Some of our clients, students and faculty are also discovering that family members, friends and coworkers hold attitudes that denote racism and bigotry. We have many conversations in our classrooms about how to navigate these very delicate situations professionally and personally. We discuss these pressing issues in our clinical seminars each week."
Four multicultural, college-wide concentrations imbue future counselors with the sensitivity and specialized knowledge necessary to meet these emerging challenges. Students can select from global mental health, military and veterans psychology, Latino mental health, and African and Caribbean mental health. As a result, William James counseling graduates are ready to meet people's needs on the first day of the job.
For Whitaker, who has been working in the field in college counseling, that means the ability to continue specializing in counseling so that he can "work with those suffering from anxiety and depression. I am also very interested in continuing my work with suicide prevention as well. After all, the 'everyday state of mind' can induce a lot of suffering."
For Rice, who has been working in schools for her field work, it means the skills necessary to be a counselor in schools, using expressive arts therapy to help children "develop emotional literacy and coping skills. I want to give children the ability to manage the anxiety and fear that comes from experiencing trauma, violence and living in unstable environments."
For Samson, who holds a management position in corrections, it's the opportunity to "make a difference in the lives of inmates. The corrections system is inundated with mentally ill people trying to function in a hard setting. Clinical mental health counselors are seen as the people who can reach out to them and offer help without bias."
Graduates of the Clinical Mental Health Counseling program are well prepared to enter the field and take the licensing exam to become Licensed Mental Health Counselors (LMHC) who work in hospitals, clinics, schools, prisons and other settings.
Says Laboy, "Our department will celebrate its 10th anniversary during the 2017-2018 academic year. By that time, we will have graduated over 400 students. We are looking forward to many more years of training counselors that are dedicated, committed and culturally sensitive."
They will all be needed. According to the Bureau of Labor Statistics, mental health counseling is a burgeoning field as insurance companies direct patients toward counselors and their affordable rates. The Bureau says that trend will contribute to employment growth of 20 percent in the profession between 2014 and 2024, which translates to 26,400 new positions in this field.
Popular Topics/Tags
Follow William James College
Media Contact
Katie O'Hare
Senior Director of Marketing and Communications