The Value of Transformative Leadership
By Marie Antoine, Leadership PsyD Student
Oct 13, 2016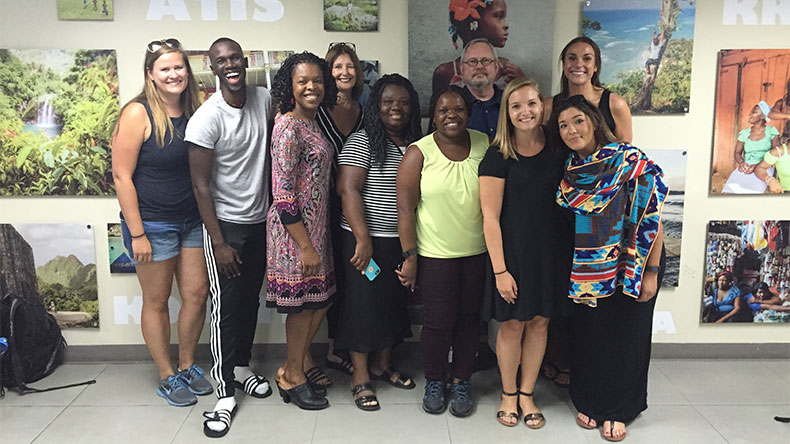 In July, 2016, a team of nine students and faculty from William James College travelled to Vallue (Petit-Goave), Haiti for a 10-day Service Learning and Cultural Immersion Experience. Marie Antoine, a Leadership Psychology, PsyD student, reflects on her experience below and how she will apply new perspectives on leadership to her work.
"The student service learning provides me with the opportunity to witness leaders in action and learn the true meaning of transformative leadership. Being a transformative leader is not only investing in yourself but it also requires great investment in others. Through the work Association des Paysans de Vallue (APV), I came to understand what it really means to be a genuine leader. A leader is passionate about value and he brings people together for the betterment of that community. He inspires them to grow, prosper, and instills in them a spirit of entrepreneurship. Whatever the work that I plan to do, it is critical that I discover my passion. It is my passion that forces me to invest and empower others. I continue to feel inspired by the week and all the people we met in Vallue.
One of the articles that has greatly impacted my life was entitled "To hell with good intention". Through the reading of this article I made the connection between empowerment and tangible giving.
Intangible giving tends to empower people and engender great changes in the system. During the week, our interaction with the youths, educators and the whole communities, provoked a sense of pride and encouragement. The youth are thirsty for knowledge to better themselves and the community. During the two focus groups, I discovered that I really enjoy the work, I witnessed the joy in the face of the educators as they discovered their hidden talents and resources. They were very joyful as they worked on the project to keep the youth engaged in the community. Being a genuine leader in Haiti is not an easy task. Temptation is all around you, it takes a real patriot, someone with a nurturing heart, with the desire to transform his/her community. At the core of his leadership lies his passion for his community. He invests time, talents and resources for the betterment of the area. The William James College faculty inspired me with their dedication, passion and their enthusiasm about the program.
It is hard to capture in words the emotions that were elicited during this trip. The people that we met during the week, and the smiles of the children we sang, played, and danced with will remain in my memory forever. The journey to inner self will increase the awareness of things that I need to do to reach my potential. The immersion trip has helped to broaden my mind. I was exposed to new information to expand my knowledge base in different fields. I find it difficult to explain immersion. It is a profound experience that one can live and enjoy. One has to be there to understand the deep experience that immersion provides you.
The immersion was a life changing experience which leads to enriching relationships and expands my horizon on the Haitian culture. The hallmark of this journey cannot be measured, and will have a long-lasting impact in my career. Through this experience, my hope and faith have renewed in the future of Haiti. Along that journey, there have been people in my path to lead me through this wonderful experience."
Illich, I. (2012). To hell with good intentions. In A. Gilvin, G. M. Roberts, and C. Martin (Eds.), Collaborative futures: Critical reflections on publicly active graduate education. Syracuse, NY: The Graduate School Press of Syracuse University.
Topics/Tags
Follow William James College
Media Contact
Katie O'Hare
Senior Director of Marketing